Commentary
The "other" side of fantasy sports
Originally Published:
May 28, 2009
By
Paul Lukas
| Page 2
At first glance, Jim Ransdell and the great Beat writer Jack Kerouac would appear to have little in common. In fact, Ransdell, a 41-year-old graphic designer who lives in Florence, Ky., had never even heard of Kerouac until last week.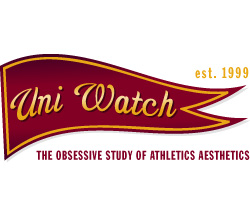 But it turns out Ransdell and Kerouac shared a common childhood passion: They spent a lot of time pursuing fantasy sports.
These weren't the kind of fantasy leagues you're probably thinking of, however. Ransdell and Kerouac fantasized their sports dreams out of thin air and then set them down on paper with crayons, pens, and Magic Markers. In Ransdell's case, he created his own sneaker brand, called Pegasus Shoes, which featured footwear, signature apparel, and new NBA uniform concepts (you can see more of his drawings here). As for Kerouac, he created his own imaginary baseball league, complete with daily highlight sheets, newspaper dispatches, and performance charts, plus he also tinkered with thoroughbred racing (for additional info and images, look here and here).
Amateurish? Sure. Nerdy? And a half. But so what? Lots of kids have grown up doodling logos and uniforms in their notebooks … maybe you were one of them. But Ransdell and Kerouac took it to the next level, using their doodles as the basis for alternate universes of their own design. There's something really endearing about the way their drawings provide a mix of loopy and serious, playful and geeky, all driven by that boundless creative energy that only a kid's imagination can provide.
Of course, today's kids can do all of this in Photoshop, but that's too easy and doesn't have the same charm. Fortunately, lots of kids from the pre-digital era had the foresight to put their sports-related drawings into archival storage under climate-controlled conditions (read: the attic) and are now rediscovering them. Interestingly, several of these people, including Ransdell, were able to translate their early obsessions into sports- or design-related careers, so their early scribblings might have foreshadowed the paths their lives eventually took. Here's a sampling:
BOB CIANI
Ciani took his childhood love of Intellivision football and channeled it into his own imaginary league, the IFL. He created his own teams, scattered them across the country, designed logos and uniforms for them, and came up with little promotional campaigns for each squad. He even gave his league a backstory, including defunct teams and a proud history of championship games. Look, he even made his own ticket stubs! Basically, he created his own little football world.
About the artist: "I actually went to college in Kerouac's hometown of Lowell, Mass.," Ciani says. "Next time I'm up there, I'll have to stop by his grave to pay my respects. Maybe that makes us all feel just a bit cooler in retrospect, eh?"
ANDY HYMAN
Hyman grew up under the tutelage of an older cousin who got him hooked on Strat-O-Matic football, and he became so engrossed in the game that he began creating team drawings, game highlights, and a newsletter. He later created his own version of Strat-O-Boxing, which he documented in meticulous detail.
About the artist: When assigned to do a report on the state of Maryland in fourth grade, Hyman told the teacher that he only bothered to write the report because it gave him an excuse to draw a Colts helmet. "I think I got a D," he says. But all his sports geekiness paid off years later, as he founded the retro sports apparel company Distant Replays.
JIM WAGNER
Wagner and his little brother came up with imaginary football teams that they "played for" in their back yard, and he drew helmet designs for them on his Mom's State Farm letterhead. His crude early efforts eventually evolved into more polished designs, and soon he'd created an entire league.
About the artist: Wagner is now a professional graphic designer and a founding partner of Lagom Design in Kansas City. "I pretty much knew when I was 8 years old that I wanted to design logos for the rest of my life," he says. "Luckily, I am able to do just that and get paid for it."
MARTIN HICK
When Hick was 15, he dreamed up a 32-team basketball tournament, designed uniforms for each club, and then played the whole thing out by himself, using a Nerf soccer ball. "I would play imaginary games in the basement, all the while picturing myself in the uniform I had designed," he recalls. "I was so good. Dominant. I spelled Seattle incorrectly, and the Portland design looked like the Blazers, but in SuperSonics colors! I think I was just trying to fill the brackets quickly so I could get out there and dominate on the hardwood carpet."
About the artist: The basketball tourney was just a small part of Hick's youthful output. He has notebooks filled with amazing uniform art. Now a schoolteacher, he has retained his fascination with uni-based creative projects: Last year he baked a Jim Brown jersey cake for his wife's birthday.
TYLER KEPNER
When Kepner was 13, he launched a self-published baseball magazine. His brother did the cover art while Tyler hand-lettered all the text. Eventually he switched to a typewriter, but even then he did the headlines by hand so they'd evoke the insignia of the team being profiled. He also included little featurettes showing readers how to draw team logos and encouraging them to design their own uniforms. (You can see additional cover art and interior pages here.)
About the artist: Kepner knew all along that he wanted to be a baseball writer, so he sent copies of his publication to journalists, broadcasters and anyone else who might help him get his foot in the door. Must have worked, because today he's the Yankees beat reporter for The New York Times.
RICK PEARSON
Pearson grew up in the late 1950s and early '60s, and spent much of that time creating meticulous sports illustrations on index cards, which now serve as a de facto uniform database for that period. Sometimes he documented specific trends (football players with colored cleats, say, or MLBers with tape spats), but most of the time he just drew what he saw. Maybe you've read about Navy's famous Jolly Roger game from 1962? Pearson was on it. With files like these, he was pretty much on everything.
About the artist: Pearson later became a sports cartoonist for a chain of Minnesota newspapers (you can see additional examples of his work here) and also did PR work for several upstart sports leagues, including the World Hockey Association and World Team Tennis.
NED PAYNTER
Paynter, who's now deceased, was the uncle of Uni Watch reader Bruce Jaynes. He's a bit of a ringer, because he did his drawings when he was an adult, not during his childhood. Still, his East Central Saskatchewan Baseball League -- a wholly fictitious circuit that popped out of his brain fully formed -- is firmly in keeping with our theme here today. Paynter gave his teams their own uniforms, ballparks (most of which were either eccentric or futuristic), game accounts, lore, and even press releases.
About the artist: Paynter also created gorgeous artwork based on the real baseball world (you can see more of his work here), but none of it was ever published. "He was a history professor and also did some freelance writing, mainly on architecture," says his nephew. "His cartoons were mostly done for the amusement of family and friends." A shame.
This type of homespun artwork has roots in the original fantasy leagues, too. When Daniel Okrent invented Rotisserie League Baseball in 1980, one of his cohorts was illustrator Bruce McCall, who drew logos for all the league's teams. Unfortunately, McCall says he no longer has any of those drawings. Later that year, however, a companion operation called the Bush League sprang up, with league commissioner Conn Nugent drawing the logos. Nearly three decades later, Nugent is now a regular Uni Watch reader, and he still has all the logos and related materials.
Do you have anything like this floating around your attic, or maybe stowed in your parents' garage? C'mon, you know you want to share it, especially now that you know lots of other kids were doing the same thing. Let's have a look-see.
And speaking of making your own artwork …
Remember Uni Watch's recent column about the growing trend of fans
making their own jerseys
? One of the people profiled in that piece was Robert Marshall. He's the one who designed a
shout-out to his favorite Baltimore beer
, among several
other
interesting
projects
, but that's nothing compared to his latest creations:
homemade bobbleheads
. Are they
totally cool
or what? Take it from Uni Watch, they're
the bomb
. And yes, their heads really do bobble --
look
!
If you're interested in how Marshall makes these, he describes his working process here. Want him to create a custom-designed bobble for your fantasy team? Contact him here.
Paul Lukas did lots of logo doodles in his youth but, alas, didn't save any of them. His Uni Watch blog, which is updated daily, is here. Want to learn about his Uni Watch membership program, be added to his mailing list so you'll always know when a new column has been posted, or just ask him a question? Contact him here.

ESPN.com
Sports journalism's foremost uniform reporter
ESPN.com columnist since 2004
Also blogs at uni-watch.com