Commentary
Uni Watch NHL goalie gear guide
Originally Published:
October 1, 2009
By
Paul Lukas
| Page 2
Keeping track of NHL uniforms, which Uni Watch covered Wednesday, is simple enough if you apply yourself to the task. But keeping track of goalie pads, blockers and catching mitts -- arguably the most visually distinctive aspect of the sport -- is a lot trickier. There's no central registry, no official team or league style guides, and the goalies are constantly changing their gear.
Fortunately, Uni Watch reader Tyler Hull works for Bauer, and as part of his job, he keeps track of what goalies are wearing. So if you've never devoted much thought to goalie pads yourself, don't sweat it -- Hull has already done most of the thinking for you.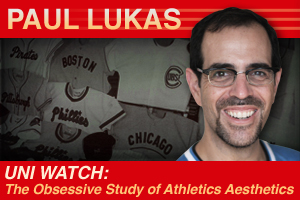 "Goalies mainly chose their pads based on their style of play," Hull explains. "It's the only sports equipment I can think of that's based on the athlete's style. I know baseball players use different gloves, but that's more for
position
than style. Look at the pads
we offer at Bauer
. On the far left is the Vapor X:60, which has knee rolls and is a little softer and more flexible -- good for goalies who play more of a stand-up or hybrid style, because they move around more and want that flexibility. On the far right is the Supreme 100, which is flat with less side roll, for
butterfly goalies
. The flat, hard pad helps them maintain the butterfly and covers more space down low. The red and black pads
in the middle
are our Reflex line, for goalies who like the mixture of a flat base with some give."
But that's not to say NHL goalies are wearing standard retail pads. "The amount of customization goalies do to their pads is amazing," says Hull. "They move the strap locations around, remove padding, change how wide the leg channel or the thigh and calf protectors are, and more. So we keep a file for all the pro goalies who use our gear, so we can make the pad the way they want and they won't have to make the changes themselves."
And how does this all look on the ice? You're about to see, because Hull -- in a move that will undoubtedly earn him first-ballot induction to the Uni Watch Hall of Fame -- has generously prepared a guided tour of the three dozen or so goaltenders who are wearing new pads this season. Many of them are opting for the Reebok Revoke pads (identifiable by their telltale thorn pattern), but there's still lots of variety out there, as you'll see in Hull's report. Here's his goalie-by-goalie breakdown and commentary:
ESPN.COM SEASON PREVIEW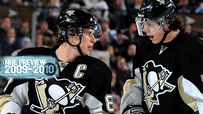 Check out ESPN.com's 2009-10 season preview package, including videos and breakdowns on each of the 30 teams
by Scott Burnside and Pierre LeBrun.
ESPN.com 2009-10 season preview
• Uni Watch: NHL season overview
• DJ Gallo's NHL season preview
Anaheim Ducks
•
Jean-Sebastien Giguere
(
last year
,
this year
): "Keeping the same pad, PS3 [Reebok Premier Series 3], just going with a new color scheme, more white. Many goalies like to go with a white-based pad because they feel it might be harder for the shooter to differentiate between the ice, the boards, and their pads."
• Jonas Hiller (last year, this year): "Interesting story for Hiller and his pads. In 2006, when Reebok bought CCM-Koho-Jofa, they stopped production of all Koho and CCM goalie gear and created their own line. There was such a groundswell of support for the Koho line that they re-released the Koho 700 line, which are the pads Hiller wears. He also switched his blocker and glove from the Reebok Premier Series 3 line to a new Koho line."
Atlanta Thrashers
•
Johan Hedberg
(
last year
,
this year
): "Was wearing ProMask flat pads but switched to the Bauer Vapor X:60 line for this year."
Boston Bruins
•
Tuukka Rask
(
last year
,
this year
): "Still using the Vaughn Velocity 3 pads and Vaughn Epic Glove but switched from a Vaughn Velocity 3 blocker to a Bauer Vapor X:60 blocker -- or at least it's skinned like one. One thing companies won't tell you is that a lot of the gear goalies wear is skinned, which means the inner pad is one product but the outer lining is another. It's so the goalie can have a contract with one company while wearing different gear."
Buffalo Sabres
•
Patrick Lalime
(
last year
,
this year
): "Lalime, like many goalies this year, is switching from Reebok PS3s to the Reebok Revokes. The Revokes are the same pad build as the Reebok PS3s, just with a different graphic."
Calgary Flames
•
Miikka Kiprusoff
(
last year
,
this year
): "Similar to NBA players, NHL players sign contracts with equipment companies to use and endorse their product exclusively. When Kiprusoff's contract with Vaughn recently ended, he signed a contract with us here at Bauer. So he's switching from the Vaughn Velocity 3 to the Bauer Vapor X:60 pads and glove, and the Bauer Reflex blocker."
• Curtis McElhinney (last year, this year): "Just added black to the outer half, but it's the same pad. Just an aesthetic change."
Carolina Hurricanes
•
Cam Ward
(
last year
,
this year
): "Ward uses the Vaughn Velocity 3 Pulse Graphic pads. Like the Reebok PS3 and Revokes, it's the same build of the pad with just a different graphic. Vaughn has three different graphics of their Velocity 3 pads: the Tribal, Pulse and Icebergs designs. Only change for Ward is the now silver-based pads -- although he's also worn
white pads with a white blocker and silver glove
this preseason."
• Michael Leighton (last year, this year): "Last year Bauer bought Itech/Mission and discontinued all the Itech goalie equipment except the RX/9 Reflex line, which is what Leighton was using. This year Bauer continued that product line in the Bauer Reflex line, which is what he will be using this season."
Chicago Blackhawks
•
Cristobal Huet
(
last year
,
this year
): "Still using Reebok PS3 pads but switching to the white-based style. Too bad, because I'm a Hawks fan and really liked the all-red pads."
Columbus Blue Jackets
•
Mathieu Garon
(
last year
,
this year
): "New team, new pad and color scheme, but the change from the Reebok Premier Series 3 to the Reebok Revokes is just a graphic change -- the pads are the same build."
Dallas Stars
•
Alex Auld
(
last year
,
this year
): "Same design as last year with new colors for his new team."
Detroit Red Wings
•
Chris Osgood
(
last year
,
this year
): "Still using the Bauer RX/9 blocker and glove but switched from the Brian's DX2 pads to the Bauer Vapor X:60 pads."
Edmonton Oilers
•
Nikolai Khabibulin
(
last year
,
this year
): "He's switched teams, so obviously he has new colors and a new mask. Keeping the same pads, though -- Reebok PS3."
• Jeff Deslauriers (last year, this year): "Yet another player to change to the Revokes. Reebok is doing a big marketing push on these pads before they go on sale to the public in November. Also, it's worth noting that he'll be using a different set of pads when the Oilers wear their throwback alternates."
Florida Panthers
•
Tomas Vokoun
(
last year
,
this year
): "After his contract with Reebok ended, Vokoun switched to the new Bauer Supreme 100 line, which is new for this year."
• Scott Clemmensen (last year, this year): "Besides changing colors for his new team, Clemmensen has changed from the Vaughn Velocity 2 to the Velocity 3."
Los Angeles Kings
•
Jonathan Quick
(
last year
,
this year
): "Switched colors and graphics. Still using the Vaughn Velocity 3 pads but with the Velocity 2 graphic on his pads. One of the few white-based pads sets I like -- love the colors and the design."
Montreal Canadiens
•
Carey Price
(
last year
,
this year
): "Price uses the Vaughn Velocity 3 7700 pads. This year he is going with the red-based pads he wore in
last season's All-Star Game
. Uses a Velocity 3 blocker and Epic 8500 glove."
• Jaroslav Halak (last year, this year): "Changed from Vaughn Velocity 3 pads and Brian's Zero G blocker and glove to a custom-designed Brian's Zero G complete set-up. Brian's is a good small operation that does more custom graphics then any other company. Company founder Brian Heaton died last year, but thankfully his family decided to keep the firm going, which I was glad to see."
Nashville Predators
•
Dan Ellis
(
last year
,
this year
): "Just another switch to the Revokes."
New Jersey Devils
•
Martin Brodeur
(
last year
,
this year
): "In the biggest move of the year, Brodeur left Reebok and signed with Sher-Wood. He was using the CCM line of the Reebok pads -- the X-Pulses -- and has been using CCM for almost 15 years. But he signed with Sher-Wood because he wanted more of a say in how his pads were designed. This is because Brodeur uses a much smaller pad then most goalies and is one of the only non-butterfly goalies around -- the modern pad just didn't fit his style of play. He also gets his own brand with the Sher-Wood, as his pads will be known as the MB30s."
• Yann Danis (last year, this year): "Have I mentioned that these Revoke things are popular?"
New York Islanders
•
Dwayne Roloson
(
last year
,
this year
): "One of the other big stories this offseason was the emergence of Warrior pads. Warrior was a lacrosse company that got into the NHL three years ago with player equipment, sticks and gloves. There were rumors that they were designing goalie pads, and it looks like Roloson will be the first to use them."
New York Rangers
•
Henrik Lundqvist
(
last year
,
this year
): "Lundqvist was another big signing by Bauer this year. He was using the TPS Response 10s last year, but his contract with TPS ended. Signing him to Bauer was a big deal, and he had direct control in the design of
his pads
, the Supreme 100s."
Ottawa Senators
•
Pascal Leclaire
(
last year
,
this year
): "Sher-Wood bought TPS last year, so there was going to be no more TPS. But Leclaire liked the TPS pads, so he's wearing the old TPS pads, just rebranded as Sher-Wood." (Uni Watch would also like to call attention to those stripes!)
• Brian Elliot (last year on left, this year on right): "Same basic pad build. Last year's was the Vaughn Velocity 2, and this year he's going with the Vaughn Velocity 3 Pulses."
Philadelphia Flyers
•
Ray Emery
(
last year
,
this year
): "Played in Russia last year and is using the same pads -- Brian's DX2 Razors -- just now in Flyers colors."
Phoenix Coyotes
•
Jason Labarbera
(
last year
,
this year
): "Wearing the same equipment -- Vaughn Velocity 3 pads and Reebok Premier Series 3 blocker and glove -- just with a drastically different color scheme."
Pittsburgh Penguins
•
Marc-Andre Fleury
(
last year
,
this year
): "Another goalie making the switch from the PS3 to the Revokes."
• Brent Johnson (last year, this year): "New team, new color scheme and new product line. He was wearing the Itech RX/9, but when Bauer bought them last year he updated that pad to this year's Reflex line. Same basic pad but new company."
St. Louis Blues
•
Ty Conklin
(
last year
,
this year
): "Making the change from the Brian's DX2 to the Reebok PS3s. All-white for now, but I'm guessing he's just waiting for his new gear (unless he's channeling
Arturs Irbe
)."
Tampa Bay Lighting
•
Mike Smith
(
last year
,
this year
): "Yet another PS3s-to-Revokes switch."
• Antero Niittymaki (last year, this year): "New team, new colors, but same pad."
Vancouver Canucks
•
Roberto Luongo
(
last year
,
this year
): "Same pad, just with a little less color."
Washington Capitals
•
Semyon Varlamov
(
last year
,
this year
): "Keeping the same pads, but changing the blocker to the Bauer Supreme 100. He's had Supreme 100 pads
made for him
but hasn't decided to use them yet."
And there you have it, a complete, up-to-date listing of this season's goalie gear changes -- at least until they all start changing their equipment again as the season moves on.
Paul Lukas used to strap on homemade foam-rubber leg pads when he played street hockey as a kid (and did not have an endorsement deal with the local foam rubber outlet). If you liked this column, you'll probably like his Uni Watch blog and Uni Watch glossary too. Want to learn about his Uni Watch membership program, be added to his mailing list so you'll always know when a new column has been posted, or just ask him a question? Contact him here.
ESPN.com
Sports journalism's foremost uniform reporter
ESPN.com columnist since 2004
Also blogs at uni-watch.com