Commentary
A storied century of history at Everlast
Originally Published:
April 29, 2010
By
Paul Lukas
| Page 2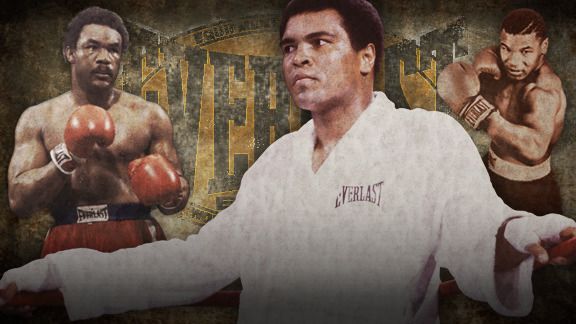 ESPN.com Illustration
At some point on Saturday night, Shane Mosley and Floyd Mayweather Jr. will lace up the gloves for their welterweight mega-bout. But which gloves will they be lacing up?
Mayweather, as per his recent custom, will be wearing Grant gloves. As for Mosley, he hasn't decided yet (like most boxers, he isn't signed to an exclusive brand contract), and it may end up being a fight-time decision. In recent years he's been wearing Reyes, but earlier in his career he wore gloves made by another company -- a company that's hoping to have him back in the fold this weekend.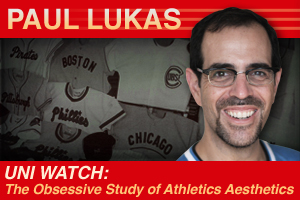 That company is Everlast, the venerable brand that was once synonymous with boxing. Everlast is still the sport's most recognizable name, but it doesn't enjoy the near-monopoly it once had. Look at photos of old fights and you'll see almost nothing but Everlast logos on the gloves (and often on the trunks and shoes, too). Watch a big fight nowadays, however, or even just an installment of "Friday Night Fights," and you'll see lots of Reyes and Grant gloves. All of which has prompted a bit of soul-searching over at Everlast, which happens to be marking its 100th anniversary this year.
"Grant and Reyes saw an opportunity where they could distinguish their product from ours and address the needs of boxers who weren't happy with our designs," says Xavier Cuadrado, Everlast's director of product development. "So even though we still had about a 90 percent share of the retail market, it was down to about 40 or 50 percent for pro fighters on television. So there was the perception that we didn't produce professional equipment that was any good anymore. And that perception began to filter down to retail, so we realized we had to innovate."
If Everlast hadn't innovated much in the past, it's because it didn't have to: It dominated the pro market for generations. As a result, its signature product went largely unchanged for nearly a century. Aside from a few small adjustments (switching from horsehair padding to foam in the 1970s, the development of attached thumbs in the 1980s), the Everlast gloves sold last year were more or less the same as the ones shown in the company's old catalogs.
Cuadrado was brought in a few years ago to help diversify the Everlast glove lineup. He spent time trying on countless gloves, slicing them open to study their construction, talking to fighters in gyms, measuring their hands, and so on. The payoff came last August, when Everlast unveiled a new product line of three fight gloves. The most basic one, called the 1910, is a slightly updated version of the classic Everlast glove. Here's Cuadrado discussing some of the tweaks he made to its design:
Then there are the two new gloves. One of them, the Protex3, offers more padding around the fist and is intended to compete with the Grant product line. The other one, the MX, takes a number of cues from the Reyes gloves, including a blend of horsehair and foam padding and a "puncher's design" that lets the knuckles protrude a bit more and deliver a harder blow (although that can be as painful for the puncher as for the punchee). "It's also made from a very specific Mexican leather," Cuadrado says. "Fighters believe it has a little more traction or tack, so it'll open your skin up when you're hit by it."
Cuadrado comes off as an unlikely candidate to be talking about how to inflict bodily damage in the ring. A soft-spoken industrial designer with an engineering degree, he spent his pre-Everlast years designing lighting, mugs and flatware. "It wasn't very functional," he says. "And I thought, 'I have this engineering degree that I'm not really using.' So I started looking for jobs that entailed some sort of functional application, and I thought sporting equipment might be a good fit."
Cuadrado knew almost nothing about boxing before coming to Everlast and still hasn't attended a pro bout in person. "I'm not all that interested in watching the fights, actually," he says. But he's gotten a feel for the sport by training three times a week at a boxing gym, an experience he discusses here:
Of course, no amount of training in the gym can duplicate actual fight conditions -- something Cuadrado was acutely aware of when the new gloves launched last year. "At first I was worried," he says. "What if someone broke their hand, or complained that they lost the fight because of the glove I designed? But that never happened. Instead, the fighters have told us they really like the new gloves."
AN EVERLASTING HISTORY
Most fans don't realize that Everlast began as a swimwear brand. Company founder Jacob Golomb was frustrated by poor-quality swimsuits and in 1910 began making suits guaranteed to last one year. Everlast didn't get into the boxing game until several years later, when Jack Dempsey -- then an up-and-comer -- had Golomb make some training headgear for him. When Dempsey won the heavyweight title in 1919, the Everlast name was catapulted to fame along with him.
Even then, though, the company stayed surprisingly diversified. Look in an old Everlast catalog and you'll see gymnastic equipment, fitness gear, gym mats, baseball accessories and even baseball uniforms.
But those days are gone. Today Everlast focuses on boxing, MMA and some related fitness products. And although 2010 marks the company's centennial year, there are no plans for a commemorative swimsuit.
-- Paul Lukas
While Cuadrado controls how the gloves will be constructed, the gloves' exterior appearance is the purview of Jason Whitworth, the company's product design manager. He came to Everlast in 2008 and, like Cuadrado, was never much of a boxing fan (although he's very much into MMA). He's tinkered a bit with the look of the gloves and has also done custom designs for a variety of fighters. Along the way, though, he's learned that boxers can be mercurial sorts.
"A lot of times I'll tune in to watch the fight on TV, and I'm all excited to see the glove I designed, and then I see the guy isn't wearing it, and I'm like, 'Awww,'" he says. Just last weekend, he designed custom colors for heavyweight fighter Chris Arreola, but Arreola ended up going with a standard glove. The weekend before that, Whitworth designed a custom logo glove for Andre Berto, but Berto opted for a standard-issue Everlast MX.
"It's frustrating, but you'd be surprised how often it comes down to a last-minute decision," he says.
All of which brings us back to Shane Mosley and his choice of gloves this weekend. Since he's been wearing Reyes gear lately, the analogous Everlast model would be the MX, which is what the Everlast people have been lobbying him to choose for Saturday's bout. But if the two gloves are so similar, why should Mosley choose one over the other?
"Well, we improved upon the Reyes design by giving the MX slightly longer fingers and a slightly tighter profile," Cuadrado says. "But look, a fighter's hands are the most important part of his arsenal. And if you're comfortable wearing a particular glove, there's nothing I can tell you that's going to make you switch. We don't offer money to fighters for that, but even if we did, it wouldn't be worth it to them. If you're comfortable with our glove, you'll wear it. If you're not, you won't."
In Mosley's case, we'll all find out what he feels comfortable with Saturday night.
Paul Lukas has not punched anyone, in a gym or otherwise, since eighth grade. If you liked this column, you'll probably like his Uni Watch Blog, plus you can follow him on Twitter and Facebook. Want to learn about his Uni Watch Membership Program, be added to his mailing list so you'll always know when a new column has been posted, or just ask him a question? Contact him here.