Commentary
Yankees mulled jersey change in 1974
Originally Published:
September 30, 2010
By
Paul Lukas
| Page 2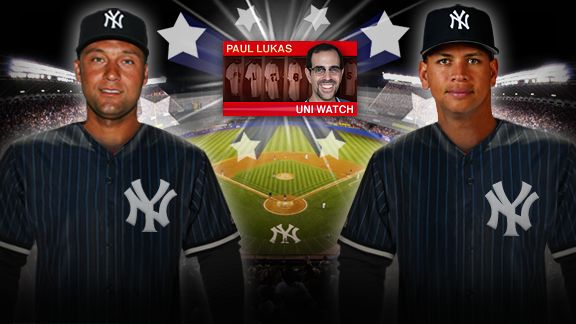 ESPN.com Illustration
With most MLB teams having solid-colored alternate jerseys nowadays, the old protocol of wearing white at home and gray on the road has been reduced to a quaint relic. It's not unusual to see a color-against-color game, and just last week the A's and White Sox went black against black.
But with the pomp and circumstance of the postseason looming, old-schoolers can take heart in the knowledge that the Yankees will always wear their pinstripes at home and their grays on the road. Thus has it ever been, thus will it ever be.
Except it almost wasn't. Although most fans aren't aware of it, the Bronx Bombers nearly gave their road uni a major overhaul in the 1970s. Former Yankees PR director Marty Appel spilled the beans on that one in his 2001 book, "Now Pitching for the Yankees," which included the following passage:
"In 1974 I walked into [then-general manager] Gabe Paul's office to find samples of new Yankee road uniforms draped across his sofa. They were the opposite of the home pinstripes -- they were navy blue with white pinstripes. The NY logo was in white. Gabe liked them. I nearly fainted. ... I think my dramatic disdain helped save the day and saved the Yankees from wearing those awful pajamas on the field."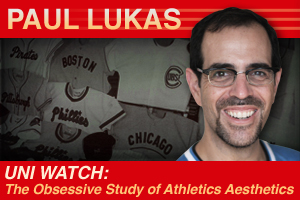 Man, talk about your roads not taken! If you think CC Sabathia looks gigantic in the Yanks' home pinstripes, imagine him in the reverse-field version -- he'd look a like a giant black hole, or maybe an eclipse. Not that most of the other Yankees would look much better.
Appel parted ways with the Yankees ages ago but still has his own PR firm in New York. With the Yanks getting set for their annual postseason run, Uni Watch recently caught up with him to discuss how he single-handedly maintained the team's traditional on-field look, along with a few other uni-related items of interest.
Uni Watch: Let's start by setting the stage. In 1974, what was your position with the Yankees?
Marty Appel: I was the PR director.
And how long had you been working for them?
Since 1968.
Now describe for me what happened in Gabe Paul's office and what you saw there.
Well, the office itself was interesting, because we were at Shea in those years [because Yankee Stadium was being renovated]. Our headquarters were across the street from Shea in an old building that had been the administrative offices for the World's Fair. So Gabe Paul's office had actually been Robert Moses' office.
Wow, that's a great little subplot!
Yeah, kind of an interesting side story. Anyway, we were just back from a road trip, and I got summoned to Gabe's office for any number of reasons. That was common. And when I walked in, on the sofa facing his desk was an assortment of double-knit Yankee uniform samples. One of them was navy blue with white pinstripes and a white "NY."
So it was sort of a reverse-field, or negative, version of the home uniform.
Right.
And there were other sample designs, as well?
Yeah, but that's the only one that stands out in my memory. It was sort of on the top of the pile, even though they were spread across the couch. I looked at them with this look of horror on my face, and he said, "What do you think?" And I said, "What's it for? Is this a possible road uniform?" And he said -- uh, who was the manufacturer back then?
WHAT MIGHT HAVE BEEN

Experimental prototype uniforms, like the ones Marty Appel saw in Gabe Paul's office, are more common than you might think. At various points, the Dodgers were considering blue sleeves, the Diamondbacks were considering purple lettering on a purple jersey, and the White Sox were considering, well, all sorts of things. Prototypes have been common in other sports, too.
Additional info on those prototype designs, and many others, is available in this column.
-- Paul Lukas
Hold on, I can look that up. Looks like it was Wilson.
OK, then Wilson had just made a bunch of samples, hoping we might like something different or new. So it wasn't like Gabe Paul had decided to change the road uniform and asked for samples.
They were just submitted, unsolicited.
Exactly.
So what did you end up saying to Gabe?
I said something like, "Oh my God, you're not seriously considering this, are you? This would be a disaster!" Because, you know, the gray "New York" jersey is iconic in its own right.
So what happened to the samples after that? Were they discarded, or stowed in a closet, or did you gather them up and run out of there, or what?
I don't know. But he was satisfied enough by my reaction that it never came up again.
Do you know if George Steinbrenner ever saw them?
I doubt it.
Do you know if a player ever tried them on?
No, they did not.
Fair enough. Got any other good uniform-related stories from your time with the Yankees?
Yeah. In '73, which was the first year the Yankees wore double-knits and the last year of the old stadium, we had a sleeve patch.
Yes, the Yankees were the first team ever to have a stadium-anniversary patch.
Oh, I didn't know that! The point I was going to make was that with that patch, and with the cover of the press guide that year, which had a similar design, that was the first time that we made the stadium facade into a logo of its own. I mean, everyone knew that the facade design kind of defined Yankee Stadium ...
But you're saying this was the first time you used it for branding.
Yeah.
Interesting. Do you know who designed that patch?
It was Tom Villante. He was a Yankee batboy in the '40s, and then he went on to a career with the ad agency BBDO, where he became a major advertising executive. He went on to become the vice president of marketing and broadcasting for Major League Baseball and created the "Baseball Fever: Catch It!" slogan. He also created, "Schaefer is the one beer to have when you're having more than one." So as you can see, he was an important guy.
---
And there you have it. Big thanks to Appel for sharing his recollections (and for saving the Yanks' uniform heritage).
Special Raffle and Party for Uni Watch Readers
Most of you have probably seen those posters that document the uniform histories of various teams. And if you haven't seen the posters, maybe you've seen the clocks, or the fridge magnets, or the other similar items in that product line.
Those products are all marketed by a Toronto operation called Maple Leaf Productions. Company founder Scott Sillcox is currently in the process of selling off the original watercolor illustrations used throughout the Maple Leaf catalog and has generously offered to give away one painting to a Uni Watch reader. The lucky winner will be able to choose from nearly 1,500 NFL, NHL, MLB, CFL and NCAA images. For further details and info on how to enter, look here.
Meanwhile, the next Uni Watch party will take place next Saturday, Oct. 9, 3 p.m., at Sheep Station in Brooklyn, N.Y. So throw on your favorite jersey and mingle with your fellow uniform enthusiasts -- we'll see you there.
Paul Lukas appreciates the Yankees' uniform heritage but will be rooting against them in the playoffs, no matter what they wear. If you liked this column, you'll probably like his Uni Watch Blog, plus you can follow him on Twitter and Facebook. Want to learn about his Uni Watch Membership Program, be added to his mailing list so you'll always know when a new column has been posted, or just ask him a question? Contact him here.