Commentary
Uni Watch college basketball preview
Originally Published:
November 11, 2010
By
Paul Lukas
| Page 2
A basketball jersey doesn't offer much real estate for patches and logos and such. So it's just as well that college hoops jerseys have never carried manufacturers' marks or NCAA logos.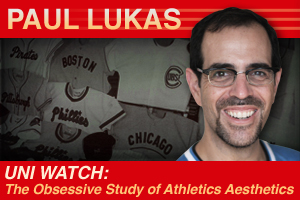 That little blue square beneath the American flag patch is an NCAA logo patch. It's part of a new uni-certification program designed to cut down on uniforms that violate NCAA regulations. The program is voluntary this season, but schools that successfully go through the certification process now get to wear the new logo and are also permitted to have a swoosh or other maker's mark on the chest -- something that has previously been permitted on shorts but never on jerseys.
So most of these year's new college hoops jerseys will look a bit busier than their predecessors. And even a team using the same uni design as last year can suddenly look a lot more cluttered. (For more background on the new NCAA program, look here.)
The other big news this season is that adidas is bringing its Revolution 30 uniform system -- already unveiled earlier this fall in the NBA -- to the college ranks, complete with the heat-zoned pinholes and mesh-fabric uni numbers. The thing is, adidas has used the exact same design template for almost all the schools wearing the Rev30. It's easy to spot, because the collar design looks a lot like a necklace. So that's what Uni Watch will be calling this uni template: the Necklace.
So with the season about to tip off this Friday, here's Uni Watch's annual team-by-team rundown of all the latest looks -- or at least the first installment of it. If history is any guide, there are plenty of new uniforms that have so far evaded Uni Watch's notice. If that's the case, we'll have follow-up reports over the next few weeks.
With that caveat in mind, here we go:
• Arkansas, which already had a fairly plain, traditional look, has gotten even plainer.
• Interesting trade-off for Baylor: simpler collar but busier side panels.
• Seriously disappointing news out of Boise State, which had a really nice look and has utterly ruined it.
• Boston College has switched from Reebok to Under Armour, but the resulting changes are more incremental than drastic. The most interesting detail is that the uni numbers will now have a stained-glass pattern (because B.C. is a Jesuit school). Uni Watch could painstakingly go over all the other details, but it turns out someone else has already done that.
• Brigham Young has switched from a fairly traditional template to Nike's System of Dress, which means tight jerseys and baggy shorts.
• Creighton has traded in one standard Nike template for another.
• Major overhaul for Detroit Mercy, including an interesting mesh pattern on the back. That "KB" patch is in memory of associate dean Kathy Bush, who passed away last summer and had worked closely with many of the players.
• Florida State has jettisoned the gold collar and shoulder trim and also has a new gold alternate uni.
• Uni Watch is disappointed to see that George Mason is ditching the gold uni numbers.
• Good move by Georgia, getting rid of the collarbone horns and cutting down on the gray trim.
• Downgrade for Georgia Tech, which has scrapped all its white trim.
• Extremely minor tweaks for Indiana. You can see shots of the new design in action in this gallery.
• Kansas is now wearing the Necklace, but the real story is that adidas has made a serious error on the side striping. Notice anything amiss in those shots? Look again -- the red stripe on the jersey is thicker than the one on the shorts. The same problem shows up on the red alternate uni (and presumably on the blue road set, although that hasn't made a public appearance yet). Incredible, inexplicable, unforgivable. And now that Uni Watch has pointed it out to you, it's gonna bug you every single time you watch the Jayhawks on the court this season. Sorry about that.
• No new design for Kentucky, but several players have new uni numbers.
• Lipscomb is another System of Dress convert.
• Louisville is another school that's now wearing the Necklace. You can see some views of the road design in this gallery.
• Marquette players will now be wearing specially designed Air Jordan sneakers.
• Uni Watch wasn't a fan of Marshall's collarbone horns, but the Herd's new System of Dress design feels too plain. Back to the drawing board, folks.
• Uni Watch really likes the changes at Maryland (although the new black alternate seems like a bit much). You can see some of the smaller details in this gallery and check out the home uni in action here.
• Memphis has a new black alternate uni.
• Michigan has switched to the Necklace. Not bad, but Uni Watch misses the maize trim.
• All Michigan State teams have new uniforms this year, and that includes the basketball team. To repeat what Uni Watch said a few months ago about the Spartans' new football uniforms: The bronze trim is gorgeous, but it just doesn't feel like Michigan State.
• Milwaukee is wearing the Necklace, but that's secondary to the major change they've made to their chest insignia. Frankly, Uni Watch doesn't much care for either version, so let's call this one a push.
• Pretty significant changes for Missouri. Uni Watch counts this as an upgrade.
• Navy has switched from an old-school uni silhouette to Nike's System of Dress.
• Nebraska is wearing the Necklace and, in the process, has cut back a bit on the black trim, which Uni Watch counts as a good thing.
• N.C. State is another school going to the Necklace. If you look at this shot, you can clearly see the heat-zoned pinholes and the mesh-fabric uni numbers, just like the NBA is now using.
• Northern Iowa has switched to the System of Dress.
• The bad news is that the only photo Uni Watch has of Notre Dame's new uni is a grainy screen shot; the good news is that they're switching to, of course, the Necklace, so you can pretty much see what they're up to. The worst news is that this is definitely a downgrade. On the plus side, the Irish appear to have traded in their black alternates, which never looked right for this team, for a gold alternate.
• Uni Watch likes Oakland's new look, but the most important thing is that the school's most distinctive visual trademark -- putting the player names below the uni numbers -- has been retained.
• Oregon State is going with a Miami-style design, complete with the stripes on the shoulders (which Uni Watch happens to love, by the way).
• Penn State has traded in its collarbone horns for a more streamlined look.
• Portland has changed from a traditional look to the System of Dress.
• Uni Watch isn't a fan of the changes at Princeton, especially the new side panels. The "Marv" patch is for longtime professor and team advisor Marvin Bressler, who died in July. Further details here.
• Other schools are moving away from Nike's collarbone horn design, but Providence didn't get the memo.
• It might actually make sense to keep your collarbone horns if your team name is the Rams -- horns, rams, get it? -- but Rhode Island apparently didn't think so.
• We only have one small photo to go by so far, but Siena appears to have switched to the System of Dress.
• South Carolina has changed from Nike to Under Armour, with generally positive results. You can see the road and alternate designs, along with some small details, here. In addition, the Gamecocks will have new sneakers.
• Uni Watch hates -- hates -- Tennessee's new black Necklace. Additional details in this video clip.
• Texas has a new uni number font, plus the little medallion logo has raised from just beneath the collar to the center of the collar. They also appear to have a gray alternate uni in the works.
• Texas A&M is yet another school wearing the Necklace. Also: The Aggies will reportedly be adding a memorial patch for recruit Tobi Oyedeji, who died earlier this year.
• Major change of direction for Tulsa -- see for yourself. Uni Watch is all in favor of scrapping the collarbone horns whenever possible, but this revision may have gone too far in the minimalist direction.
• A step backward for UCF; its new uniforms look like a high school design. Make that chest insignia bigger!
• Why would UCLA (or any team, really) eliminate its waistband striping? Bad move.
• UTEP has switched to the Necklace. Shame about the loss of the pick-axe logo on the road design. Also, the Miners will wear Texas Western throwbacks -- that's the school's original name -- for the season opener on Nov. 12.
• Vanderbilt has added trim to the armholes and collar but simplied the shorts striping -- much better. Here's how the new design looks on the road uniforms.
• Hey, did Uni Watch mention that adidas has a new design template with a collar that looks like a certain piece of jewelry? That's Wisconsin, obviously. Sure looks familiar, no?
• Wyoming has made significant changes to its home uni, but the biggest changes will be on the road, where the Cowboys will now be wearing gold instead of brown. Uni Watch heartily approves.
• Xavier is yet another school switching to the System of Dress (you can see the road version in these scrimmage photos). Uni Watch likes this one a lot, especially the bronze accenting and the big "X" on the shorts. Further info, including word of a throwback to be worn at some point this season, here, and additional photos here.
Do you know of any new designs that Uni Watch missed? Don't be shy -- speak up.
Courting Favor
Lots of schools also have new court designs this season, including Arizona, Auburn, Indiana State, Michigan State, Rutgers and Texas A&M.
But of course the new court design everyone's going to be talking about is the one in Oregon. No, that's not a bleach stain -- it's supposed to simulate the sensation of looking up at a bunch of fir trees (additional info here).
Personally, Uni Watch likes it. Unlike so many of Oregon's design stunts, this one doesn't feel like it's based on comic books or geared to appeal to 17-year-olds. But not everyone is so favorably disposed -- for an interesting discussion of the court's merits, check out what Uni Watch bench coach Phil Hecken recently wrote, and the comments that ensued, over on the Uni Watch Blog.
Hot Stove Uni Season in Full Swing
Meanwhile, over on the diamond, new uniforms have been unveiled this week by the Indians and Nationals. You can read Uni Watch's full assessment of the Tribe's new set here, and an in-depth look at the Nats' new set is here.
Paul Lukas has never worn a necklace (but has spent plenty of time looking up at fir trees). If you liked this column, you'll probably like his Uni Watch Blog, plus you can follow him on Twitter and Facebook. Want to learn about his Uni Watch Membership Program, be added to his mailing list so you'll always know when a new column has been posted, or just ask him a question? Contact him here.