Commentary
Uni Watch's offbeat holiday gift guide
Originally Published:
December 2, 2010
By
Paul Lukas
| Page 2
Black Friday, Cyber Monday -- please.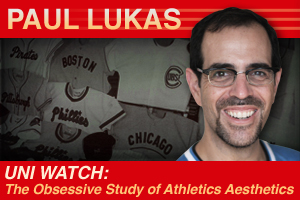 Everyone knows the holiday shopping season doesn't really kick into high gear until the publication of the Uni Watch Gift Guide, the 2010 edition of which is finally here. As per our annual custom, your tireless columnist has been scouring the globe for the kind of unusual sports-related gifts you won't find at your local mall or pro shop.
As usual, not every item listed below is strictly uni-related, but they should all appeal to that special someone on your list who's obsessed with athletics aesthetics. They'll also do the trick if you're looking for a little something to sneak into your own stocking.
Without further ado, here are Uni Watch's top gift choices for 2010:
1. Original uniform watercolors from Heritage Sports Art. You've probably seen the uni-historical posters and other products that Maple Leaf Productions has been selling for the past 15 years. The company has produced more than 1,500 individual MLB, NFL, NHL, CFL and NCAA uniform illustrations during that time and is now selling the original watercolor paintings. Each one is a unique, one-of-a-kind piece of art, and many of them include little handwritten notes that provide an inside peek at the company's production process. Prices are mostly in the $350 range, with framing available for an extra charge. For full details, look here. (And for further details on the company, its founder and the artists who created these paintings, look here.)
[+] Enlarge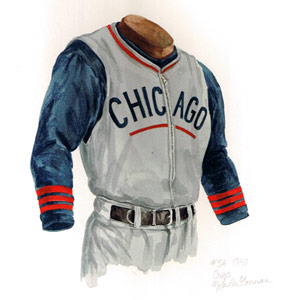 Heritage Sports ArtYou, too can own an piece of Chicago sports history.
2. Giants World Series poster from McSweeney's. Author and McSweeney's honcho Dave Eggers isn't just a great writer -- he's also a surprisingly good cartoonist. Those illustrations, which he made during the World Series, have been cobbled together into this very entertaining poster. At only $10, it's a great stocking stuffer.
3. Duct tape NFL helmet artwork from Jeremy Tubbs. You already know that you can do anything with duct tape. But it probably hadn't occurred to you that "anything" includes making portraits of NFL helmets. Yes, that entire image is made from duct tape -- six layers of it, from light to dark, with each layer cut away to reveal the next layer underneath. it's one of several helmet artworks made by Chicago artist Jeremy Tubbs, who sells them via his Etsy shop. Don't see your favorite team there? Tubbs says he's prepared to render any NFL team -- except for the Browns.
4. Hand-screened Ohio State football posters from Grandman. Walt Keys, a Cincinnati designer who calls himself Grandman, has been making super-cool poster designs for each Ohio State football game this season, and he's produced a series of limited-edition hand-pulled prints for the Wisconsin, Miami, and Michigan games. These three gorgeous prints are available on Etsy (plus Keys will be adding a fourth print for OSU's bowl game, once the venue and opponent are announced).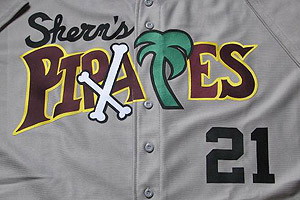 Courtesy of David FrostThe Do-It-Yourself uni community always delivers.
5. Custom fantasy league jerseys from David Frost. You've drafted an unbeatable fantasy team for yourself. Even given the team a snappy name. But wouldn't it be even better if your team had its own uniform? Longtime do-it-yourself jersey enthusiast David "Frosty" Frost can make your fantasy jersey a reality. Those are actual jerseys he's created for past clients. If you already have a logo, he can sew it onto a jersey for you; if you don't have a logo, he'll work with you to design one. Either way, he'll hand-cut the fabric, add your preferred name and number, and do everything else to make you the envy of your fantasy league rivals. Prices can vary from $75 to $240, depending on the complexity of the job. Order as soon as possible to ensure delivery in time for Christmas. To discuss the particulars of your jersey, contact Frosty. (Want custom gumball-style helmets for your fantasy football league? Bill Jones, who was featured in last year's Gift Guide, is still on the job. Contact him here. And if you want your fantasy team to have its own custom-made bobblehead or custom-painted tabletop hockey figurines, the man to talk to is still Robert Marshall.)
6. MLB pinstripe cufflinks from Uncommon Goods: Wearing your favorite team's pinstriped jersey to the office might not jibe with your company's dress code, but here's a classy way to get around that problem. The cufflinks are made from little swatches of game-worn jerseys, and each set comes with an authentication number that lets you track which player's jersey you're wearing on your sleeve. Granted, none of this helps you very much if you root for the Padres, but hey, not everyone was cut out to wear pinstripes. (Also available: cufflinks made from stadium seats.)
7. Chicago Bears throwback socks from Sports Fan: The best thing about those 1940s throwbacks that the Bears have been wearing this year is the striped socks. NFL socks aren't usually available for sale, but you can score yourself a pair of these Bears beauties from a Chicago shop called Sports Fan ($12 plus $8.95 for shipping). Just goes to show that sometimes the best stocking stuffer is a pair of stockings. To order, call 888-545-2021. (Want more socks? Check out the great line of soccer-inspired socks from Wong Wong.)
8. Grounds crew jackets from Ebbets Field Flannels. Back in the day, the grounds crews at ballparks wore simple but classy stadium-issued jackets. Now the good folks at Ebbets Field Flannels have come up with dozens of reproductions of these jackets, mostly for long-defunct teams that almost nobody remembers anymore. With their felt lettering and old-school logos, the jackets offer a unique way to connect with your city's baseball past. And at $79 apiece, they're a bargain. You can see the full list of available choices here.
9. Jersey-shaped flags from Big Time Jersey. Sure, you can support your favorite team by flying one of those standard house flags. But why settle for that when you can have a flag that looks like the team's jersey? That's the idea behind Big Time Jersey, a new company selling jersey flags for all NBA and NHL teams, along with a handful of colleges and high schools. (They're working on getting licenses for the NFL and MLB.) Yes, there's another company out there offering something similar, but Big Time's flags come with a patented curved mounting pole that helps the flag drape more realistically. For further info, check out Big Time's web site.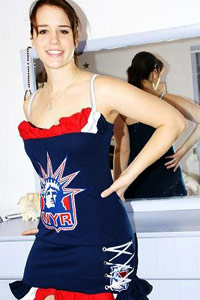 JerseyMods This is what you get for the hockey fan who has everything ... and by "everything" we of course mean a girlfriend.
10. Hockey jersey dresses from JerseyMods. Guys, ever wish your girlfriend could wear a cool hockey dress to match your jersey? Gals, ever wish there were more female-friendly ways to support your favorite team? Ontario-based NHL fan Lise Munsie has mastered the art of turning NHL jerseys into sexy dresses, which she sells through her online shop. You can order one of the ones shown there or you can send her a jersey and she'll custom-tailor it to your specifications. You'll need to contact her very soon if you want to ensure holiday delivery, so shoot her a note pronto to discuss the particulars of the dress you have in mind. (For more about Munsie and her dresses, check out this interview with her.)
11. "Meats" T-shirt from Uni Watch. Your friendly uniform columnist tries to come up with a fun product to offer each year, just as a side project. This year it's a combination of the two most popular things here at Uni Watch HQ: a certain team and a certain foodstuff. The perfect gift for that carnivorous baseball fan. Available at several New York-area butcher shops or via mail order from Uni Watch.
12. Seasonal favorites from past years. If you want a painstakingly authentic reproduction of an old college football helmet, look no further than Gridiron Memories. ... Longtime Uni Watch favorite No Mas has a new line of Everlast T-shirts -- some plain, some fancy. Plus they still have the world's coolest Wiffle Ball tee and are still partnering with Uni Watch on the Naming Wrongs T-shirt series. ... Chris Speakman of Sports Propaganda continues to produce sensational MLB screen-prints. ... Robert Marshall remains the go-to guy for baseball stirrups. Further details on his site, or just contact him directly for the full scoop. ... And although it was published last year, the "Greatest Jerseys of All Time" issue of The Hockey News is still a must for any uni-minded hockey fan on your shopping list.
Uni News Round-up
Before you dive into that holiday shopping, here are a few items you might have missed during the Thanksgiving weekend:
• Two NHL teams have just released new alternate jerseys. You can see Uni Watch's full assessment of them here.
• The Twins have a new alternate road jersey, which Uni Watch finds unobjectionable but also unremarkable.
• Ohio State broke new ground last weekend when it was essentially flagged for excessive Nike-ness.
OK, now you can start shopping. Uni Christmas to all, and to all a good night.
Paul Lukas knows who's been naughty and nice, but he's not telling. If you liked this column, you'll probably like his Uni Watch Blog, plus you can follow him on Twitter and Facebook. Want to learn about his Uni Watch Membership Program, be added to his mailing list so you'll always know when a new column has been posted, or just ask him a question? Contact him here.
ESPN.com
Sports journalism's foremost uniform reporter
ESPN.com columnist since 2004
Also blogs at uni-watch.com