Commentary
Spelling bee evokes sports misspellings
Originally Published:
June 1, 2011
By
Paul Lukas
| Page 2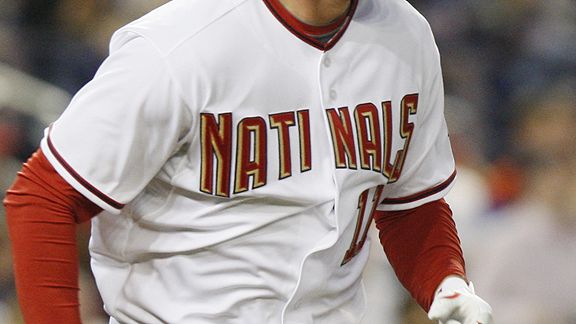 AP Photo/Charles Dharapak
With ESPN set to air the Scripps National Spelling Bee on Thursday, it's worth remembering that kids in grade school aren't the only ones who occasionally have a little trouble with spelling.
Welcome to the world of uniform typos, probably the most entertaining corner of the uni-verse. Essentially functioning like passive blooper reels, uni typos remind us that a multijillion-dollar industry is only as strong as its most underpaid seamstress' spelling skills. And since nobody has figured out how to load a spell-check function onto a sewing machine, uni typos are sure to continue. Toss in our increasingly "Gotcha!"-obsessed culture, a media climate in which everything is documented in excruciating detail, and the increasing barrage of alternate and throwback uniforms (each of which provides more opportunities for additional typos), and you have the perfect laboratory for an Era of Error.
Here are 15 of our favorite uni typos. And before you judge any of them too harshly, remember that uniforms often involve a lot of words that would be challenging even for the geekiest spelling bee champ.
1. Richard Hamilton of the Detroit Pistons -- March 18, 2008
2. "Nationals" misspelled on jerseys of Ryan Zimmerman and Adam Dunn -- April 17, 2009
3. Wilson Chandler of the Denver Nuggets -- March 14, 2011
4. Andray Blatche of the Washington Wizards -- Feb. 23, 2011
5. Jason Smith of the New Orleans Hornets -- Feb. 27, 2011
6. Wayne Gretzky of the New York Rangers -- Oct. 30, 1997
7. West Virginia 2007 NIT champs shirt
8. Dan Jennings of West Virginia basketball -- Nov. 18, 2010
9. "San Francisco" misspelled on Eugenio Velez's jersey -- April 7, 2010
10. "Toronto" misspelled on Joe Carter's jersey -- July 14, 1994
11. Navy misspelled on football uniforms -- Sept. 16, 2006
12. Numerous typos on the Stanley Cup, including "Bostqn Bruins" and "New York Ilanders"
13. "Minnesota" misspelled on Adam Everett's jersey -- Aug. 22, 2008
14. "Angels" misspelled on Adam Riggs' jersey -- Aug. 16, 2003
15. "Cincinnati" misspelled on Aaron Harang's jersey -- April 12, 2005