AP Photo/Mike Roemer
Having cycled twice through the Five Stages of Brett Favre's Retirement -- denial, anger, bargaining, highlight package, acceptance -- a weary nation prepares to move forward.
But we all have a long way to go yet. Months, at least, maybe years if "Retirement II, Electric Boogaloo" doesn't take root. So, just for today, let's not catalog the stats again, or try to situate the man in history, or imagine him in a Minnesota Vikings uniform, or revisit all those old stories worn smooth and dull by time and retelling.
Let's ask instead this question: At the end of a career, what does an athlete owe us?
Like every American who writes about sports in the 21st century, I have been called upon from time to time to write about Brett Favre. This has been mostly agreeable work. I like cheese curds and whitefish and daredevil football, and Mr. Favre is an affable man who's gregarious and funny when he wants to be. I was lucky enough on a couple of occasions to have very good access to him.
Back in 2006, when public talk about the imminent end of his career was peaking for the second or third time, and folks began to resent the annual psychodrama that his decision to leave the stage was becoming, I spent a few months traveling back and forth to Wisconsin. From all the interviews we did during those weeks, I can boil down Brett Favre's 2006 position on Brett Favre to these eight words:
"I know I can still play this game."
And to those who understood what he meant, no further explanation was necessary. To those who didn't, no further explanation was possible.
It was an inglorious 8-8 season for Favre and the Green Bay Packers, a year of "So what?" mediocrity in which nothing much good or bad could be said about anything by anyone. But another break-even season wasn't going to cut it in Titletown, USA, and the locals grew louder in their discontent. What about the future?
Looking back, the most telling thing I heard in the course of working on that story was a comment from Deanna Favre. This was October, I think, and we were parked in the family car waiting for her daughter Breleigh to finish a gymnastics class. It was gray afternoon, and the windshield was misted with drizzle, and we were talking about all this -- about the future near and far and how to get there, and about what might come next, especially for her husband.
"I don't know," she said, "but I know I'm going to have to help him think of it." And she laughed a little as she said it, because it was true. If you've done only one thing from the age of 8 or 9 onward, and done it at the highest level, and done it to the exclusion of everything else, how can you possibly imagine a new life for yourself? An entirely different life? By your own harsh measure, a lesser life in which you no longer can do the thing for which you were born? This wasn't just his job, after all. Football was his calling.
And I knew then how hard this was going to be for them all.
A season later, the Packers were 13-3 and, but for a better bounce, a better break, one moment of zip-one-in-there-to-make-something-happen gunslinging reconsidered, a play or two away from a Super Bowl. That briefly quieted the Cheesehead faithful but amounted only to a postponement of the inevitable. The big question still hung over Green Bay as cold and unknowable as the winter moon. What next?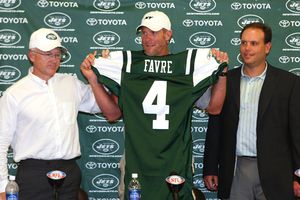 Joe Robbins/Getty Images
Seems like just yesterday Brett signed with the Jets. The marriage ended rather quickly.
When that next thing came a few months later, it seemed genuine and final. He retired. At last. His farewell seemed heartfelt -- even if behind the scenes it was the silent, angry dissolution of a marriage gone sour.
Then came the spring. Before long, the slow stirring of his interest. The murmurs. The rumors. Then the trial balloons, and the coy text messages, and the maybes out of Mississippi. Might be. Could be. Then the headlong rush of late summer. Gulfport to Green Bay, and the botched reconciliation, and the torrent of stories, and the midnight phone calls, and back onto the private jet and off into the sky and out of the darkness, and the next time we saw Favre at a news conference he looked dazed, at once liberated and exhausted, blinking in those TV lights as though he'd just been yanked out of the witness protection program.
Turns out he had only been traded to the New York Jets.
"I know I can still play this game," came the sound bite.
So there I went again, too, on assignment to the Jets' camp in New Jersey, bearing bagels and lox this time around, but carrying the same set of questions.
Noting that he looked out of place took no special powers of observation. I'd never seen him with a playbook under his arm; now he carried one everywhere. But it also was easy to see that the locker room was loose and upbeat about what lay ahead. With $100 million in new talent, the Jets were going to be better. No one knew how much better, but Favre was hired to lead them there. And as they all dressed for practice, you'd catch the rookies sneaking looks at him.
You'd catch the New York sports media doing the same -- eyeballing Favre sideways at his weekly news conference -- as they tried to sort him out, or at least sort him into one of the cubbyholes they kept handy for the inventory of stories they already knew how to tell.
My prevailing thought at those Wednesday gang pressers was that, in the months between his retirement and his resurrection, neither he nor Deanna had been able to think of anything else for him to do. He was going to play until he emptied the tank. Because he had to. What else was there?
With revisionism rampant everywhere in February 2009, it's important to remember that in the early days of Favre's 2008 tenure at the Meadowlands, expectations were modest. An 8-8 record was a reasonable hope, doubling the number of wins from the dismal prior season. The bottom line to anyone who knew where to look for it was that the Jets needed to rekindle interest in the team to sell seats in their new stadium. The Favre acquisition was part of that. Anything better or more lasting was a longshot.
It wasn't until the middle of a crazy season leaguewide that the irrational exuberance of a possible playoff run overtook the ridiculous "Broadway Brett" tabloid and TV narratives. Anyone who knew him knew he wouldn't go into Manhattan unless he made a wrong turn on the highway. He was in New York, but not of it, and he had no line of credit with the savage local sports pages. In large part because the Jets kept him from the press. No one-on-ones were allowed. Their public relations apparatus was scaled to accommodate the local publicity needs of a Chad Pennington, not the American folklore of a Brett Favre. So when the inevitable collapse came, injured or not, the press treated him like a stranger, another millionaire interloper it could drive out of town at the sharp end of a pencil.
Which brings us back to the present moment and the awkward anticlimax of his second retirement.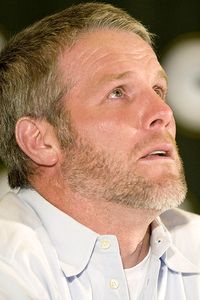 AP Photo/Mike Roemer
Will we get another teary press conference from Favre sometime in the future?
Is this really how it ends? With a couple of text messages and a conference call? I suspect not. We all have a few more months of this in front of us.
Because even if Favre stays retired, there has to be some sort of flourish, doesn't there? Some sort of final send-off? A ceremony with a speech or two and a gigantic green jersey hoisted onto a mezzanine somewhere?
Maybe, to be on the safe side, we'll wait a year or two. Just to make sure that Zombie Favre doesn't rise again, forever undead and throwing deep, to take the tiller at Minnesota or Tampa or Calgary.
Don't laugh. In his teleconference last week he said, "Right now I've got no desire to do anything," which is another way of saying he still doesn't know what to do next. Which is what got us all here. And which is why I wouldn't be very surprised to see him in a uniform somewhere in the fall.
So what does an athlete owe us at the end of a career? What do you do once you test positive for "too old"?
Truth is, to most of us, Favre isn't an elite athlete who's subject to the ravages of age and time, but rather a favorite character in a long-running weekly TV series.
To have given his best every time out is not enough. What we want from him, what we expect, is a clean exit. We demand a neat and satisfying end to a tidy story that suits our needs rather than his.
This is unfair.
Because the end of things is a messy business. Almost no one gets out clean. Almost no one goes out on top.
"To retire is to begin to die," Pablo Casals said.
"I know I can still play this game," Brett Favre said.
When the end comes for him, as it comes for us all, I wish him well. I wish us all well.
---
This week's note:
I'd like to thank sincerely everyone who has taken the time these past few weeks to write me using our e-mail feature. I only just received them -- all of them, all at once. Completely my fault, but I'll do my best to answer what I can when I can. Honestly, thanks.
Jeff MacGregor is a senior writer for ESPN.com and ESPN The Magazine. You can e-mail him at jeff_macgregor@hotmail.com.
Also See
ESPN Top Headlines