Commentary
This sporting life: Dodging the draft
Your mock draft mocks you.
That thud you heard late Saturday afternoon was the conventional wisdom being dropped on its head backstage at Radio City Music Hall when the Cleveland Browns swapped draft slots with the New York Jets. The whimpering thereafter came from all the touts, railbirds, draftniks and nightclub mentalists who never saw it coming, their surefire predictions undone yet again by an uncooperative reality. Shocking!
Truth is, even spotting them Stafford to the Detroit Lions and the most inflated futures contract since the Dutch Tulip Bubble of 1637, many of the online gurus had come unglued by the time the No. 4 pick dropped. Right names, wrong teams. Or vice versa. As Grandma used to say about the returns counter at Gimbels, "Nobody here knows nothin'."
[+] Enlarge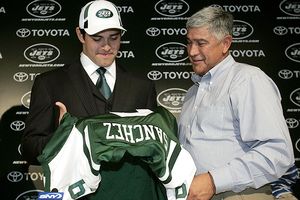 AP Photo/Rich SchultzWelcome to New York, Mark Sanchez. We hope you weren't expecting a grace period.
Then the J-e-t-s struck that bargain with the Browns and all fantasy drafts were rendered inoperative. Glamorous Mark Sanchez from Hollywood's USC Studios to Fireman Ed and the lunch-bucket Jets. The oracles gathered themselves as best they could, but their quickly reshuffled draft imaginings were ruined again just 20 minutes later as young speedster Darrius Heyward-Bey was plucked up unexpectedly in the bony talons of ancient crazyman Al Davis.
I say it nearly every week: Predictions are for suckers.
Still, predictions right and wrong are part of the fun, part of the NFL draft's big burlesque. And that one annual surprise -- always unexpected, always an affront to the informed guesswork of the stats mavens and the combine zombies, and yet somehow always annual -- is as necessary to the proceedings as slap shoes and a seltzer bottle. The Selection No One Could Have Seen Coming keeps the street trade in its seats for fear of missing something.
A word here about that, about showmanship and what the NFL might consider next year in the way of punching things up. If you're going to put yourself downstage center on the world's grandest proscenium, how about something to fill the 9 minutes and 59 seconds between each Very Serious Reading Of One Guy's Name? Something entertaining in the background while the analysts analyze and the prognosticators prognosticate. A bear on a unicycle perhaps, or a harried fella with a pretty assistant spinning 40 dinner plates on sticks. It's not like there isn't enough space, and it's not like this isn't show business. Maybe a couple of acrobats, or a nice Broadway tenor belting out "My Way." (The closest we got to this all weekend was Michael Crabtree's expression when his name wasn't called. He looked like a man who'd just taken a pie to the face.)
In fact, I picture Commissioner Goodell out there in a tux and ruffled linen shirt, a tumbler of prop scotch in one hand and his tie undone like it's Hour 23 of Jerry's telethon, and he's hanging exhausted from the podium waiting for the timpani roll and Ed to call the tote board, when the Rockettes enter stage left costumed as back judges and kicking, kicking, kicking all 72 legs skyward and Kiperward to the rousing strains of Sousa's "The Washington Post March" while confetti, balloons and Pat Summerall drift gently down from the ceiling.
Too much?
They'll likely want to save some of that dazzle for Mr. Sanchez's official welcome to New York. To go with the parade through the Canyon of It Seemed Like The Thing To Do At The Time and the photo op with Joe Namath. And I'm sure as soon as Mayor Bloomberg gets the Key to the City back from Brett Favre, he'll want to hand that over to Sanchez, too.
But be warned, young Sanchez: Matinee idol or not, the honeymoon period in the New York sports market is mighty brief. Perilously brief. It began Saturday afternoon when your name was called and will last only until you next touch a football. After that, the deluge.
So a word here about the New York sporting press … watch out for that gray-haired guy. He'll just kill you if you don't live up to the hype. Kill you. And watch out for the fat guy. He'll kill you, too. The gray-haired fat guy, likewise. Dead, dead, dead. And the skinny guy. And that dark-haired guy. And that blond guy. The bald guy. That older guy. And that younger guy. That guy with the beard. And that clean-shaven guy. The guy with the goatee, as well (all 19 of them). Anyone in a necktie. Or pants. Or shorts. Sneakers, sandals, loafers. Anyone carrying a microphone. Or a notebook. Or a laptop. Or a camera. Any adult capable of posing a question, really. Because the women will kill you, too. But they'll at least feel bad about doing it. Well, one of them. Maybe. A little.
And just because a well-scrubbed teenager says he or she is from the local high school paper and wants only five minutes of your time one afternoon, don't think he won't/she won't grind your strong young bones to a fine, smooth paste in the P.S. 128 Tribune if you're not putting up the numbers and the Ws by Week 2.
So you'll need to make a solid first impression. And the key to a good offense is a great defense. (Or the other way around; I can never remember. Ask Coach Ryan, he'll know.) Either way, as part of your preseason New York charm offensive, here are a few all-purpose defensive phrases to be slipped casually into every interview. …
"It is impossible to get a bagel, or a decent slice, west of 11th Avenue. I mean it. Impossible."
"When you make an egg cream at home, do you put the syrup in the glass first, or the milk? I always put the U-Bet in first."
"What a coincidence! Victoria Gotti, Tony Danza and I were just talking about that last night at Rao's!"
"Grand Central Terminal is one of the great public spaces in America. So is Papaya King."
"HEY! I'm WALKING here!"
"No, I've never met Alex Rodriguez. Ever."
"My favorite music? There are a couple of older fellas who carry sharpened screwdrivers and sing doo-wop on the D Train out to Coney Island. I like them a lot."
"Am I happy to be here? Boychik, I could plotz."
Easy.
Remember, too, that at the end of things they ran Favre out of town not only because he couldn't make the throw but because he never became one of them. One picture of him coming out of Keens' or P.J. Clarke's, or walking up Orchard Street with Deanna carrying a bag of Guss' pickles, could have saved him. If he'd wanted saving.
On Broadway or at the Meadowlands, New Yorkers always prefer the stars they ignite to the stars they inherit. But once New York clasps you to its emaciated, wheezing bosom, it will forever suffocate you with its dysfunctional love. Just ask Namath.
New York thus welcomes Mark Sanchez to the Cult and Culture of our Slightly Less Wretched Excess, to our sidewalks and our streets, to our Rampant Speculations, Derivative Grifts and this week's Bonfire of the Vanities, to our parks and beaches and our waterways, to our bridges and tunnels and subways, to our TARP Stress Tests and our tent cities beneath the FDR, to our $40 million apartments, brittle supermodels, Jamaican patties and Brioni suits, to our noodle kugels and ersatz billionaires and unidentifiable smells, and to our many devoted, hopeful, lunatic and only slightly embittered Jets fans.
Welcome, in other words, to our nonstop vaudeville, which now includes, not unironically, the annual NFL draft.
Jeff MacGregor is a senior writer for ESPN.com and ESPN The Magazine. You can e-mail him at jeff_macgregor@hotmail.com.
Senior Writer for ESPN.com
Has written for Sports Illustrated and The New York Times
Author of the acclaimed book "Sunday Money"