Commentary
This Sporting Life: Weak In Review
Another week of great and terrible surprises -- of sudden losses tragic and comic; of worldwide fame and wretched excess; of conspiracies and Confederations; of all Michaels everywhere great and small; of Shaq to the Cavs and Sanford to the pampas; of hyperbole and lies and heartbreak; of insupportable superlatives and insufficient evidence and the numbing drone of excuses and vuvuzelas; of Jon and Kate, of Farrah and Ryan, of five more chances to vote for the wrong Best Picture; of a Twittered revolution and an F1 showdown and a cap-and-trade bait and switch.
Not a good week to be a singer, a celebrity or the president of Honduras.
And exhausting for the rest of us.
First things first. Like the flying car, the cure for the common cold or a reliably delicious cup of instant coffee, big-time men's soccer in America is a fixture only of science fiction. It is a mirage shimmering in the distance, a constant and unmoving promise at which we will never arrive.
This has been so since 1930, when the U.S. had its best result in the World Cup. 1930. We finished third in that inaugural competition -- because the most powerful European teams couldn't afford passage to the tournament. Since then (on the "world stage," as we sports hacks put it whenever writing about something America's not good at), the U.S. has been generally less successful than countries such as Cameroon or Uruguay -- nations of 18 million and 4 million people, respectively.
[+] Enlarge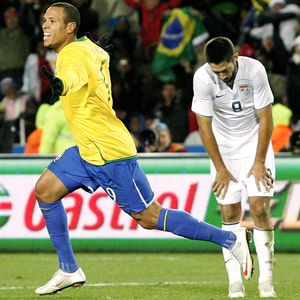 AP Photo/Paul ThomasAfter a promising start, the U.S. was defeated, as usual, by one of soccer's titans.
Which is why it struck me as odd last week to see headlines like "Most Important Game in U.S. Soccer History" used in earnest by people and organizations that should know better.
All due respect to my colleagues above whose bylines that particular crackpot notion floated this past weekend, but we've been saying that year in and year out since 1950, when the U.S. beat England in group play at the World Cup*. In fact, "The Most Important Game in U.S. Soccer History" -- "TMIGIUSSH" -- has been used so often, it probably should be capped and italicized and then trademarked onto a series of mugs, desk sets, samplers and throw pillows.
(*That one has been called the "Miracle on Grass," too. Not at the time, of course, only in very distant retrospect -- this because everything unusual happening anytime after 1980 is referred to in labored headlines as the "Miracle on Insert Name of Playing Surface Here."
Most of these have not been miracles, of course. Just surprises. Or upsets. Simple insults to the conventional wisdom and to the dismal predictive powers of the sports page, the pundit, the talking haircut.
In fact, we love this construction so much that we now apply it retroactively, fixing it to events long after the fact.
And please don't even start me on the puns we've all suffered because of it these past 29 years. I.e., "Miracle? Aw, Nice," or "Miracle on/in Rice/Spice/Vice/Mice/Dice/Lice/Trice/Twice/Thrice/Zeiss/Weiss/Paradise," etc., world without end and so forth, amen.)
Thus the "Most Important etc., etc." arrived again Sunday, was met by the annual backlash ("We Mustn't Lose Perspective!"), and was then hit in the head by the backlash to the backlash ("U-S-A! U-S-A! Yippee-ki-yay! U-S-A!")
So 59 (79?) years of futility play out in an afternoon. Brazil beats a 7-to-1 U.S. underdog in spectacular comeback fashion, 3 (actually 4) to 2. And before the confetti had even settled, the excuses and the qualifiers and the rhetorical jujitsu had begun:
"Tale of two halves …" (Oy.)
"Take heart …"
"No shame …"
"They let it get away …"
"They need to learn …"
"Bitter disappointment …"
"Ran out of gas …"
"A learning experience …"
"A commitment to gradual, long-term improvement …"
"Moral victory …"
"Relative triumph …" (Seriously?)
Stop me if you've heard this one before.
America's national soccer program will only ever be written or spoken of in the future tense! Blame the fates! Blame the stars! Blame the coach! Coulda, woulda, shoulda!
In another year/generation/hundred years, we'll be really good!
And yet, interesting how our women's program seems to have avoided these same developmental problems.
It is the conceit of every culture in every age to think itself at the center of history, to believe its achievements the most magnificent, its troubles the most dire, its science the most dependable, its loves the deepest and its hates the hottest. We are no exception.
But at some point, America, we need to put up or shut up about the soccer. Really.
How long do we keep up the aging fiction of smooth youth and limitless potential? How much truth can we simply wish away? This may be the team we are and the team we remain. And that may be fine.
Because as Michael Jackson reminds us, institution or individual, on this side of Neverland we mostly are who we are, at least at our center, and within the limits of our potential and no matter how much we desire to change. All we have at the end of things is the truth of what we've done and who we've been.
Making good, making sense, making history or making excuses: It's exhausting some weeks just being American.
Jeff MacGregor is a senior writer for ESPN.com and ESPN The Magazine. Please continue to submit your answers to his question: "What Are Sports For?" You can e-mail him at jeff_macgregor@hotmail.com.
Senior Writer for ESPN.com
Has written for Sports Illustrated and The New York Times
Author of the acclaimed book "Sunday Money"