Commentary
The playbook of laughter and forgetting
Before they slip my mind, some thoughts this week on memory and vanity and the long goodbye.
Earlier this week a study from the University of Michigan's Institute for Social Research made headlines with its assertion that retired NFL players report diagnoses of dementia at a rate anywhere from 5 to 19 times higher than that of the general population. Not 5 percent to 19 percent higher. They mean 5 times higher. And 19 times higher.
The study was based on telephone interviews with more than 1,000 former players. And while that's a substantial survey, a great deal more clinical study -- investigation in the laboratory -- will be needed before any final conclusion about mechanical or biological or chemical cause-and-effect between football and cognitive impairment can be clearly drawn.
That disclaimer made, and taking into account the imprecision of any self-reported survey and the breadth of definition for "dementia" (which might run along a sporting scale from simple memory loss to pugilistic Parkinson's syndrome to Alzheimer's disease), these early results should be terrifying to anyone who cares about the game of football or its players.
Perhaps most frightening to consider, at least for the parents of young players, is this: that football's injuries to the brain and memory may occur over time. That the damage may be an aggregate of years, rather than a single isolated injury traceable to a single event, like a concussion. As Tim Tebow's recent bell-ringing reminds us all, even at this late date the concussion itself remains very poorly understood.
Well understood, however, is that big-time big-program football is a game of recurring, violent, high-speed collisions, and a big-money entertainment that pumps many billions of dollars through the American economy -- including, to be scrupulous, some portion of my own paycheck.
It is the narcotic effect of those billions that leads me to think we won't hear much more about the dangers of permanent brain injury in football until the next study comes along. And with it -- for a few news cycles at least -- will come the ritual clucking of institutional tongues, the announcement of more stringent future studies, and the promise of incremental helmet upgrades.
[+] Enlarge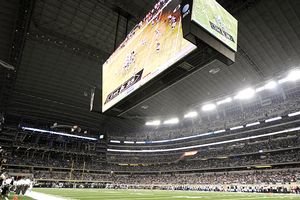 G. Newman Lowrance/Getty ImagesJerry Jones' new palace -- money well spent?
Following which, as happened this week, we can all get right back to the pleasant business of studying the weekend betting lines and forgetting the true and terrible cost of our distractions.
It is only by coincidence that this news of squandered memory arrives in the same NFL season as the new Jerry Jones Temple To Memory, A Shrine To The Perpetual Regard And Honor And Remembrance Of Jerry Jones opens down in Dallas.
With all due respect to my colleagues who think that Mr. Jones still has any interest in the grinding daily business of winning or losing football games, I would argue that The Emperor Jones has for a while now been concerned only with his own posterity. And like any pharaoh, he's at last built the tomb to prove it.
His new stadium down in Arlington is an upholstered mausoleum, a storehouse for his immortality, a monument to self and to wretched excess and to the latest Big Bubble.
Jerry Jones has spent more than a billion dollars, some of it even his own, to remind us of, well, him.
Unintentionally, however, he also instructs us that genuine excellence is hard. The appearance of excellence, on the other hand, is no farther away than a building permit, a chemical peel and a four-color brochure.
That Mr. Jones has raised this Texas crypt in which to stack the bones of his outrageous vanity in order never to be forgotten is merely comic.
That it may have been built upon the lost and ruined memories of the men he employs, tragic.
Jeff MacGregor is a senior writer for ESPN.com and ESPN The Magazine. Please continue to submit your answers to his question: "What Are Sports For?" You can e-mail him at jeff_macgregor@hotmail.com.
Senior Writer for ESPN.com
Has written for Sports Illustrated and The New York Times
Author of the acclaimed book "Sunday Money"