When author Mark Harris died six weeks ago at the age of 84, the obituaries mentioned most prominently his 1956 novel "Bang The Drum Slowly," the story of a major league catcher who dies of Hodgkin's disease. The film, made in 1973 and starring Michael Moriarty and Robert DeNiro, should be on anyone's list of top 10 sports films.
But that isn't the book that made Harris a revered name in my library. "Bang the Drum Slowly" is actually a sequel to Harris' first novel, "The Southpaw," the book that changed my life. I can't tell you how many times I have read it, only that I first read it in 1971, that I came back to it constantly through my teenage years and that I have read it every few years ever since.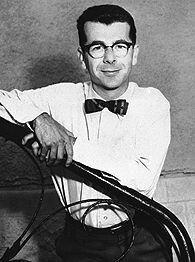 AP Photo
Mark Harris, shown here in 1956, made baseball -- and life -- come alive in the Henry Wiggen series.
After hearing of Harris' death, I pulled it off my shelf and read it again, and it is with great delight that I report that "The Southpaw" isn't stale yet. The sophomoric locker room jokes that made me howl as a teenager now draw more of a nostalgic smile. But the subtleties of the adult relationships that soared over my head 35 years ago enrich the novel today. In an era when the peccadilloes of major leaguers ("Stray-Rod!") were not thrust in front of the public on multiple channels -- heck, in an era before multiple channels -- Harris pierced the veil of heroism that had been draped over professional athletes. Pitcher Jim Bouton drew equal amounts of acclaim and scorn for describing without filters the lives of his major league colleagues. But nearly two decades before Bouton's 1970 real-life chronicle, "Ball Four," Harris did the same thing in "The Southpaw." Oh, there were fewer women, clothed and unclothed, around the fictional New York Mammoths in Harris' novel than around Bouton's Seattle Pilots. But Harris performed the same feat: He showed us major league ballplayers as they were packaged by the clubs and the newspapers, and then he showed us major league ballplayers as they really were. Harris did so through the eyes of young pitching ace Henry Wiggen, and it is Wiggen's loss of innocence that frames the novel. "The Southpaw" is a "tell-all" by Wiggen, written after his rookie season in 1952 with the Mammoths, and Harris pulls off the conceit with remarkable detail. There is a three-page roster listing the owners, manager, coaches and players of the Mammoths, complete with birthdates, heights, weights and hometowns. There are box scores of important games, even a fat toad of a sportswriter -- hey, that can't be accurate, can it? Harris painted innumerable other dots to create this pointillist portrait. Take the language itself. Wiggen makes it plain he never liked school, and Harris somehow writes in a vernacular that is both unlearned and endearing. The title page reads: The Southpaw
By Henry W. Wiggen
Punctuation freely inserted and spelling greatly improved
By Mark Harris
Wiggen describes growing up in a small town in upstate New York, where he worshipped two pitchers: his widowed father, the star of the local semipro team; and Sad Sam Yale, the star of the Mammoths. We watch as Wiggen is signed by the Mammoths, groomed in their minor leagues and then brought up to pitch on the same staff as Yale, his aging hero. Wiggen goes through the same sort of transformation with his girl-next-door-turned-girlfriend-turned-fiancée, Holly Webster. Soon we see what the well-educated Holly sees: Wiggen's bad grammar doesn't suffocate his native intelligence and decency. Wiggen's roommate and best friend is Perry Simpson, a young black infielder who must cross a barrier only recently broken by Jackie Robinson. At spring training, Wiggen brings food back to the barracks in which they are bunking because the restaurants won't serve his buddy. When opposing players ride Wiggen about rooming with a "n-----," as he writes it, Wiggen gives it right back to them. Wiggen and Simpson don't discuss the injustice. It is how life was, and they just deal with it. He describes with small-town na´vetÚ a kosher Sabbath dinner at the home of the slugging Jewish first baseman, Sid Goldman. He butchers the menu ("filter fish with horse radish, and soup with a couple doughy balls floating around …"), flirts with Goldman's younger sister, and sneaks into the kitchen for a glass of milk, banned at the table because the dinner included meat. "I must say that you have got to admire anybody like Sid that is willing to give up his milk for his religion," Wiggen writes.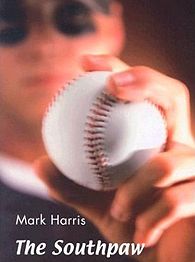 "The Southpaw" was written more than 50 years ago, but it still resonates today.
Wiggen's growth as a man is as central to the book as his rapid rise to the Mammoths. On many occasions, he shines as harsh a light on himself as on his teammates. After pitching a complete-game victory on Opening Day, his first day in a major league uniform, Wiggen, friends and family go to dinner. His head is roughly the size of a blimp. "Nobody else got much of a word in edgewise," Wiggen writes, "until towards the end I noticed I was talking and nobody was listening." The novel follows the Mammoths' season with the same familiar rhythm that fans have understood for decades. There is the early-season excitement, the midseason heat, even the All-Star Game. Wiggen's maturing evolves as the season does. Wiggen realizes his boyhood dream of pitching in the Midsummer Classic, but he sounds almost wistful after the fact. "It seemed like there was getting to be no dreams left, only the Series," Wiggen writes. Ah, the World Series. The Mammoths' chase of their first pennant since 1935 is the core of the book. They race out to a big lead that slowly dwindles as the season wears on. The pressure builds and the players get short with each other. When Wiggen decides that he must go against everything his father taught him about playing baseball the right way and throws a spitball to get a crucial out, you almost literally see him cross a threshold into the gray area of adulthood. "I was all a-tremble," Wiggen writes, "knowing that I done wrong according to the rules and could have been suspended and might of killed [batter] Tubs Blodgett besides. The crowd give me a hand when I come to the bench for the way I fanned Tubs on 3 pitches … yet I hardly heard it I was so scared and shaking. "We scored twice in the last of the eighth, and I coasted through the ninth, and the cushion was 3 1/2 again and the [players] sung in the shower." Back home, Wiggen's father, standing in a department store watching his son pitch, sees the spitter and breaks into tears. A few days later, Holly confronts Wiggen about it. "It is a grand game," Holly says. "I love to see it, and I love to hear you talk about it. It is a beautiful game, clean and graceful and honest. But I will be damned if I will sit back and watch you turn into some sort of a low life halfway between a sour creature like Sad Sam Yale and a shark like [manager] Dutch Schnell." For a kid who subsisted on a steady diet of Chip Hilton, "The Southpaw" proved to be a revelation. It could be that Wiggen's loss of innocence resonated with me because I read it as I began to lose mine. "The Southpaw" came to my doorstep as a gift from my favorite uncle, who worked for the State Department in Vietnam. He knew that his seventh-grade nephew loved baseball, and tucked among the volumes he sent about science -- books he sent for my betterment; books I haven't opened to this day -- was this paperback novel. I went on to read "Ball Four," and I've read untold numbers of memoirs, diaries, tell-alls and shouldn't-have-told-alls since then. Few of them stick in my mind. Yet, "The Southpaw" stayed with me. I am on my third copy now. I always meant to interview Harris, or at least write him a letter and tell him how much his book meant to me. I never did. The best alternative I have these many years later is to share "The Southpaw" with everyone who loves good writing and loves sports. Pick it up soon.
Ivan Maisel is a senior writer for ESPN.com. He can be reached at Ivan.Maisel@espn3.com.