Commentary
Who runs this town? (Part 1)
Originally Published:
October 12, 2009
By
Cameron Martin
| Special to Page 2
It seems clear that Braylon Edwards resented LeBron James for running Cleveland and handing out political favors to his 130-pound friends. It also seems clear that you don't mess with James or his crew, because Edwards found himself traded out of Cleveland less than 72 hours after allegedly punching the King's friend.
That's some serious juice.
WHO RUNS THIS TOWN?
Page 2 goes region by region to decide which sports figures have the most juice.
Monday: Who runs the East?
Tuesday: Who runs the West?
Wednesday: Who runs the Midwest?
Thursday: Who runs the Central?
Friday: Who runs the South?
Until further notice (say, the summer of 2010?), James is the Teflon Bron of Cleveland. He runs that hub, which is something Edwards never would have been able to do. Why? Because Cleveland, like all American sports cities, respects winners, distinction and big personalities -- not bluster, unfulfilled promise and dropped passes from guys who went to Michigan.
Still, we must give props to Edwards, the Detroit native who made us wonder who represents the royalty of every sports city. Who, in the words of Jay-Z, Rihanna and Kanye, runs this town?
Here's what we got:
Boston
Runs it: Terry Francona
Runner-up: Bill Belichick
What, you expected to see Tom Brady or David Ortiz? The Patriots haven't won a Super Bowl in nearly five years, and the legend of Big Papi took an unequivocal torpedo this summer when his name was linked to performance-enhancing drugs.
In Boston, baseball remains king, and the manager who delivered the first World Series victory in 86 years (and an encore three years later) is the one ingredient who's been a steady presence since 2004 -- more important than Curt Schilling, Theo Epstein, Manny Ramirez and Ortiz.
In 2008, the Celtics won their first NBA title since 1986, but who was most responsible? Kevin Garnett? Ray Allen? Paul Pierce? Doc Rivers? Danny Ainge? No, it's Kevin McHale. Next time you see him in Boston, be sure to buy him a drink.
New York
Runs it: Derek Jeter
Runner-up: Eli Manning
Jeter's Yankees haven't won a title this millennium, which helps explain his inability to pull hot women. But he smells like a guy who's hard-working and driven, which endears him to the common man.
Manning, meanwhile, reprised the success of the Bill Parcells-Lawrence Taylor Giants, but he can't make people forget that his older brother Peyton pulled off the rare athletic feat of owning "Saturday Night Live." If Peyton played in New York, he'd be mayor.
Baltimore
[+] Enlarge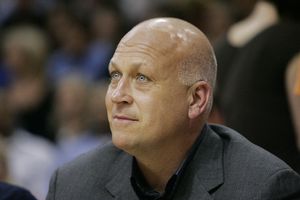 Domenic Centofanti/Getty ImagesCal Ripken Jr. trumps all competitors in Baltimore -- even ones with 14 gold medals and a sideways cap.
Runs it: Cal Ripken Jr.
Runners-up: Michael Phelps, Ray Lewis
Last month, four guys stole the huge, aluminum No. 8 that honors Ripken outside Camden Yards. Some people might wonder why kids would want to do that, but we had a large San Antonio Taco Company sign hanging on my wall during college, and it certainly got more attention and reverence in that spot than it would have hanging outside a chain restaurant in Nashville, Tenn. We gave that SATCO sign a home. Whenever anyone asked, no, we didn't steal it. We liberated it.
(P.S. -- Stealing is bad, even stealing something that recognizes Ripken, the most overhyped athlete of the 20th century.)
Phelps, meanwhile, has pleaded guilty to drunken driving and has been outed as an apparent closet toker, but swim fans are a notoriously ribald crowd, and his devil-may-care attitude sits well with them. If he wins a couple dozen more gold medals, he could pass Ripken in the hearts of Baltimoreans.
Philadelphia
Runs it: Mike Schmidt
Runner-up: The starting quarterback of the Eagles if they ever win the Super Bowl
Philadelphia is one of those places that seems to inherently despise royalty, which probably stems from that whole Revolutionary War thing, when its people drafted papers railing against George III and "Fawlty Towers."
"Mike Schmidt? Yeah, best third baseman of all time -- but he was still a bum!"
In 2008, the Phillies won the city's first championship since 1983, with Cole Hamels winning World Series MVP honors. But Hamels has been known to carry small dogs in backpacks. Plus, he's prettier than 80 percent of the women in Philly, so fans there remain suspicious of him.
Ryan Howard has the résumé -- rookie of the year, National League MVP, World Series title -- but he starred in this commercial with backing music from "The Golden Girls." Not even four consecutive seasons with 45-plus homers can repair that kind of damage to a man's street cred.
Washington, D.C.
[+] Enlarge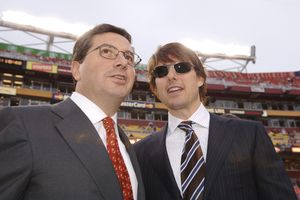 Al Messerschmidt/Getty ImagesDan Snyder pals around with Tom Cruise. Even Alex Ovechkin can't honestly claim that.
Runs it: Dan Snyder
Runner-up: Alexander Ovechkin
Not every king is beloved by his people, but this isn't the 18th century (and Maximilien Robespierre isn't walking through that door), so Snyder won't be heading to the guillotine anytime soon. Sure, you can argue that Ovechkin is the best player in the NHL and thus king of the D.C. sports scene, but Snyder -- because of his largesse and ineptness handling the area's most beloved team -- stamps the biggest footprint in Foggy Bottom. Besides, Ovechkin is from Moscow, and Washingtonians are notoriously suspicious of Russians.
Pittsburgh
Runs it: Ben Roethlisberger
Runners-up: Sidney Crosby, Dan Rooney
Big Ben and Sid the Kid both are leaders on championship teams, but a king needs to be able to grow a decent playoff beard, which is why Crosby will never surpass Roethlisberger, who probably emerged from the womb with a 5 o'clock shadow.
Steelers owner Rooney has been the one constant through the team's long run of success, but nowadays, he's hobnobbing with diplomats as President Obama's ambassador to Ireland and says he has no plans to win another Super Bowl.
Cam Martin is a contributor to Page 2. He previously worked for the Greenwich Time and Stamford Advocate, and has written online for CBS Sports and Comcast SportsNet New England. You can contact him at cdavidmartin@yahoo.com.