Commentary
The Weekly Best for 11/24
Originally Published:
November 24, 2009
By
Cam Martin
| Special to Page 2
Welcome to the Weekly Best, a look at the best in sports, pop culture and scantily clad supermodels.
Best athletes: Basketball.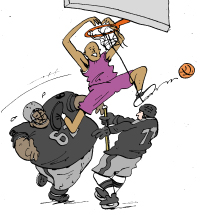 Best after that: Hockey.
Best after that: Soccer.
Best ever in drive fast, turn left: Jimmie Johnson.
Best of a bad situation: Thierry Henry.
Best holiday: The one when you stuff your face, watch football and don't have to buy presents.
Best use of butt-ugly uniforms: Ohio State.
Best year to win the Heisman with underwhelming statistics: This year.
Best redheaded college quarterback: TCU's Andy Dalton.
Best quarterback hit by a car when he was 6 years old: Vince Young.
Best time to get cute and use Mewelde Moore: On third-and-2 in overtime versus the Chiefs?
Best waistband: Not Devin Hester's.
Best subtraction by addition: The Bengals plus Larry Johnson.
Best game ball: The Oakland Raiders to the family of the late Marquis Cooper.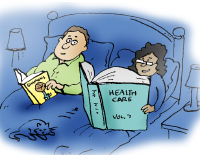 Best light reading: The 2,074-page health care bill pending in the U.S. Senate.
Best football hit: UConn's Greg Lloyd Jr. on Notre Dame's Armando Allen Jr.
Best tombstone epitaph: Died Tragically Rescuing His Family From The Wreckage Of A Destroyed Sinking Battleship.
Best college football conference: Pac-10.
Best place to shop Black Friday: The Internet.
Best story that apparently didn't happen: Marv Albert and 50 Cent exchange punches while waiting to appear on "Jimmy Kimmel Live."
Best place for Matt Holliday to stay: The National League.
Best advertisement for your own team: San Francisco Giants general manager Brian Sabean on pursuing Holliday or Jason Bay: "I don't think they would have genuine interest. ... Why would they?"
Best evidence that wins are increasingly devalued in baseball: Tim Lincecum wins the Cy Young with 15.
Best cry: Rex Ryan.
Best imitation of the Cal-Stanford lateral: The last play of this California high school game.
Best take on the Ireland-France soccer controversy: "If a relatively anonymous Irish forward pulled the same stunt to send the French home, he'd probably be lauded as a plucky player who happened to outfox the refs." -- Sean Gregory, Time magazine.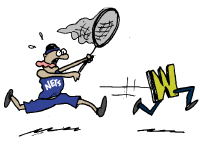 Best winless NBA team: Still the New Jersey Nets.
Best news if you're Galileo: Your fingers and tooth have been found and will be put on display in an Italian museum.
Best season of "Survivor": This one.
Best compliment given to a school whose name you can't remember: "We got our tails beat by a very good basketball team," North Carolina coach Roy Williams said of Syracuse. "I would hate to play that non-Division I team [Le Moyne] on a regular basis if they are better than Syracuse."
Best special guest star: John Lithgow as a serial killer on "Dexter."
Best NBA team on paper: Boston Celtics.
Best team they've beaten this season: The Cleveland Cavaliers (in game one).
Best team they've beaten since: The 7-6 Utah Jazz.
Best time to set your DVRs: At 10 p.m., Dec. 1 for "The Victoria's Secret Fashion Show" on CBS.
Best home teams in hockey: The Tampa Bay Lightning and the San Jose Sharks, neither of whom have lost a regulation-length game.
Best hands-free skateboard video game: "Tony Hawk: Ride."
Best goaltender in a shootout: Columbus Blue Jackets goaltender Mathieu Garon, who's won 13 straight, an NHL record.
Best plan to sell more jerseys: Change your number from 23 to 6.
Best decision under the circumstances: The ATP Tour says it will not reopen a 1997 doping case against Andre Agassi since, well, he's retired.
Best song to hear if you want to get depressed: "21 Guns" by Green Day.
Best alternative for teams who are afraid to play out of-conference road games: Play home games against the likes of Florida International and Chattanooga.
Best reader question about defenestration ("throwing of a person or thing out of a window," according to Merriam-Webster): "Did you see the king defenestrate his son's boyfriend in Braveheart? Yeah, that was hilarious -- Greg M."
Best return to the octagon: Tito Ortiz.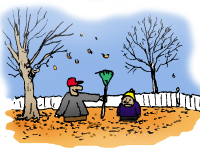 Best person to rake your leaves: Not you.
Best new candidate for the Baseball Hall of Fame: Roberto Alomar.
Best player's name in college basketball: Just-in'love Smith, Siena.
Best snail joke: One day a guy hears a knock at the door. Opens it, looks around, finds nothing but a snail on the doormat. Annoyed, he picks up the snail and chucks it across the street. Two years later, he hears another knock at the door. Opens it, again sees no one, looks down and the snail asks, "Dude, what was that all about?"
Cam Martin is a contributor to Page 2. He previously worked for the Greenwich (Conn.) Time and The (Stamford, Conn.) Advocate, and has written online for CBS Sports and Comcast SportsNet New England. You can contact him at cdavidmartin@yahoo.com.