Commentary
The Weekly Best for 12/22
Originally Published:
December 22, 2009
By
Cam Martin
| Special to Page 2
Welcome to the Weekly Best, a look at the best in sports, pop culture and cheap beer.
Best breakthrough sport of the decade: Mixed Martial Arts.
Best novel of the decade: "The Road" by Cormac McCarthy.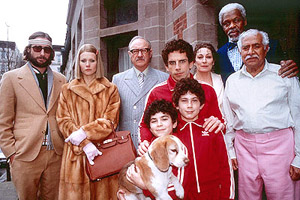 Touchstone PicturesIt's impossible to overrate "The Royal Tenenbaums," the 2001 film we aren't afraid to call a classic.
Best movie of the decade: "The Royal Tenenbaums."
Best Brittany Murphy film: "8 Mile."
Best Christmas movie: "Elf."
Best weapon in a snowball fight: A gun?
Best news for tarmacs: Planes can sit on you for only three hours before passengers have to de-plane.
Best waste of cheap beer: Dollar-beer night last Wednesday at the Sacramento Kings' game -- which didn't even sell out.
Best news for the U.S. prison population: You're shrinking for the first time since 1972.
Best tackle of Marion Barber: By his teammate, Flozell Adams.
Best kickoff returner in NFL history: Josh Cribbs.
Best advice for novices in the self-checkout aisle : Come back later and learn how to use it on your own time.
Best quarterback in the Vikings-Panthers game: Matt Moore.
Best time for an onside kick: When you're ahead by two with less than four minutes to play in the fourth quarter?
Best guess as to which genius made that call: Not Bill Belichick.
Best coach-saving quarterback: Ben Roethlisberger.
Best behind-the-back pass: Eddie House to Tony Allen.
Best (and only) college basketball game on the day after Christmas: West Virginia at Seton Hall.
Best news on the "Survivor" front: Next season will be "Heroes versus Villains."
[+] Enlarge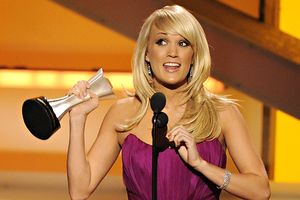 AP Photo/Mark J. TerrillFetching country crooner Carrie Underwood
is engaged to Senators center Mike Fisher.
Best score by Ottawa's Mike Fisher: His new fiancée, Carrie Underwood.
Best muddle: The AFC playoff picture.
Best place to search for Carl Landry's teeth: In Dirk Nowitski's elbow.
Best creamsicle sneakers: Kevin Durant's Nike KD2s.
Best tribute to Chris Henry: Chad Ochocinco, who caught a touchdown pass, dropped to his knees and pointed to the sky.
Best of luck in a bad situation: Mike Lowell and his bum thumb are staying in Boston.
Best chance for universal health care: Probably right now.
Best defense with little help from its offense: New York Jets.
Best player who probably won't make the Basketball Hall of Fame in his first year of eligibility: Dennis Rodman.
Best recovery of a teammate's fumble: Carson Palmer.
Best American soccer player whose European signing made little news: Landon Donovan.
Best player who doesn't deserve the benefit of the doubt: Milton Bradley.
Best course of action for Georgetown basketball: Stop scheduling Old Dominion.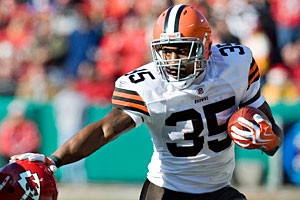 Wesley Hitt/Getty ImagesBrowns tailback Jerome Harrison burst on the scene after rumbling for 286 yards against the Chiefs.
Best running back who was sitting on a lot of fantasy benches this past week: Cleveland's Jerome Harrison, who rushed for 286 yards, the third-highest one-game total in NFL history.
Best return on $9,150: Charles Dickens' toothpick?
Best endorsement you can get in Cleveland: Jim Brown says you deserve another season, Eric Mangini.
Best athlete finally getting some mainstream due: Jimmie Johnson, who was named Associate Press Male Athlete of the Year, the first driver accorded the honor.
Best car company going out of business Saab.
Best holiday drink: Bailey's Irish Cream.
Best excuse to hit a bar on Christmas night: "Honey, the Chargers-Titans game is only airing on the NFL Network."
Best brainstorm by the NHL: Two Winter Classics, one in Canada, one in the United States.
Best penalty-killing team: Chicago Blackhawks, 85.6 percent.
Best bets to win their bowl games this week: Oregon State, Cal, SMU, Marshall, Pitt, USC and Clemson.
Best evidence that I shouldn't gamble: Last week I picked Fresno State, Central Florida and Southern Mississippi -- and they all lost.
Best place to be Christmas Eve if you have to play a bowl game: Hawaii, where Nevada plays SMU in the Sheraton Hawaii Bowl.
Best college hoops team getting no love for No. 1 in the Associated Press poll: No. 4 Purdue.
Best hoops ranking since 1972-73: Kansas State, now 12th.
Best player in Kansas State history: Mitch Ritchmond.
Best Hall of Fame candidate whose election would score a victory for sabermetrics geeks: Bert Blyleven.
Best Hall of Fame candidate whose election would undermine the efforts of sabermetrics geeks: Andre Dawson (and his .323 career on-base percentage).
Cam Martin is a contributor to Page 2. He previously worked for the Greenwich (Conn.) Time and The (Stamford, Conn.) Advocate, and has written online for CBS Sports and Comcast SportsNet New England. You can contact him at cdavidmartin@yahoo.com.