Commentary
Get your hoops highlights here
Originally Published:
December 28, 2009
By
Cam Martin
| Special to Page 2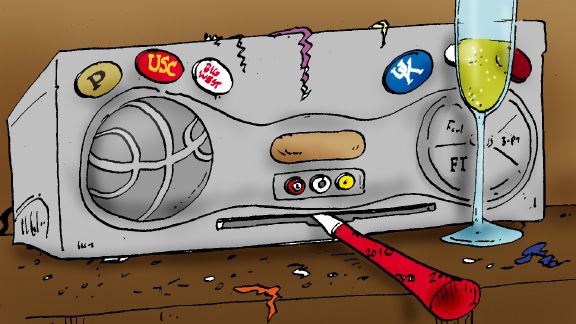 ESPN.com Illustration
Welcome back to the College Hoops DVR, where -- depending on whim -- we look backward or forward or just let things play, always in quick succession.
FF: Undefeated Purdue, motivated by a lack of No. 1 votes received in the AP poll this season, says it doesn't plan to lose until the second round of the NCAA tournament.
FF: Cornell's only two losses have been to undefeated Syracuse and two-loss Seton Hall. Meanwhile, the Big Red have beaten Alabama, UMass, St. John's and Davidson. One of two Ivy League teams enjoying a successful season (Harvard is the other), Cornell should do well in the NIT next spring.
REW: USC's Mike Gerrity was named MVP of the Diamond Head Classic in Hawaii, as the Trojans cruised to a 67-56 win over UNLV. Gerrity had 13 points, 3 assists, 2 rebounds and 1 steal, and matched his season high with zero blocks.
PLAY: Marist (0-9) has scored at least 38 points in every game this season.
STOP: Officials from the Big West Conference -- which consists of Pacific, UC Irvine, UC Riverside, Long Beach State, UC Santa Barbara, Cal State Fullerton, Cal State Northridge, Cal Poly and UC Davis -- finally admitted no one outside California can tell the difference between their schools.
PAUSE: Cal State Bakersfield, currently independent, can't explain why it's not a member of the Big West Conference.
STOP: Jackson State won its first game of the year Saturday, leaving Alcorn State and Arkansas-Pine Bluff as the only winless schools in the SWAC. Those two teams are set to play each other Jan. 18. Barring a tie, one of them will win at least one game this season.
PLAY: With its defeat of Delaware Wednesday, Villanova extended its win streak to 33 games at the Pavilion in Philadelphia. Thanks to Temple, its win streak at the Liacouras Center in Philadelphia remains stuck at zero.
[+] Enlarge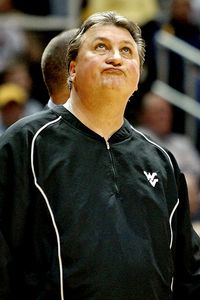 AP Photo/David SmitWest Virginia is undefeated when Bob Huggins forgets to change out of his gym clothes.
REW: West Virginia improved to 9-0 for the first time since the 2004-05 season with its defeat of Ole Miss last Wednesday. The Mountaineers outrebounded the Rebels 50-28 and improved to 1-0 under Bob Huggins when he wears a jogging suit to work.
FF: Samford had the second-fewest fouls per game in the nation through its first 11 games, but managed only a 4-7 record. Consequently, many have concluded the Bulldogs need to start fouling more.
FF: Panhandle State travels to Texas A&M-Corpus Christi Monday night, and home fans are being asked not to give any free handouts to the visiting team.
REW: Seton Hall's six-point overtime loss to West Virginia was a team effort, as every Pirate who attempted at least one free throw missed at least once -- including Herb Pope, who was 1-for-10.
REW: Providence's four losses have been by an average of 6.7 points. Its eight wins have all been by at least one point.
PAUSE: Northwestern, which has never made the NCAA tournament, still ranks as the 77th best Division I program in men's basketball history, according to Jeff Sagarin's ratings in the ESPN College Basketball Encyclopedia. Just being in existence for 72 years -- and getting throttled by great teams throughout those many years -- provides a big boost to a school's rating.
PAUSE: Ohio State guard Mark Titus, whose Club Trillion blog has become a popular read, still has not committed a turnover this season. He also has more assists this season (one) than the last two combined.
PLAY: Patrick Patterson is reportedly second-guessing his decision to bypass the NBA draft and return to Kentucky, where a bunch of snot-nosed freshmen are stealing his thunder.
REW: Following Iona's loss to UConn Sunday, Gaels coach Kevin Willard said, "They did a good job of containing our penetration early, and then we could never get into the bonus. It's tough when a team shoots 35 free throws and you shoot 10. You have no chance -- road, home, neutral, Mars." The Huskies are now 3-1 against the Gaels. Iona's only victory was on the Red Planet in 1984.
LEGEND:
REW: A look back at a recent sporting development
PAUSE: Where things are on hold
PLAY: Where things are ongoing
STOP: Where things have come to an end
FF: A look ahead at a possible sporting development