Commentary
The Weekly Best for 12/29
Originally Published:
December 29, 2009
By
Cam Martin
| Special to Page 2
Welcome to the Weekly Best, a look at the best in sports, pop culture and jail sentences.
Best get those Hall of Fame ballots in: They're due Thursday, baseball writers.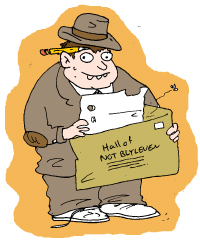 Best temperature for NHL ice: 22 degrees Fahrenheit.
Best team in EA Sports' simulation of the Winter Classic: The Bruins.
Best tack to get out of work without quitting your job: Take a leave of absence.
Best-selling sports book of all time: "A Season on the Brink," John Feinstein's year with Bobby Knight and the 1985-86 Indiana Hoosiers.
Best sentence for a costly, despicable hoax: 30 and 20 days in jail, respectively, for the parents of the Balloon Boy.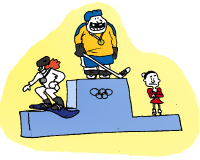 Best sport in the Winter Olympics: Hockey.
Best news about the Winter Olympics: It starts in six weeks.
Best George Michael: Of "Sports Machine" fame.
Best person to drive you on New Year's Eve: A cabbie.
Best efficiency rating on the Celtics: Rajon Rondo.
Best free throw shooter on the Celtics: Not Rajon Rondo.
Best buzzer-beater: Baron Davis against the Celtics.
Best reason Vinny Del Negro is still coaching the Bulls: The team reportedly can't find a replacement.
Best one-season yardage total by a Steelers quarterback: Ben Roethlisberger, 4,108 and counting.
Best way to anger Colts fans (and fans of the Texans, Dolphins, Steelers, Jaguars, Broncos and Ravens): Bench your starters and roll over against the Jets.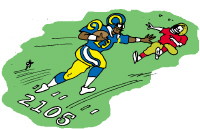 Best week to rush for 234 yards, Chris Johnson: This week, when you need that many to pass Eric Dickerson's one-year record (2,105).
Best punter in the NFL: Shane Lechler.
Best way to practice punting: Spend a career with the Raiders.
Best Roman-era reference from an NFL commentator: Steve Tasker, who said Tim Castille's catch in the Chiefs game versus the Bengals was "like throwing yourself under the wheels of the chariot to make a catch."
Best guess as to Steve Tasker's favorite movie: "Ben Hur."
Best former coach reportedly returning to the NFL sidelines next year: Bill Cowher.
Best coach reportedly giving way to Cowher: Raheem Morris of the Buccaneers.
Best field goal make of his career: Sebastian Janikowski, 61 yards.
Best completion percentage in the NFL: Drew Brees, 70.6.
Best passing total in Seahawks history: Matt Hasselbeck (26,050), who surpassed Dave Krieg on Sunday.
Best 86 players in the NFL: You'll find out Tuesday night when the Pro Bowl rosters are announced.
Best denial: Seahawks defensive end Darryl Tapp, who denied Aaron Rodgers' claim that Tapp bit him at the bottom of a pile last year: "He's not my concern as far as if I bit him or not because it didn't happen. I don't understand it. If he believes I bit him, send me the film, the exact play, and I'll apologize. I'm pretty sure it didn't happen -- pretty positive."
Best NFL team flying under the radar: The Cowboys.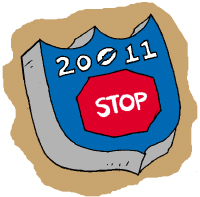 Best league that might not play in 2011: The NFL, due to labor and revenue issues.
Best winning percentage among active college football coaches with at least five years experience: Urban Meyer, .841.
Best place for an actor to spend Christmas morning: The Aspen, Colo., jail.
Best rushing total against the Giants at Giants Stadium: Jonathan Stewart, who ran for 206 yards on Sunday in the Giants' last game at their soon-to-be-replaced stadium.
Best player who might have cost you a fantasy football title by dropping an easy touchdown pass: Derrick Mason.
Best bets to win their bowl games this week: UCLA, Miami, Idaho, Nebraska, Houston, Stanford, Missouri, Iowa State, Tennessee, Auburn, Penn State, Florida State, Oregon, South Florida, Florida, UConn, Ole Miss, Arkansas, Texas Tech.
Best thing you can say about my picks last week: I didn't get them all wrong.
Best receiver apparently not dogging it anymore: Randy Moss.
Best premature celebration: Saints owner Tom Benson, celebrating a game-winning field goal that the Saints actually missed.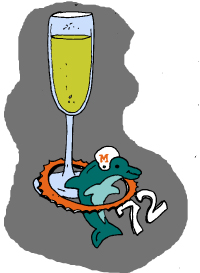 Best excuse for Mercury Morris to drink an obnoxious glass of champagne: The last unbeaten team in the NFL just lost.
Best-case scenario for the Red Sox: The team signs Jason Bay, Mike Cameron refunds their money.
Best population-growth rates among U.S. states: Texas and Wyoming.
Best college basketball transfer: Wesley Johnson, Syracuse.
Best thing I can say about the soon-to-end Tyra Banks Show: I was never tempted to watch it.
Best opponent for the University of Hartford men's basketball team: (tie) Kentucky on Tuesday, St. Francis on Saturday.
"Best be kidding about my Cats":: Yes, it's sarcasm, Kentucky fans.
Cam Martin is a contributor to Page 2. He previously worked for the Greenwich (Conn.) Time and The (Stamford, Conn.) Advocate, and has written online for CBS Sports and Comcast SportsNet New England. You can contact him at cdavidmartin@yahoo.com.