Commentary
Get your hoops highlights right here
Originally Published:
January 25, 2010
By
Cam Martin
| Special to Page 2
Welcome back to the College Hoops DVR, in which -- depending on whim -- we look backward or forward or just let things play, always in quick succession.
FF: Louisville coach Rick Pitino will probably not be singing "Pants on the Ground" if the Cardinals make the NCAA tournament.
PLAY: The Hoyas of Georgetown face the Orange of Syracuse on Monday in a highly anticipated matchup of abstract team nicknames.
FF: President Obama is going to be busy in the middle of March, so he went ahead and filled out his bracket early this year. If your school's not listed in his bracket, sorry, but it won't be making the NCAA tournament this season. Meanwhile, congratulations to Vanderbilt, our 2010 national champion.
REW: After losing to Kentucky on Saturday, Arkansas was accidentally locked out of its locker room in Lexington, prompting Rick Bozich of the Louisville Courier-Journal to tweet, "As if getting beat by 80 wasn't embarrassing enough, Arkansas just got locked out of its locker room after the game in Rupp Arena." Arkansas actually lost by only 31, but we appreciate that level of hyperbole.
FF: A feng shui expert said the layout of The Pit in New Mexico is all wrong, so the school plans to rotate the court 45 degrees clockwise.
PLAY: Four players on BYU are married, yet the Cougars' best player, All-American candidate Jimmer Fredette, is not. It's probably just a coincidence.
STOP: Following a fruitless 80-year search to find a blue devil in the state of North Carolina, Duke has agreed to abandon its longtime mascot in favor of the ubiquitous red devil.
PLAY: Fast fact about the Atlantic 10 conference: It has 14 teams, not 10 -- including Saint Louis, which most maps place near the Mississippi River.
[+] Enlarge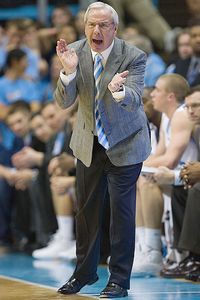 Brian A. Westerholt/Getty ImagesMaybe it's time to go back to the sling, Roy.
FF: In light of the overwhelming popularity and success of the BCS system in college football, the NCAA has decided to replace the 65-team NCAA tournament with a BCS-like system in 2011. So enjoy filling out those brackets this year; it'll be the last time you do it.
PLAY: North Carolina played much better earlier in the season when coach Roy Williams' arm was in a sling, so superstitious fans are now stalking the coach, hoping to pounce and help the Tar Heels get back on track.
FF: Some Big East coaches would like the conference to adopt a NASCAR-like strategy allowing players to go faster and start more fights.
FF: The Minnesota Golden Gophers are hoping Prince writes them a song similar to the anthem "Purple and Gold" that he wrote for the Vikings in advance of the NFC Championship Game -- and players have said they've come up with a preliminary list of great words that rhyme with "Tubby."
PAUSE: To the best of our knowledge, former Democratic nominee for Vice President John Edwards is not the father of Larry Drew II of the North Carolina Tar Heels.
STOP: With a late push from voters, John Wall of Kentucky beat out Allen Iverson and will start for the Eastern Conference in next month's NBA All-Star Game. Commissioner David Stern defended the development, saying, "It's what the fans want."
FF: The Los Angeles Clippers have reportedly emerged as a dark-horse candidate to land LeBron James when he becomes a free agent this summer. But if Los Angeles is really where James wants to play, don't dismiss the chances of USC, which has been a big free-agent spender in the past.
STOP: Former Kentucky coach Billy Gillispie was reportedly in talks to replace Simon Cowell as a celebrity judge on "American Idol," but withdrew his name from consideration when producers told him he'd get paid to insult people -- which he typically does for free.
PAUSE: Saint Louis coach Rick Majerus is not currently in negotiations to race the winner of the Chris Johnson-Usain Bolt duel.
FF: Bryant (0-19) lost twice to Quinnipiac in the past week, but Bryant's players said they'll be ready if the teams meet again in the NCAA tournament.
FF: Inspired by Mark McGwire's "dog bites man" admission about steroid use, Kentucky coach John Calipari finally acknowledged what everyone knows: He's going to get fired if the team doesn't go undefeated.
FF: Alibaba Odd of Delaware State has challenged Just-in'love Smith of Siena to a name-off; site to be determined.
LEGEND:
REW: A look back at a recent sporting development
PAUSE: Where things are on hold
PLAY: Where things are ongoing
STOP: Where things have come to an end
FF: A look ahead at a possible sporting development
Cam Martin is a contributor to Page 2. He previously worked for the Greenwich (Conn.) Time and The (Stamford, Conn.) Advocate, and has written online for CBS Sports and Comcast SportsNet New England. You can contact him at cdavidmartin@yahoo.com.