Commentary
Get your hoops highlights right here
Originally Published:
February 1, 2010
By
Cam Martin
| Special to Page 2
Welcome back to the College Hoops DVR, in which -- depending on whim -- we look backward or forward or just let things play, always in quick succession.
REW: Kentucky's John Wall was inconsolable after hearing "Ugly Betty" had been cancelled.
REW: Cornell crushed Harvard 86-50 in the so-called Ivy League Game of the Century, reaffirming what Ivy Leaguers have long asserted: Harvard is overrated in everything.
[+] Enlarge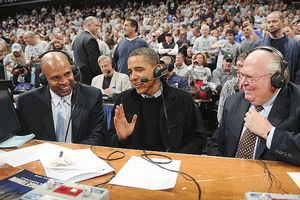 Mitchell Layton/Getty ImagesPresident Obama gave broadcasting a try during the Georgetown-Duke game.
PLAY: In an effort to improve its scoring defense (98.1 points per game, worst in Division I), Virginia Military Institute has decided to "fix bayonets."
PLAY: In lieu of attending regular classes, Texas A&M coach Mark Turgeon is allowing his team to play FarmVille.
FF: After surpassing 20 wins for the 21st consecutive season, Kansas hoops is finally emerging from the shadow of the school's football team -- with a few more successful seasons, Kansas might actually become known as a basketball school.
PAUSE: Texas, which earlier this season rose to No. 1 in the polls for the first time in the program's history, has lost three of its past four games. Coach Rick Barnes admitted the Longhorns have lost focus, saying, "We're a football school. As soon as national signing day [the first Wednesday in February] comes within range, no one can focus on basketball, especially me."
REW: Kentucky fans were beside themselves when the basketball team was not mentioned by name in the State of the Union Address.
PLAY: In its ongoing search to find a new full-time coach, DePaul is joining eHarmony.
PAUSE: Notre Dame's Luke Harangody doesn't quite understand why he can't be a cast member on the second season of "Jersey Shore."
REW: Michigan State players surprised coach Tom Izzo by taking him to Chuck E. Cheese for his 55th birthday Saturday. Kalin Lucas, who was benched earlier this season for lack of leadership, didn't show much enthusiasm during the singing of "Happy Birthday," so he's been kicked off the team.
FF: Chastened by its $25,000 fine for storming the court after beating Kentucky, South Carolina said it will refrain from major upsets in the future.
FF: The Michigan State Spartans have one of the most classic, recognizable logos in collegiate sports, which is why students and alumni are livid about the possibility of switching to this more contemporary look.
STOP: Tired of naming a different No. 1 team every week, the Associated Press poll is calling it a day after 60-plus years, making these T-shirts collector's items.
REW: Kansas traveled to Kansas State on Saturday and beat the Wildcats at Bramlage Coliseum, the so-called Octagon of Doom. Afterward, Brock Lesnar entered the building and wiped the floor with both teams.
FF: Twenty-five years after Villanova became the lowest seed ever to win the NCAA tournament, officials are finally acknowledging that Cinderellas are a marketing ploy used to generate interest in a tournament in which upsets rarely happen -- and instead of expanding the tournament from 65 to 96 teams, the NCAA is actually contracting to 20 teams.
REW: Barack Obama and Joe Biden did not storm the floor after Georgetown's win over Duke, confirming suspicions that they're out of touch with the common fan.
REW: Vanderbilt's A.J. Ogilvy (seen here) will reprise the role of Cameron Frye in the remake of "Ferris Bueller's Day Off."
REW: In keeping with his promise to take it easy and guard his health, Urban Meyer coached only the first half of Florida's game versus Tennessee on Sunday, allowing Billy Donovan to coach the second half.
PAUSE: Obi Muonelo of Oklahoma State has been lighting it up from 3-point range lately. When a reporter asked Muonelo the secret to his newfound stroke, he responded, "These are not the droids you're looking for. Move along."
LEGEND:
REW: A look back at a recent sporting development
PAUSE: Where things are on hold
PLAY: Where things are ongoing
STOP: Where things have come to an end
FF: A look ahead at a possible sporting development
Cam Martin is a contributor to Page 2. He previously worked for the Greenwich (Conn.) Time and The (Stamford, Conn.) Advocate, and has written online for CBS Sports and Comcast SportsNet New England. You can contact him at cdavidmartin@yahoo.com.