Commentary
March is here, let the madness begin!
Originally Published:
March 3, 2010
By
Cam Martin
| Special to Page 2
Welcome back to the College Hoops DVR, in which -- depending on whim -- we look backward or forward or just let things play, always in quick succession.
STOP: It's time for John Wall of Kentucky to come clean and admit he stole his so-called signature dance move from Bowzer of Sha Na Na.
[+] Enlarge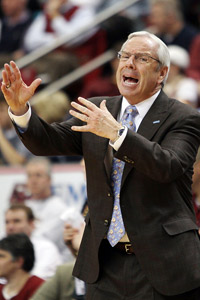 Elsa/Getty ImagesIt's been a very rough year for Roy in Chapel Hill.
PLAY: This year, for the first time, the NCAA selection committee is taking schools' nicknames into account when handing out bids to the NCAA tournament. So teams with common nicknames -- hello, Butler Bulldogs -- will be seeded lower or possibly not invited at all, while schools with sublime mascots (hooray for the Fighting Camels of Campbell!) can expect bids and cushy opening-round matchups.
PAUSE: The North Carolina Tar Heels have gone from national champions last season to near last place (5-10) in the Atlantic Coast Conference. And while some of the blame must be directed at their coach, Roy Williams, most of it needs to be directed at the fans. As of right now, a Web site called FireRoyWilliams.com has not even been created yet. How's a coach supposed to feel the heat when no one's even willing to buy the domain name? That's the first step -- everyone knows this. This would never fly at Duke, where fans actually care.
REW: The Ole Miss Rebels were en route to Alabama to face the Crimson Tide on Saturday when the team's bus driver came over the loudspeaker and shouted, "It's a trap!" and pulled a U-turn.
PLAY: Notre Dame has done surprisingly well (2-2) in the absence of reigning Big East Player of the Year Luke Harangody, and coach Mike Brey attributes this to the team's massive consumption of Shamrock Shakes, available through St. Patrick's Day at participating McDonald's.
STOP: Producers of the new movie "The Crazies" were forced to put out a press release squelching rumors that their film is about something as lame as Duke basketball fans.
REW: Princeton, which made a name for itself in college basketball with its patented offense of screens and backdoor cuts, lost to Cornell on Friday when the Big Red used its patented offense of scoring more points than the other team.
FF: If Southern University (5-23) can beat Prairie View A&M on Thursday, Southern will have six wins and be eligible for a bowl game.
PLAY: If you haven't checked it out already, be sure to visit the NCAA Vault, which features full games, highlights and statistics of every single Sweet 16 game since 2000. Whoa, whoa … hold your horses, Florida State fans. There are no highlights for you there; you guys haven't been to a Sweet 16 since 1993. If, however, you'd like to watch some clips of the Florida Gators or the Miami Hurricanes, that can be arranged with a few simple clicks.
[+] Enlarge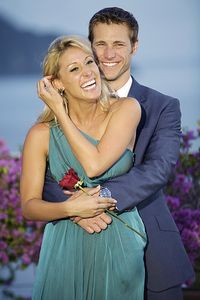 ABC/Mark BrendelThe Orange have spoken -- Jake made the wrong choice!
REW: The start of Saturday's game between Maryland and Virginia Tech was delayed for three hours when a Bud Light beer truck struck a fire hydrant outside Cassell Stadium in Blacksburg, Va. After examining the scene, investigators determined that no beer spilled in the accident. And once that larger issue was put to rest, emergency crews went to work repairing the broken water main.
PLAY: Texas became the first team since Alabama in 2003 to reach No. 1 and then later drop out of the Associated Press Top 25 poll. Texas: Where even the losers are bigger.
REW: As a bonding experience, Syracuse coach Jim Boeheim invited his team over to watch the season finale of "The Bachelor" on Monday. Practice was then cancelled on Tuesday because the entire team was still upset that Jake chose Vienna over Tenley.
FF: The 25th anniversary of Villanova's stunning upset of Georgetown in the 1985 NCAA title game is fast approaching. Be sure to remind all the Hoyas fans in your life.
PAUSE: New Mexico coach Steve Alford was reprimanded by the Mountain West Conference for cursing out BYU's Jonathan Tavernari after Saturday's game. That's some swift justice -- particularly when we're still waiting for Alford to be reprimanded for his actions last season, when he came straight to a game following his morning shift at the Loews Cinema.
LEGEND:
REW: A look back at a recent sporting development
PAUSE: Where things are on hold
PLAY: Where things are ongoing
STOP: Where things have come to an end
FF: A look ahead at a possible sporting development
Cam Martin is a contributor to Page 2. He previously worked for the Greenwich (Conn.) Time and The (Stamford, Conn.) Advocate, and has written online for CBS Sports and Comcast SportsNet New England. You can contact him at cdavidmartin@yahoo.com.