Commentary
The Weekly Best for May 4
Originally Published:
May 4, 2010
By
Cam Martin
| Special to Page 2
Welcome to the Weekly Best, a look at the best in sports, pop culture and 0.0 grade point averages.
Best tequila in the world: Patrón.
Best day to drink it: Cinco de Mayo.
Best way to enjoy it: In moderation.
Best grade point averages in the Kentucky athletic department: Do not belong to the men's basketball players.
Best you can say about their GPAs: They were all higher than John Blutarsky's.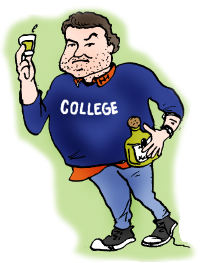 Best board game being made into a movie: "Monopoly."
Best goalie in the NHL playoffs: The Montreal Canadiens' Jaroslav Halak.
Best way to contain the smell of in-bed farts: The Better Marriage Blanket?
Best look for new sleeping arrangements: If you buy that for your wife.
Best sport with flagging attendance: Major League Baseball.
Best record in the American League East: Belongs to the Tampa Bay Rays.
Best home attendance in the American League East: Will probably never belong to the Rays.
Best possible outcome at the Preakness: Super Saver wins.
Best reason for that: We can watch him go for the Triple Crown at the Belmont.
Best find some new diversions: The FAA has banned the playing of Minesweeper and Solitaire in airplane cockpits.
Best thing pilots could do instead: Fly the plane.
Best actor appearing this week on "Celebrity Jeopardy!" Neil Patrick Harris.
Best on-screen pothead appearing on "Celebrity Jeopardy!" Cheech Marin.
Best bet to win "Celebrity Jeopardy!": Marin, who won the first such tournament in 1992.
Best left-handed closer in MLB history: Billy Wagner, who says he's retiring after this season.
Best golfer in the world: Missed the cut at Quail Hollow.
Best part of the Mayweather-Mosley fight: Not watching it.
Best NBA equivalent to the San Diego Chargers: The Dallas Mavericks.
Best prepare for another drawn-out charade: With Brett Favre and his injured ankle.
Best team in Boston these days: The Bruins.
Best after that: The Celtics.
Best wake up, Red Sox: You just got swept in Baltimore for the first time in 36 years.
Best bet to cool off: Robinson Cano and his .763 slugging percentage.
Best give the National League Player of the Month award to: Andre Ethier for April.
Best to just go through the motions: Until you need to flip the switch, right, Lakers?
Best book by J.D. Salinger: "The Catcher in the Rye."
Best thing that could happen to its proposed sequel: It never gets published.
Best be joking: Chris Bosh asked his Twitter followers to tell him where to play next season.
Best new Boy Scout merit award: Will be given to scouts who demonstrate an understanding of video games.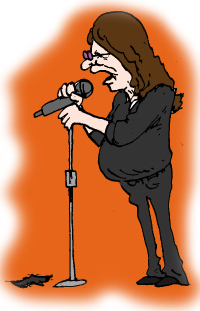 Best rock festival returning this summer: Ozzfest.
Best acts on the bill: Ozzy Osbourne, Motley Crue and Rob Halford of Judas Priest.
Best believe you'll be buying a copy: Of the "Jersey Shore" soundtrack, which drops July 20.
Best look for Kobe Bryant: An extra in Michael Jackson's "Beat It" video?
Best line from the 150th episode of "Family Guy": Too many to count.
Best-looking woman to hit the market: Halle Berry, who just split with her longtime boyfriend.
Best career move: Lindsay Lohan is going to play porn star Linda Lovelace of "Deep Throat" fame.
Best MLB story so far: The San Diego Padres.
Best news about Ben Roethlisberger: Would be no news about Ben Roethlisberger.
Best snooker player in the world: Suspended for allegedly accepting bribes to lose matches.
Best check your privacy settings: Because Facebook probably has changed them again.
Best Scott Turow novel: "Presumed Innocent."
Best suspend your disbelief: In Turow's new sequel, "Innocent," Rusty Sabich and his wife are still married.
Best get her a nice gift: Sunday is Mother's Day.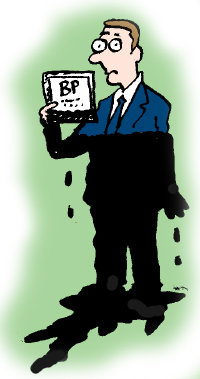 Best believe it: BP says it will pay for the massive oil spill it caused in the Gulf of Mexico.
Best estimates say: The spill could end up being 34 times bigger than the Exxon Valdez accident.
Best time to sell your stock in BP: Has probably passed.
Best-hitting rookie in MLB: Austin Jackson of the Tigers.
Best gift for Notre Dame haters: This awesomely lame promotional video.
Best wake up and smell the coffee: Nigerian scams are still netting victims.
Best I can say for Conan O'Brien's "60 Minutes" interview: He sounded less bitter than Pete Rose.
Best wait 'til they're of age: A Canadian hockey coach reportedly provided beer to his players -- who are 10 years old.
Cam Martin is a contributor to Page 2. He previously worked for the Greenwich (Conn.) Time and The (Stamford, Conn.) Advocate, and has written online for CBS Sports and Comcast SportsNet New England. You can contact him at cdavidmartin@yahoo.com.