Commentary
The Fab Fours of American sports cities
Originally Published:
June 25, 2010
By
Cam Martin
| Special to Page 2
With the Wizards' selection of John Wall as the No. 1 pick in Thursday's NBA draft, Washington D.C., now has star wattage in all four major sports -- something even Los Angeles can't claim.
NOT SO FAST, D.C.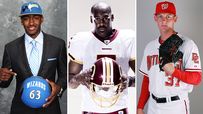 Washington fans need to take the arrival of John Wall, Donovan McNabb and Stephen Strasburg with a grain of salt.
• Patrick Hruby: Won't get fooled again
Yeah, we know: L.A. doesn't have a professional football team, so how can you compare the two? You can't. Washington supports four major sports. Los Angeles supports only three. Therefore, Washington is a better sports town.
It's simple math.
Washington is among 13 U.S. markets with teams in all four major sports. And with Wall, Stephen Strasburg, Alexander Ovechkin and Donovan McNabb, it unquestionably has stars in each one. Does the combined star power of Washington's Fab Four outshine the collective wattage put forth by the top stars in New York, Boston, Denver or the Twin Cities?
Check out our list below, as we select one star per sport per city, answering these simple questions: 1.) Whose star currently shines brightest? 2.) Which city has the best collective foursome? Statuses are bolstered by winning recent titles, dating supermodels, and invoking wholesale hate and envy.
Here are the 13 markets, in reverse order, with the biggest current star listed in pro baseball, basketball, football and hockey:




13. San Francisco Bay Area

The Fab Four: Tim Lincecum, Giants; Monta Ellis, Warriors; Michael Crabtree, Niners; Joe Thornton, Sharks.
Page 2 spin: Just a rookie last year, Crabtree had 48 receptions in 11 games. At this rate, he's on pace to catch Jerry Rice (1,281 receptions with the Niners) as the team's all-time leading receiving sometime in 2027.
By that point, Thornton and the San Jose Sharks will probably have lost in the Western Conference finals a dozen more times, and Lincecum and Ellis will likely be awaiting Hall of Fame induction. Well, one of them anyway.
Sorry, Lincecum.




12. Denver

The Fab Four: Ubaldo Jimenez, Rockies; Carmelo Anthony, Nuggets; Tim Tebow, Broncos; Paul Stastny, Avalanche.
Page 2 spin: Look, it doesn't matter if you think Tebow is going to be a colossal bust or the person who brings peace to the Middle East; he is a champagne supernova. He hasn't played a professional down and yet he still had the NFL's top-selling jersey in April, beating out Donovan McNabb, Drew Brees, Peyton Manning, Brett Favre, LaDainian Tomlinson, Tony Romo and Maurice Clarett. The Broncos obviously wouldn't waste a high draft pick on someone who sucks.
Jimenez is the best pitcher in the majors this season. And Anthony is the best player in basketball not named James, Howard, Wade, Durant or Bryant.




11. Detroit

The Fab Four: Miguel Cabrera, Tigers; Richard Hamilton, Pistons; Matthew Stafford, Lions; Nicklas Lidstrom, Red Wings.
Page 2 spin: Detroit is not known as Tigertown, Pistontown or Liontown. It's known as Hockeytown, thanks to a successful marketing campaign by the city's Red Wings, a franchise that has won more Stanley Cups -- 11 -- than any other American team.
Lidstrom, captain of the Red Wings, has spent his entire NHL career in Detroit. If Stafford shares a similar fate, may God have mercy on his soul. Contrary to popular belief, Hamilton's facemask was not melded from Lidstrom's hardened sweat.




10. Chicago

The Fab Four: Ozzie Guillen, White Sox; Derrick Rose, Bulls; Jay Cutler, Bears; Patrick Kane, Blackhawks.
Page 2 spin: It's odd to think the biggest baseball star in Chicago is the manager of the White Sox -- until you remember the Cubs haven't won a World Series since 1908; none of the 2005 World Series champion White Sox are bound for Cooperstown; and Guillen has been the most interesting thing to happen to South Side baseball since 1919. Kane, meanwhile, became the first Blackhawk to win a title and assault a cab driver in the same season. Cutler would probably settle for just one of those feats.




9. Atlanta

The Fab Four: Jason Heyward, Braves; Joe Johnson, Hawks; Matt Ryan, Falcons; Nik Antropov, Thrashers.
Page 2 spin: Heyward is in line to become the first rookie to start in an All-Star Game since Ken Griffey Jr. in 1990. Ryan, meanwhile, has the most symmetrical face among NFL quarterbacks. Johnson also has a nice round face, though it tends to elongate and resemble a brick during the playoffs.
The Thrashers don't believe in making the playoffs (just one berth in team history), but all that losing hasn't affected the stature of Antropov. He remains 6-foot-6.




8. Phoenix

The Fab Four: Brandon Webb, Diamondbacks; Steve Nash, Suns; Larry Fitzgerald, Cardinals; Shane Doan, Coyotes.
If you were watching the NHL Awards on Wednesday, then you'd know that Doan won the King Clancy Memorial Trophy, which celebrates charitable and humanitarian contributions by a NHL player. And if you were watching the Diamondbacks play the Yankees on Wednesday night, you really have some explaining to do. Seriously, the Diamondbacks are terrible, especially without the injured Webb -- so save yourself the agony. Better to look forward to the Cardinals' 2010 season, when Fitzgerald, Anquan Boldin, Kurt Warner, Neil Rackers and the rest of Arizona's star-studded offense slices and dices through the league like Nash through a court full of Oliver Millers.




7. Washington, D.C.

The Fab Four: Stephen Strasburg, Nationals; John Wall, Wizards; Donovan McNabb, Redskins; Alexander Ovechkin, Capitals.
Page 2 spin: You don't need to like the Redskins or McNabb in order to root for Washington to win the Super Bowl next season. You just need to have the prevailing wish to laugh at the Eagles for trading the best quarterback in franchise history to a hated rival.
Let's play "What would the Eagles do?" as it pertains to Washington's current crop of stars. If the Eagles ran the Nationals, they'd trade Strasburg to the Baltimore Orioles. If the Eagles ran the Wizards, they'd trade Wall to the Sixers. And if the Eagles ran the Redskins, they'd trade McNabb to the Cowboys and sign Michael Vick.




6. Minneapolis/St. Paul

The Fab Four: Joe Mauer, Twins; Al Jefferson, Timberwolves; Brett Favre, Vikings; Mikko Koivu, Wild.
Page 2 spin: The star power of the Minnesota quartet will drop precipitously if Favre retires. In fact, the entire Twin Cities area will likely suffer from rolling blackouts if the ole gunslinger takes his juice back to Mississippi.
Mauer is an icon to men who think sideburns remain fashionable. And how about that Jefferson-for-Kevin Garnett trade? You didn't hear Pau Gasol saying Jefferson had lost a step, now did you? Score one for the T-Wolves.




5. Miami

The Fab Four: Hanley Ramirez, Marlins; Dwyane Wade, Heat; Brandon Marshall, Dolphins; Nathan Horton Stephen Weiss, Panthers.
Page 2 spin: People called Ramirez a dog earlier this year when he jogged after a booted ground ball and then criticized his manager for benching him. Before that, Ramirez was famous among baseball fans for being a great hitter with a shaky glove; after that, he was infamous among casual sports fans for being a pigheaded lollygagger. Hey, whether you're famous or infamous, your name is taken to the same place: The tips of people's tongues.
In Miami, Ramirez can expect to share tongue space with another avowed lollygagger, the newly acquired Marshall. Is Marshall a star? If you don't know the answer, then you obviously haven't asked him.
Meanwhile, how about a sign-and-trade between the Heat and Raptors, sending Michael Beasley and assorted parts to Toronto and bringing Chris Bosh to South Beach? Then add LeBron James as a free agent and re-sign Wade. The Heat might go 82-0 -- creating enough team history to un-retire Dan Marino's No. 13 in good conscience.




3.5 Philadelphia

The Fab Four: Ryan Howard, Phillies; Andre Iguodala, Sixers; DeSean Jackson, Eagles; Chris Pronger, Flyers.
Page 2 spin: We tried to give the fourth spot to Philadelphia in our rankings, but when Pronger found out, he stole the "four" key on our laptop. Therefore the City of Brotherly Love ranks 3.5. We apologize for any confusion.
With the departures of McNabb and Brian Westbrook, the Eagles' biggest star is now Jackson -- who made remarkable strides in crossing the goal line without tossing the ball away last season.
Howard has led the Phillies to the past two World Series, winning one. He's also the beneficiary of a $125 million contract and the amorous attention of Victoria's Secret model Selita Ebanks, who's a rather attractive mammal.




3. Dallas/Fort Worth

The Fab Four: Josh Hamilton, Rangers; Dirk Nowitzki, Mavericks; Tony Romo, Cowboys; Brad Richards, Stars.
Page 2 spin: Nowitzki and Romo have each led high-profile romantic lives. Romo has dated Jessica Simpson and Carrie Underwood, while Nowitzki has dated Cristal Taylor, a relationship that didn't end well. Just imagine how famous these two would be if their teams ever won anything.
The last Dallas-area title went to the Stars in 1999, the same year Hamilton was selected first in the MLB draft. He wasn't selected by the Rangers, however; he was chosen by Tampa Bay -- an expansion team that's already played in more World Series than the Rangers have in their entire history.




2. New York City

The Fab Four: Derek Jeter, Yankees; David Lee, Knicks; Mark Sanchez, Jets; Chris Drury, Rangers.
Page 2 spin: What, you think Eli Manning is a bigger star than Mark Sanchez? Did Eli Manning date Hilary Rhoda? Did Eli Manning appear on stage at the Tony Awards? All Manning has done in New York is win a Super Bowl. Even Jeff Hostetler did that.
Jeter is on course to get elected to another All-Star Game, a year after leading the Yankees to another World Series title and a year after the insane rumor that he would take himself out of the game and get married.
To casual fans, the most recognizable Ranger is Drury, the team's captain. He won more titles in Little League than the Knicks have won in the last 37 years.
The limited star wattage emanating from Madison Square Garden these days affects the standard deviation of New York City's overall rating. Confusing? Blame David Lee.




1. Boston

The Fab Four: David Ortiz, Red Sox; Rajon Rondo, Celtics; Tom Brady, Patriots; Marc Savard, Bruins.
Page 2 spin: If All-Star voting ended today, no Red Sox players would start in the Midsummer Classic, so it's obvious Red Sox fans don't unequivocally love their players. And no player embodies these mixed feelings quite like Ortiz, who has been up and down the ladder with Boston fans in the last few years. Contrast that with Brady, whom Patriots fans unstintingly fawn over, particularly when they run into him near his home in L.A.
Is this East Coast bias, ranking Boston No. 1 for its star quartet?
No, it's simple statistics (or something loosely resembling statistics). Each of the area's four teams made the playoffs in the most recent season -- and none of the other markets on this list can make that claim. Moreover, these weren't first trips to the playoffs for these Boston teams. They were repeat appearances from star-studded squads.
Unlike New York (Lee) or Philadelphia (Iguodala), there's no glaring weak link in the star quartet. Unlike Dallas, Boston has experienced several championships recently.
That's why American sports fans universally support Boston teams.
Cam Martin is a contributor to Page 2. He previously worked for the Greenwich (Conn.) Time and The (Stamford, Conn.) Advocate, and has written online for CBS Sports and Comcast SportsNet New England. You can contact him at cdavidmartin@yahoo.com.