Commentary
Fact vs. fiction: college football edition
Originally Published:
September 2, 2010
By
Cam Martin
| Special to Page 2
Yay, meaningful college football is finally here (unless you play for USC), and hopes are high for many programs across the nation. But who are the true contenders for the BCS crystal football? And who are only pretending? Perhaps more importantly, who will fill the role vacated by the loss of our beloved Tim Tebow? Will it be Lane Kiffin? It just might be. Let's look at the Associated Press preseason Top 25 and separate fact from fiction.
Fact: No. 3 Boise State and No. 6 TCU have played each other in their past two bowl games, with each school winning once.
Fiction: Organizers of the 2011 BCS National Championship Game really hope these two schools face off in a bowl game for a third straight year.
Fact: No. 20 Florida State opens its season with a home game against unranked Samford.
Fiction: Before settling on the Bulldogs of Samford, the Seminoles tried to get a game against the University of Phoenix.
Fact: No. 2 Ohio State won its fifth straight Big Ten championship last season.
Fiction: Playing a Big Ten schedule has been the perfect preparation for winning national titles.
[+] Enlarge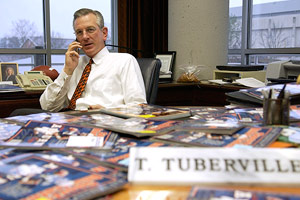 AP Photo/Todd J. Van EmstRubbin' is racin' in Texas Tech coach Tommy Tuberville's new NASCAR offense.
Fact: National title contenders in the Big 12 (namely, No. 5 Texas and No. 7 Oklahoma) will have to contend with the so-called NASCAR offense -- a version of the hurry-up -- being implemented at Texas Tech by new coach Tommy Tuberville, a set he intends to wheel out for 20 to 30 percent of offensive plays.
Fiction: Every receiver in the NASCAR set will run fast and turn left.
Fact: True freshman running back Dillon Baxter of No. 14 USC left his coaches and teammates wide-eyed and gaping with his moves in the spring, drawing comparisons to former Trojan Reggie Bush.
Fiction: Baxter awed his teammates by rolling up to spring practices in a tricked-out Impala.
Fact: Greg McElroy, quarterback for No. 1 Alabama, hasn't lost a game as a starter since eighth grade.
Fiction: It won't be entertaining to watch McElroy's reaction if the Crimson Tide lose to No. 19 Penn State on Sept. 11.
Fact: Tyler Thomas, previously an offensive lineman for No. 24 Oregon State, was kicked off the team. He was subdued by a Taser and arrested after breaking into a stranger's apartment in a naked, drunken stupor in August.
Fiction: Thomas has absolutely no future in football.
Fact: T.J. Yates, a three-year starter at quarterback for No. 18 North Carolina, threw for 14 touchdowns and 15 interceptions last season.
Fiction: Tar Heels fans have been complaining that Yates is not on the watch list for the Davey O'Brien Award, which honors the nation's top quarterback.
[+] Enlarge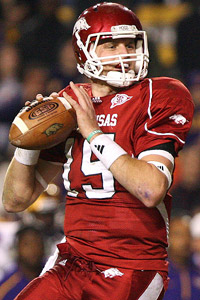 Tyler Kaufman/Icon SMIRyan Mallett has the Razorbacks riding high on the hog.
Fact: With Heisman candidate Ryan Mallett under center, the No. 17 Arkansas Razorbacks have a legitimate shot to win the SEC West.
Fiction: If the Razorbacks implode at some point this season, Arkansas coach Bobby Petrino would never post a resignation note in his players' lockers telling them he's quitting the team.
Fact: Nebraska defensive tackle Jared Crick, who had 15 tackles for loss and 9½ sacks last season playing alongside Ndamukong Suh, is widely considered the best defensive player in the Big 12 this season.
Fiction: Every time you see Crick mentioned in a news article this season, you're going to have to remind yourself how to pronounce his name.
Fact: Tim Tebow -- Heisman Trophy winner, two-time national champion, future College Football Hall of Famer -- will never be replaced in the hearts and minds of Florida fans.
Fiction: A former Gator would never forget to mention his alma mater when he's being inducted into a hall of fame.
Fact: Spoiled by three straight 11-win seasons under Rich Rodriguez, No. 25 West Virginia was only 9-4 each of the past two years under Bill Stewart, prompting some Mountaineers fans to say that Stewart deserves to be on the hot seat.
Fiction: The Mountaineers have a long and storied tradition filled with multiple national championships (or even one, for that matter).
Fact: Jacory Harris of No. 13 Miami is among the quarterbacks on the watch list for the Davey O'Brien Award.
Fiction: You can name all 30 quarterbacks on the watch list for the Davey O'Brien Award.
Fact: A berth in the Rose Bowl was at stake Nov. 14 when No. 9 Iowa traveled to No. 2 Ohio State, with the Buckeyes winning on a 39-yard field goal in overtime.
Fiction: Even though Iowa quarterback Ricky Stanzi was hurt and could not play in that game, Iowa fans will admit the better team won.
Fact: No. 10 Virginia Tech can torpedo No. 3 Boise State's national championship hopes right out of the gate if it beats the Broncos on Sept. 6 in Landover, Md.
Fiction: The Washington Redskins have banned signs that read, "This is the best football game that FedEx Field will see this year."
[+] Enlarge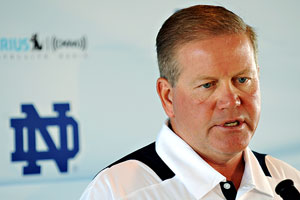 AP Photo/Joe RaymondBrian Kelly's offense has Notre Dame players and NBC adjusting.
Fact: Notre Dame is not in the preseason Top 25.
Fiction: Under new coach Brian Kelly, the Fighting Irish are going to relax their academic standards and be back in the championship discussion in the near future.
Fact: To accommodate Kelly's hurry-up offense at Notre Dame, NBC has agreed to change its commercial formats -- opting for five shorter commercial breaks per quarter as opposed to four longer breaks.
Fiction: To accommodate Les Miles' clock-management skills, the NCAA has agreed to give No. 21 LSU one additional timeout per quarter.
Fact: After this season, No. 12 Wisconsin and No. 9 Iowa will be playing in separate divisions in the newly constructed Big Ten, meaning the longtime rivals might not play each other every year.
Fiction: The winner of the Wisconsin-Iowa game is usually the odds-on favorite to win the Rose Bowl.
Fact: When USC was recently forced to vacate its 2004 national championship, many Auburn fans suggested the Tigers -- who were undefeated that season and ranked No. 2 in the final polls -- deserved to be awarded the title.
Fiction: Winning the 2004 national championship -- in 2010 -- would totally help No. 22 Auburn with its recruiting in Alabama.
Fact: No. 16 Georgia Tech has won three national championships but none since 1990.
Fiction: During the school's championship drought, another school has emerged with a better nickname than the Ramblin' Wreck.
Fact: Pittsburgh and West Virginia are the only Big East teams ranked in the preseason AP Top 25.
Fiction: This is a gross oversight by The Associated Press.
Fact: Drew Butler, punter for No. 23 Georgia, is the reigning winner of the Ray Guy Award as the nation's best punter, and he has the opportunity to become the first back-to-back winner since the award was created.
Fiction: Butler wants to get off to a fast start in 2010 and hopes to see plenty of action in the opener against Louisiana-Lafayette.
Fact: No. 11 Oregon, the reigning Pac-10 champion, opens its season by playing three nonconference games -- against New Mexico (1-11 in 2009), Tennessee (7-6 in 2009) and Portland State (2-9 in 2009) -- before ending the year with nine straight conference matchups.
Fiction: Known for their unique and diverse collection of uniforms, the Ducks have properly chosen to wear chicken outfits for their games against New Mexico and Portland State.
Cam Martin is a contributor to Page 2. He previously worked for the Greenwich (Conn.) Time and The (Stamford, Conn.) Advocate, and has written online for CBS Sports and Comcast SportsNet New England. You can contact him at cdavidmartin@yahoo.com.