Commentary
The Weekly Best for Sept. 7
Originally Published:
September 7, 2010
By
Cameron Martin
| Page 2
Welcome to the Weekly Best, our look at the supreme in sports, pop culture and odd stories that always seem to happen in Florida.
Note: The Weekly Best is open to reader riffs. So reflect on the events of the coming week and send me your best takes -- using the "Best" intro, of course -- at cdavidmartin@yahoo.com by Monday night. We'll print the most sublime.
Best division in the NFL: The AFC North.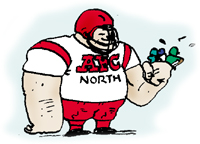 Best phrase to describe the NFC East: Overrated as usual.
Best thing about the end of a three-day weekend: It's followed by only four days of work.
Best part of college football: Correcting bad calls by officials -- Waford Paye, Weekly Best reader.
Best believe it happened in Florida: A man was arrested after he reportedly was offered $20 to spray deer urine inside a Jacksonville bar -- and did.
Best nickname in college sports: The Blue Hose of Presbyterian College.
Best-looking match at the U.S. Open: Caroline Wozniacki versus Maria Sharapova.
Best fullback in the NFL in the past decade: And Tony Richardson is back with the Jets just one day after being cut.
Best clear your schedule Saturday: And watch No. 2 Ohio State versus No. 13 Miami at 3:30 p.m. ET, followed by No. 1 Alabama against No. 19 Penn State at 7.
Best NFL matchup this week: Probably not the Bucs versus the Browns.
Best indication that Charlie Batch became a Steelers fan during their lean years: "I grew up here, and I dreamed about being Mark Malone or Walter Abercrombie someday."
Best give that man a fitting nickname: Aroldis Chapman.
Best indication that hockey's an easy sport: Chris Chelios played until he was 48.
Best believe I'm kidding: Chelios is an animal and became the second-oldest player (Gordie Howe) in NHL history.
Best source of NFL drama this season: Figures to be the Bengals with Pacman Jones, Terrell Owens and Chad Ochocinco.
Best price for a pack of Marlboros: English soccer star Wayne Rooney reportedly paid a porter 200 pounds to fetch him cigarettes while married Rooney remained in his room with a prostitute.
Best enjoy your vacation: Nyjer Morgan.
Best time for the Padres to turn things around: Immediately.
Best thing about Michelle Wie's game: She's finally living up to the hype.
Best quarterback to grab as a backup in your fantasy league: Ben Roethlisberger.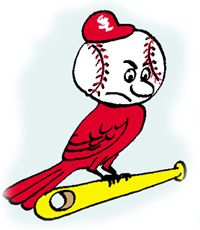 Best imitation of the New York Mets: The St. Louis Cardinals and their late-season collapse.
Best threat to Dan Marino's record of 5,084 passing yards in a season: An 18-game season.
Best rags-to-riches soccer story: Bebe, a Manchester United forward, was living in a homeless shelter two months ago.
Best 63-year-old pitcher in history: Bill "Spaceman" Lee pitched 5 and 1/3 innings and got the win in an Independent League game Sunday and is thought to be the oldest pitcher ever to appear in a professional game.
Best-grossing movie in America: "The American" with George Clooney.
Best wake-up call for Matt Leinart: Hopefully was being waived by the Cardinals.
Best shortstop in Yankees history: But Derek Jeter is having the worst season of his career.
Best step aside, Mark McGwire: Jim Thome hit two home runs to pass Big Mac (583) for eighth place on the all-time home run list.
Best way to dump the played-out drama and up the fun in the "Jersey Shore" house: Get Sammi to leave with her backpack of bricks.
Best choice of words: Was not exhibited by NFL Hall of Famer Dan Hampton when he said of the Vikings traveling to New Orleans: "The Vikings need to go down there and hit that town like Katrina."
Best Graphic Story: "Girl Genius," according to the science fiction Hugo Awards.
Best LSU football team in years: Probably not the one that barely beat a severely undermanned North Carolina.
Best end to a college game: East Carolina beat Tulsa 51-49 on this fourth-down Hail Mary to 6-foot-8 Justin Jones.
Best benefit to Michigan and Ohio State playing in different divisions in the Big Ten: They potentially could face each other twice a season.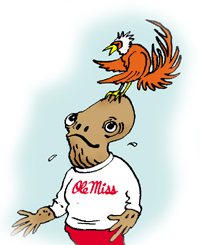 Best showing by an FCS team: Jacksonville State overcame a 21-point deficit and beat Ole Miss in double overtime, 49-48, after going for and making a two-point conversion.
Best tennis player never to win a Grand Slam event: That title still belongs to Andy Murray.
Best tennis player ever: A title that won't belong to Rafael Nadal unless he wins the U.S. Open at least once, Roger Federer says.
Best baseball ejection: Chipper Jones, injured and out for the season, was ejected for arguing balls and strikes from the Braves' bench and faces a one-game suspension if he returns next season.
Best reason Sister Barbara Anne Hallman missed a Notre Dame football game for the first time in nearly 60 years: She attended the Boston College game to see the return of cancer survivor Mark Herzlich, whom she befriended after his diagnosis two years ago.
Cam Martin is a contributor to Page 2. He previously worked for the Greenwich (Conn.) Time and The (Stamford, Conn.) Advocate, and has written online for CBS Sports and Comcast SportsNet New England. You can contact him at cdavidmartin@yahoo.com.