Commentary
The Weekly Best for Sept. 14
Originally Published:
September 14, 2010
By
Cameron Martin
| Page 2
Welcome to the Weekly Best, our tour of the tops in sports, pop culture and news for fans of Joaquin Phoenix.
Note: The Weekly Best is open to reader riffs. So reflect on the events of the coming week and send me your best takes -- using the "Best" intro, of course -- at cdavidmartin@yahoo.com by Monday night. We'll print the most sublime.
Best hit total in MLB history: 4,256 by Pete Rose.
Best place to put Rose one of these days: The Hall of Fame.
Best reason to keep him waiting: So sportswriters and fans can have something to be sanctimonious about.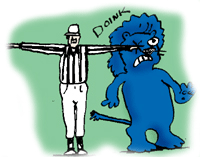 Best 1-0 team in the NFC North: The 0-1 Detroit Lions.
Best team in the AFC West: The undefeated Kansas City Chiefs.
Best cup of shut up: Served to the New York Jets on Monday night.
Best deep threat in the NFL: Yet Randy Moss is back to his me-first ways.
Best save total in MLB history: Trevor Hoffman became the first closer to pass 600 in his career.
Best reality show starting Wednesday: "Survivor: Nicaragua."
Best guess says: Former Cowboys coach Jimmy Johnson won't win.
Best reasons for that: Johnson is old relative to the other competitors, plus no one will want to give $1 million to a guy who's already wealthy and famous. Oh, and everyone who doesn't root for them hates the Cowboys.
Best playoff races in baseball: Are all taking place in the National League.
Best football game between wicked smart kids this week: Northwestern versus Rice.
Best game between schools that both hate Lane Kiffin: No. 10 Florida versus Tennessee.
Best game between ranked teams this week: No. 9 Iowa versus No. 24 Arizona is the only such matchup.
Best-looking uniforms in the NFL: Do not belong to the Washington Redskins.
Best make room for him in the Heisman discussion: Denard Robinson of Michigan.
Best place to find the 0-1 Indianapolis Colts: All alone in last place in the AFC South.
Best impersonation of Marshall Faulk: Matt Forte caught seven passes for 150 yards and two touchdowns in Mike Martz's new Chicago offense.
Best warm up those muscles, Coach: The Falcons' Mike Smith pulled a hamstring running along the sidelines trying to call a timeout in the game against the Steelers.
Best recruiter in college basketball: And John Calipari -- who has won zero titles at UMass, Memphis and Kentucky -- has another find in freshman center Enes Kanter.
Best evidence Kanter is worth all the hype: His amateur status is in question after reportedly accepting more than $100,000 from a pro team in Europe.
Best basketball country in the world: Remains the United States.
Best NFL game this week: Probably won't be St. Louis at Oakland.
Best bet to win the Sprint Cup Chase for the Championship: Some unknown named Jimmie Johnson.
Best news for people who care about Joaquin Phoenix: He made a documentary called "I'm Still Here."
Best nickname for Aroldis Chapman's slider: "The Defector" -- Casey McGrady, a Weekly Best reader.
Best ERA and strikeout total in the American League: But Felix Hernandez and his 11 wins have no chance of winning the Cy Young Award.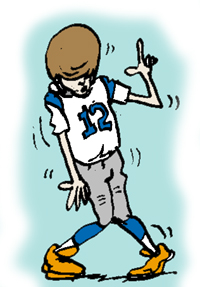 Best candidates to win the National League award: Roy Halladay, Ubaldo Jimenez, Adam Wainwright, Mat Latos and Josh Johnson.
Best New Artist at the MTV Video Music Awards: Some Tom Brady lookalike.
Best catch in Week 1: Greg Jennings' one-handed grab over the middle against the Eagles.
Best reason not to strip Reggie Bush of the Heisman: He can't be the first winner to receive improper benefits; he's simply the first to get caught.
Best new video game dropping this week: "Halo: Reach."
Best university in the world: Not Harvard, Yale, Princeton or any of the other Ivies, according to this survey.
Best guess says Rex Ryan will say something: Amusing to everyone who's not a Pats fan in the lead-up to their game with the Jets.
Best instance of schadenfreude: Illinois fans certainly enjoyed Bruce Pearl's public mea culpa, years after Pearl (as an assistant at Iowa) dropped the dime on Illinois in its recruitment of Deon Thomas.
Best auction to attend if you're willing to drop a few million dollars on books: This Sotheby's event featuring Shakespeare's first folio and a copy of John James Audubon's "Birds of America."
Best reassess those Boise State BCS title aspirations: As their vaunted Week 1 victory over Virginia Tech looks less impressive after the Hokies lost to an FCS school (James Madison) in Week 2.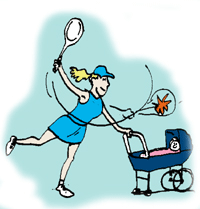 Best reason Logan Mankins didn't sign a $57 million contract with the Patriots: He reportedly wouldn't issue a public apology to Pats owner Bob Kraft after questioning Kraft's integrity earlier this summer.
Best tennis mom in the world: Three-time U.S. Open winner Kim Clijsters.
Best overnight ratings for a Week 1 prime-time game in 13 years: 16.6 for Cowboys-Redskins.
Best receiving tight end in NFL history: And Tony Gonzalez just became the first to reach 1,000 career receptions.
Best reserve a spot for him in Canton: One-time Super Bowl MVP Hines Ward, who's widely regarded as the best blocking receiver in the NFL, became the 12th receiver with 900 catches during Sunday's game against the Falcons.
Best honor a U.S. soldier can receive: Army Staff Sgt. Salvatore Giunta will become the first living service member from the wars in Iraq and Afghanistan to receive the Medal of Honor after exposing himself to enemy gunfire to save two fellow soldiers.
Cam Martin is a contributor to Page 2. He previously worked for the Greenwich (Conn.) Time and The (Stamford, Conn.) Advocate, and has written online for CBS Sports and Comcast SportsNet New England. You can contact him at cdavidmartin@yahoo.com.