Commentary
Pregame Flyover: 'Departed' contenders
Originally Published:
October 1, 2010
By
Cam Martin
| Special to Page 2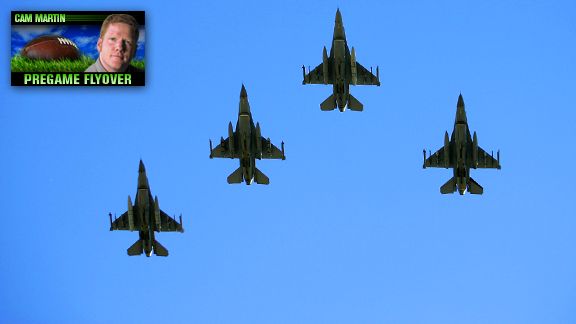 AP Photo
Welcome back to the Pregame Flyover. It's Week 4, and that means it's time for some byes. So say bye to Jimmy Raye, former offensive coordinator for the 49ers, and say bye to Braylon Edwards' beard, which missed the entire New York-Miami game Sunday night and will probably never see an NFL field again.
As always, we'll be previewing this week's games, telling you which games are probably worth watching, which games are of questionable worth, which games are of doubtful worth and which games of are of no worth (hint: they involve Dallas, Minnesota, Kansas City and Tampa Bay). But first …
"The Departed" and how it applies to the NFL playoffs
One of my favorite scenes in "The Departed" is when Martin Sheen and Mark Wahlberg are interviewing Leonardo DiCaprio and questioning his motives for joining the Massachusetts State Police. They can't believe that DiCaprio, whose late uncle was a mob associate of Jack Nicholson's, genuinely wants to become a cop.
DiCaprio says, "Well, families are always rising and failing in America, am I right?" Sheen, who seems to lend some credence to the comment, asks him who said that and DiCaprio replies "Hawthorne." Wahlberg, whose character never passes up the opportunity to be cynical, raises his leg and emits faux flatulence and says, "What's the matter smartass, you don't know any [bleeping] Shakespeare?"
I was reminded of this scene when I looked at the NFL standings and realized: If the playoffs started today, the Chiefs, Texans, Bears and Bucs -- teams who weren't in the playoffs last season -- would all be in, while four of last season's participants -- the Ravens, Chargers, Vikings and Cowboys -- would all be out.
Is it too soon to think about the playoffs and the surprise teams that are "rising and falling" in 2010? Well, don't raise your legs so quickly, staff sergeants. First consider this: The most recent time the four teams in the conference title games had all made the playoffs the year before was after the 1997 season, with Denver, Pittsburgh, Green Bay and San Francisco. That's right, 1997 -- when high school freshmen were learning how to walk. Here are the teams, year by year, who made their conference title games (and sometimes advanced to and won the Super Bowl), but who had missed the playoffs the year previously:
• 2009: New Orleans Saints, New York Jets. (The Jets were led by a Broadway enthusiast, Mark Sanchez, whom the current coach of Seattle said made a mistake by leaving USC early.)
• 2008: Baltimore Ravens, Philadelphia Eagles and Arizona Cardinals. ('Til that season, the Cardinals were one of the worst franchises in NFL history. Thanks to the incomparable Derek Anderson, those dark days are long gone.)
• 2007: Green Bay Packers. (Brett Favre's last season. Ya know, with the Packers.)
• 2006: New Orleans Saints. ('Til that season, one of the worst franchises in NFL history. Unlike the Cardinals, their quarterback didn't retire to do "Dancing with the Stars." )
• 2005: Carolina Panthers. (This was their third NFC title game in the franchise's first 11 seasons. They might have won the Super Bowl one of those years if John Kasay could kick the ball within an area 53 yards wide.)
• 2004: Atlanta Falcons and Pittsburgh Steelers. (Ben Roethlisberger led the team to a 15-1 record after Alan Faneca said he was hardly excited that a rookie was taking over for the irreplaceable Tommy Maddox.)
• 2003: New England Patriots and Carolina Panthers. (Anyone watching this Jimmy Clausen-led team in 2010 can appreciate the yo-yo proclivities of this franchise.)
• 2002: Tennessee Titans. (The AFC equivalent of the up-and-down Panthers; team probably has that Hawthorne quote painted on its locker-room wall.)
• 2001: Pittsburgh Steelers and New England Patriots. (You haven't lived 'til you've asked an Oakland fan to explain the Tuck Rule. After that, you may not live much longer.)
• 2000: Baltimore Ravens, Oakland Raiders, New York Giants. (Like the Patriots to the Bears in 1985, somebody had to be a sacrificial lamb to the Ravens' historic defense. Enter Kerry Collins and the New York football Giants.)
• 1999: Tennessee Oilers, Tampa Bay Bucs and St. Louis Rams. (Kurt Warner replaces Trent Green, and Dick Vermeil never stops crying, but it's happy crying, so that makes it OK -- to some people, anyway.)
• 1998: Atlanta Falcons and the New York Jets. (Regrettably, we were robbed of the Chris Chandler-Vinny Testaverde Super Bowl that year.)
So there ya have it: teams rising and falling every season. Sometimes there were two or three teams in the conference title games that didn't even make the playoffs the season before. And four of them -- the Ravens, Rams and the 2001 and '03 Patriots -- went on to win it all. So why couldn't such a thing happen this season with the Chiefs, Texans, Bears or Bucs?
OK, fine, I have a better chance of winning the Haitian presidential election than the Bucs do of advancing to their conference title game this season. But you have to respect the chances of the Chiefs (with Charlie Weis and Romeo Crennel back in their comfort zones), the Texans (with an otherworldly offense and playmakers like Mario Williams on defense) and the Bears (with Kristin Cavallari's boyfriend under center).
"Some rise by sin, and some by virtue fall."
There's your Shakespeare, Staff Sergeant Dignam.
An 18-game season that can still keep the players relatively healthy
Indianapolis Colts president Bill Polian said it's a done deal that the NFL will expand to an 18-game regular season, because owners want the added revenue of additional games -- even if that overrides the players' concerns about the added exposure to injury. Isn't there a way to satisfy the wants and concerns of both parties? I think there is: Make the season 18 games long (and thus satisfy the owners, who can reap the added money from gate receipts), but shorten the games from four 15-minute quarters to two 15-minute halves (and thus limit the threat to players' health). In this scenario, the only people who get screwed are the fans, whose opinions don't seem to matter anyway.
Why would you ever hire a guy like Mike Singletary to be your coach?
Ya know what the biggest knock against Mike Singletary has to be as an NFL coach? It's the fact that he was a Hall of Fame player, which basically precludes him from ever coaching his team to a Super Bowl title. In the 44-year history of the Super Bowl, there have been 88 possible coaches (I'll wait, you can check the math) and only three of them were Hall of Fame players -- Mike Ditka, Raymond Berry and Forrest Gregg -- and only one of them won the game (Ditka). In fact, if you look at the victory totals of the top 100 coaches in league history, few of them were Hall of Fame players. Can pantheon players simply not coach? Are they incapable of instructing people who weren't as physically gifted? Maybe. Either way, the 49ers owed it to their fans to know these statistics about the success rates of Canton inductees. Instead, they hired and retained a Hall of Famer while making a scapegoat out of a guy (Jimmy Raye) who fits the mold of a Super Bowl-winning coach, i.e., he wasn't very good at football himself.
Nick Collins versus a Bears fan
When first we heard that Packers defensive back Nick Collins was involved in a confrontation with a Bears fan following the Monday night game, we thought this had to be an unfair fight and that Collins could take all comers. But then we learned the Chicago fan in question was one Bill Swerski (seen here on the far right) and the odds immediately tipped in the fan's favor.
Probable, Questionable, Doubtful and Out
Just as the NFL puts out an injury report on the likelihood that certain players will suit up each week (Probable, Questionable, Doubtful or Out), we put out a viewing report on the likelihood that games will be worth watching. Because let's face it: You can't watch them all.
"Probable" Games of the Week (75 percent chance these games will be worth watching): Baltimore at Pittsburgh; Washington at Philadelphia.
SPOTLIGHT PROBABLE: Washington at Philadelphia.
It's a rematch: Of the quarterbacks from the 2004 NFC Championship Game, in which the Eagles (with Donovan McNabb) bested the Falcons and Michael Vick. McNabb went on to throw up during the Eagles' loss to the Patriots in the Super Bowl, and Vick went on to become the most high-profile advocate for cats in American history.
What to look for from Eagles fans: A scant showing. Philadelphia fans will never forgive Michael Vick for his involvement in a dog-fighting ring, and fewer than 10 fans -- all friends or relatives of the Eagles' new starting quarterback -- are expected to show up and support the Eagles this week. With Philadelphia fans, it's about more than just winning or losing; it's about right and wrong. In fact the NFL reports that not a single person has bought a Vick Eagles jersey since his return to the league, making it very clear where Philadelphia fans stand on this issue.
"Questionable" Games of the Week (50 percent chance these games will be worth watching): New York Jets at Buffalo; Seattle at St. Louis; Denver at Tennessee; Houston at Oakland; Chicago at New York Giants.
SPOTLIGHT QUESTIONABLE: Chicago at Giants.
The last time the Giants played on national television: Dwight Freeney of the Colts treated Giants left tackle David Diehl like a doggy door and spent most of the night in Eli Manning's kitchen.
The last time the Bears played on national television: The Packers committed a team-record 18 penalties -- not including the worst move of all, which was kicking the ball to Devin Hester.
We would not be surprised: If Manning throws fewer left-handed interceptions this week than last week (1).
We would not be surprised: If Giants right tackle Kareem McKenzie gets called for fewer personal fouls this week than last week (2).
We would not be surprised: If Bears defensive end Julius Peppers breaks Derrick Thomas' record for sacks in a game (7).
"Doubtful" Games of the Week (25 percent chance these games will be worth watching): Cincinnati at Cleveland; Detroit at Green Bay; San Francisco at Atlanta; Carolina at New Orleans; Indianapolis at Jacksonville.
SPOTLIGHT DOUBTFUL: Cincinnati at Cleveland.
Is this the lamest regional rivalry in the NFL? Yes.
Name a memorable playoff game between these two teams: They've never played each other in the playoffs.
Why? Well, the odds are stacked against them, i.e., they both consistently stink, and that lowers their chances of making the postseason and then playing each other.
Who's to blame for the ongoing ineptitude of these two franchises? Usually it would be unfair to single out any one person, but these days most everyone in Ohio can agree that LeBron James is responsible for everything that's wrong with the state.
"Out" Game of the Week (100 percent chance these games will be watched by someone, but hopefully not by you): None.
SPOTLIGHT OUT: None.
Devil's advocate: None? What about the Cardinals-Chargers game? That game's got to be fourth among four viewing options in Sunday's late games, after Washington-Philadelphia, Indianapolis-Jacksonville and Houston-Oakland, and if your game is less attractive than the Texans versus the Raiders (a high-powered offense versus a stout passing defense) then you definitely qualify as the "out" game of the week.
OK, fine. You talked me into it, the Arizona-San Diego game is the out game of the week. Don't be offended, Cardinals and Chargers fans. If I had two high-definition televisions and both had picture-in-picture capability, I'd definitely have your game minimized on one of them this Sunday.
Cam Martin is a contributor to Page 2. He previously worked for the Greenwich (Conn.) Time and The (Stamford, Conn.) Advocate, and has written online for CBS Sports and Comcast SportsNet New England. You can contact him at cdavidmartin@yahoo.com.