Commentary
The Weekly Best for Oct. 5
Originally Published:
October 5, 2010
By
Cameron Martin
| Page 2
Welcome back to the Weekly Best, where the worst things in sports, pop culture and Ryder Cup sweaters are also given their due.
Note: The Weekly Best is open to reader riffs. So reflect on the events of the coming week and send me your best takes -- using the "Best" intro, of course -- at cdavidmartin@yahoo.com by Monday night. We'll print the most sublime.
Best place to find the University of Texas football team: Not in the rankings.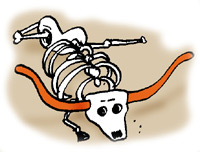 Best golfers in America: Dressed for the Ryder Cup as if they were color-blind.
Best horse racing headline: "Rachel Alexandra to Retire, Breed" on RealClearSports.com.
Best defense against the LSU offense: Tennessee seemed to think it was having 13 men on the field.
Best plan for Wednesday: Plop on the couch at 1:37 p.m. and watch the first of three straight playoff games in baseball.
Best plan for Thursday: Plop on the couch at 2:37 p.m. and watch the first of three straight playoff games in baseball.
Best plan for Friday: The first playoff game doesn't start 'til 6:07 p.m., so think about going to work before plopping on the couch to watch baseball (or some regular-season NHL games).
Best quarterback rating in the nation: Cameron Newton of Auburn: 191.4.
Best in-state game this week: No. 18 Michigan versus No. 17 Michigan State.
Best reason to like the Giants' chances in the playoffs: Their starting pitchers.
Best motivation for David Garrard: Might have been the signing of Trent Edwards.
Best reason Tampa residents don't come out en masse for Rays games: Florida is a football state.
Best compromise on changing the NFL season from 16 games to 18 games: Make it 17 games.
Best rating for an Italian restaurant from The New York Times since 1974: Del Posto in Manhattan received four stars.
Best news if you're a Druid living in England: Britain now recognizes Druidry as a religion and granted it charitable status.
Best reversal of fortune: Oregon was getting blown out by Stanford but came back from a 21-3 deficit and ended up winning by 21.
Best face mask in the NFL: Might belong to Chris Canty of the Giants.
Best football team in the Big East: Would be TCU if they joined the conference.
Best quarterback prospect in the past 10 years: Stanford's Andrew Luck, according to The Sporting News.
Best opportunity to second-guess Joe Girardi: If the Yankees' starting pitchers lay an egg in the postseason.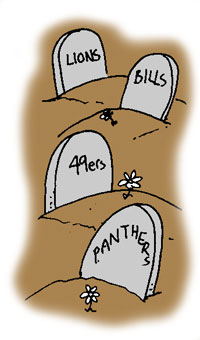 Best 0-4 team in the NFL: Can you really differentiate between the Lions, Bills, Niners and Panthers?
Best reason Jimmy Johnson got voted off "Survivor": He admitted to his tribe mates that he was among the weakest players.
Best rivalry in North American soccer: Could be threatened if CONCAF's new format doesn't allow the United States and Mexico to meet in regional qualifying matches for the 2014 World Cup.
Best-ranked service academy: Air Force enters the polls at No. 25.
Best word for No. 21 Nevada's increasingly popular "pistol" offense: Trendy.
Best at winning the close games: The Ravens have three wins by a combined total of 11 points.
Best explain why Anna Kournikova is appearing on Tuesday's episode of "The Biggest Loser" : To participate in a tennis-workout challenge with the contestants.
Best dig yourself out: The Colts are already 0-2 in the AFC South.
Best you can say for the Jets: They can definitely beat AFC East teams.
Best stop deluding yourself: LeBron James thinks race was the reason people hated "The Decision."
Best way to keep tennis coaches from giving illegal in-match advice to players: Make the practice legal.
Best put that sign on ice: During the Philly-Washington game, one Eagles fan waved a sign that read, "Goodbye McNabb, Hello Vick-tory!"
Best anomaly in the NFL standings: The Cardinals (2-2, 1-0 in division) are atop the NFC West despite being -60 in net points.
Best thing you can say for the alleged misdeeds in the North Carolina football program: At least the team made it worthwhile by winning a lot of championships.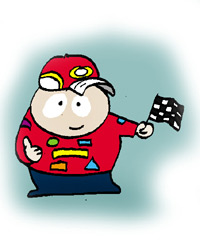 Best reminder that "Boardwalk Empire" is a Martin Scorsese production: The scene in the last episode when the federal agent sticks his hand in the mobster's open stomach wound in a bid to get information.
Best you can say for the Ryder Cup: It came right down to the last match.
Best-grossing R-rated comedy in movie history: And "The Hangover" is heading to Bangkok for its sequel.
Best person to blame for the Pirates' 18th consecutive losing season: Apparently John Russell, who was fired as manager.
Best prepare to be offended, NASCAR fans: Wednesday's episode of "South Park" is about NASCAR and it's titled "Poor and Stupid."
Best to reassess your priorities in life: When you're a 45-year-old Yankees fan and you stab a Red Sox fan in the neck during an argument over the teams' rivalry.
Cam Martin is a contributor to Page 2. He previously worked for the Greenwich (Conn.) Time and The (Stamford, Conn.) Advocate, and has written online for CBS Sports and Comcast SportsNet New England. You can contact him at cdavidmartin@yahoo.com.