Commentary
Gamers feel a call of duty for Black Ops
Originally Published:
November 10, 2010
By
Cam Martin
| Special to Page 2
Editor's Note: Remember when you used to line up for tickets to a sporting event? That ancient practice has been replaced by feverishly clicking refresh or just going to StubHub. But with new video games you still have to go old school and stand outside and wait. We sent Cameron Martin to New York City to see if it was all worth it.
Hundreds of die-hard video game enthusiasts converged on the Best Buy in Union Square in New York City on Monday night/Tuesday morning for the midnight release of "Call of Duty: Black Ops," the most eagerly anticipated new title of 2010. In a scene replicated at game vendors worldwide (though probably to a much smaller degree), fans were lined up down the stairs and out the front doors, with some standing outside in 40-degree weather for up to two hours just for the opportunity to buy the seventh installment in the wildly popular first-person shooter series as soon as the clock struck midnight.
"This is definitely the biggest gaming release of 2010," said Best Buy store manager Sy Paulson. "'Call of Duty' has such a big fan base, such a big following across all systems. We're really excited to be having this event here tonight. It's definitely one of our largest [events] ever."
Fans were allowed to keep their place in line and adjourn to a special preview area to briefly test the new game (retail price $59.99 on Xbox 360). There they got their got their first taste of some of the game's new weapons -- including explosive-laden crossbows and three-man Molotov cocktail slingshots -- and some new additional features, most notably the new wager mode, which allows players to accumulate CoD points that can be wagered in matches and used to unlock certain weapons and levels. Fans also encountered changes to familiar game features, including the elimination of the Nuke kill streak and fewer options in the Hardcore playlist.
Joey Disimile, a 26-year-old landscaper from Queens, arrived at the store at 7 p.m., five hours before the game's release. He found himself second in line behind a 28-year-old Staten Island man who'd arrived at 4 p.m. After previewing the game, Disimile said he was impressed.
"The [kill] streaks are different, but everything is smoother. It's good, can't wait to play some more," he said.
[+] Enlarge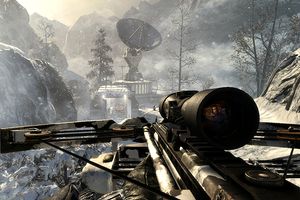 Courtesy of Activision The new crossbow is definitely a nice touch.
The look of the game has changed in notable ways, too, thanks in part to programmers like Steve Crowe, 27, who traveled from Los Angeles to attend the Union Square premiere.
"One thing I worked on was texture screening, so you can see a lot more detail in the textures that you look at throughout the maps. We've just put in a lot of work to get everything working in 60 [frames per second] all the time. And get some nice effects and explosions in there, all the fun stuff," Crowe said.
Activision, the game's publisher, turned over development of this year's title to Treyarch for the fourth time. (Infinity Ward published last year's "Call of Duty: Modern Warfare 2.") In addition to some of the aforementioned changes and developments, the Wii version of this year's game will feature zombies for the first time and allow players to communicate using headphones, an option that's already been available to users of PlayStation 3 and Xbox 360.
Phil Collins, a 19-year-old from the Bronx, is a self-described "gaming enthusiast." He also attended a midnight release of "Halo: Reach" when that title hit the market back in September. But nothing compares to his love for "Call of Duty," he said, and he plans to give it the commitment it deserves.
"I don't plan on going to sleep this whole week maybe."
Losing sleep to play video games is hardly unusual (or so we've heard). Nor is playing them to the exclusion of spending time with friends and loved ones. Richard Vargas, a 23-year-old Walgreen's stock boy from Queens, said people constantly tell him he plays too much "Call of Duty."
"Happens all the time," he said, shrugging.
Just past midnight, five hours after lining up to begin his vigil, Disimile exited the store with his new copy of "Call of Duty: Black Ops." He was taking the subway back to Queens, where he planned to play for a while before going to bed.
"Maybe just an hour or two. Gotta go to work in the morning. But hey, there's always tomorrow to play more Call of Duty."
Cam Martin is a contributor to Page 2. He previously worked for the Greenwich (Conn.) Time and The (Stamford, Conn.) Advocate, and has written online for CBS Sports and Comcast SportsNet New England. You can contact him at cdavidmartin@yahoo.com or follow him on Twitter: @CameronDMartin.