Commentary
Who's in line for coach of the year?
Originally Published:
November 24, 2010
By
Cam Martin
| Special to Page 2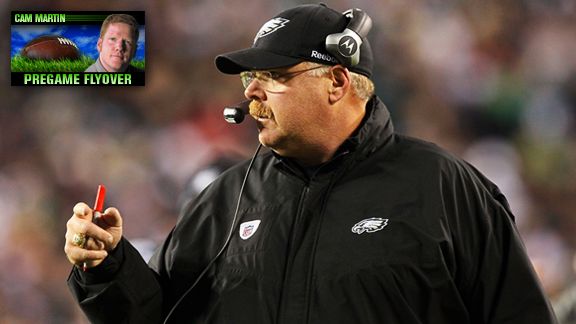 Getty ImagesAndy Reid's outstanding coaching made the Eagles a contender again. Right?
Welcome to the Week 12 Pregame Flyover. Before we get to this week's games -- and tell you which games are probably worth watching, which games are of questionable worth, which games are of doubtful worth and which game involves the Panthers and the Browns -- let's address …
Football and Black Friday
In order to enjoy a successful Black Friday shopping experience, you need to keep in mind that participating in this yearly event is not very different from playing football. As Bill Parcells liked to say, "You are what your record says you are." So if you're 0-6, you are not a winner. Likewise, if you return from the Black Friday sales without procuring that one big targeted item, then you are failure. It's that simple. Do not make excuses. Don't say, "Oh, they sold the last 50-inch Panasonic Viera to the guy directly in front of me." Well, why weren't you that guy? Why didn't you guarantee your purchase by getting in line on Election Day? You chose sleep and comfort over winning on Black Friday. You obviously didn't want it enough.
NFL Coach of the Year candidates
We don't envy the voters who have to fill out ballots for NFL Coach of the Year. How do they figure out who did the best coaching? Is it the guy whose team made the biggest gain in the victory department? What if two teams both went from 3-13 to 10-6? How do you choose between them? Moreover, do you hold it against a coach if some of his players were suspended for using performance-enhancing drugs? Or do you actually credit the coach in that instance, since he's obviously filled his team with go-getters? Very dicey. There are a lot of good candidates for NFL Coach of the Year in 2010, thanks largely to the glut of teams that retain playoff aspirations. Let's look at some candidates and their cases for winning.
Pete Carroll
The first-year coach has the Seahawks perched atop the NFC West. The team has not yet proved it can win consistently on the road, but Carroll's squad plays hard for him and they have kept their noses relatively clean under his stewardship. Golden Tate, who was warned for trespassing during a preseason incident at a doughnut shop, has since stayed out of trouble. That's not surprising because Carroll, who coached previously at USC, obviously has never allowed any shenanigans on his watch.
Jason Garrett
Garrett inherited a soap opera in Dallas, but he has quickly turned things around. Fans of America's Team are notoriously demanding, but Garrett has risen to the challenge so far. He has the highest winning percentage (1.000) in NFL history and has emerged as a strong candidate.
Mike Tomlin
With starting quarterback Ben Roethlisberger suspended for the first four games of the season, Tomlin had to do the unthinkable in Pittsburgh and start running the football. Rashard Mendenhall answered the bell and helped the Steelers go 3-1 in Roethlisberger's absence. Unfortunately, Pittsburgh is a mediocre 2-2 in their past four games, leading some to suspect that Tomlin only coaches well half of the time.
Andy Reid
Reid, an oftentimes embattled coach, has been reborn in Philadelphia in 2010. His ability to convince Michael Vick not to throw interceptions has been central to the Eagles' rise to the top of the NFC East. As long as Vick doesn't do anything foolish to interfere with the Eagles' continued success, Reid should be considered a heavy favorite to win the award.
The Thanksgiving Day games
Normally we rate games against the NFL injury list, qualifying them as probable, questionable, doubtful or out. But that's only necessary during a typical week, when a full schedule makes it impossible to watch every game and viewers have to be picky. With just three games scheduled for Thanksgiving, that's not necessary. You can watch them all. And you really should, especially if you're not thankful for the company of your family.
New England at Detroit
Is the NFL out to get the Patriots? The NFL is making the Patriots play a Thursday game at 12:30 p.m. ET, just three and a half days after playing a 4 p.m. game against the Colts. Meanwhile, the Lions played at 1 on Sunday, which means Detroit will have three more hours of rest than the Patriots. The league has long gone out of its way to thwart Tom Brady and his teammates, but how many more obstacles will it throw in the way of these oppressed warriors? The sins of Spygate will apparently never be absolved.
The Lions are the real America's team. It's quaint that the Cowboys claim to be America's team, but the fact remains that a large percentage of fans hate Dallas. But who hates the Lions? And who, other than Patriots fans, will be rooting against Detroit in this game? People rail against the yearly inclusion of the Lions in the Thanksgiving festivities, but they fill a vital role -- they're the one team every year that the majority of fans can support without reservation. For one game every November, the rest of the country can live the life of a Lions fan, and when that game is finally over (and the Lions have almost assuredly lost in a heartbreaking or humiliating fashion), the rest of us can be thankful we're not subjected to that 16 times a year.
Lions fans are excited about this team: Which has found new and creative ways to win two out of 10 games.
Matchup to watch: Ndamukong Suh versus Tom Brady's hair. In last week's game against the Cowboys, Suh pulled Marion Barber to the ground by grabbing the running back's flowing locks. Suh was incorrectly penalized on the play. If he pulls the same move on Brady, there's no way the referees will make the same mistake twice, since Brady receives no preferential treatment in this league.
Saints at the Cowboys
This game could mark the return of: Reggie Bush to the Saints.
New Orleans is only: 521 miles from Dallas.
So the Saints would not: Have to travel far to play in this year's Super Bowl in the Cowboys' home stadium.
Jon Kitna feels relatively young. After the Cowboys' win over the Giants, Kitna said he feels fresh. "It's my 15th year in the league, but I haven't played 15 years." I suspect we know whose fault that is.
The Cowboys and the holidays. This game against the Saints isn't Dallas' only game on a national holiday. No, we'll get to enjoy their riveting matchup against the Cardinals on Christmas Day, too.
The Saints' defense should keep their eyes peeled. If any of the defenders on New Orleans happens to lay a hit on Cowboys rookie sensation Dez Bryant, they might find themselves $50,000 richer. No, Bryant does not sprout cash like some soldier knifed on "Call of Duty," but he might be wearing two high-priced diamond stud earrings, one of which came loose during a recent game. In that instance, a security guard found the jewelry after the game and returned it to Bryant, apparently unaware of the schoolyard proviso, "finders keepers, losers weepers."
Cincinnati at New York Jets
This is a rematch: Of a 2009 AFC wild-card game, which New York won 24-14.
The rosters have changed quite a bit since then: The Jets replaced Thomas Jones with LaDainian Tomlinson, and the Bengals replaced Laveranues Coles with Terrell Owens and they also replaced 2009 NFL Coach of the Year Marvin Lewis with 2003-2008 Marvin Lewis.
Where's the love for Cincinnati? Remember the last game of the 2007 regular season when the Giants and Patriots were scheduled to play on the subscription-based NFL Network and fans complained so much the game was moved to regular television? Yeah, that didn't happen with this Bengals-Jets game.
After squeaking by Detroit, Cleveland and Houston the last three weeks, the Jets have proved: They'll present a tough matchup in the playoffs for any sub.-500 teams.
Turkey on the field. During last week's Jets-Texans game, a fan ran onto the field and drew the consternation of announcers Dan Dierdorf and Greg Gumbel, with Gumbel calling the fan a "nudnick." Here's the clip. If a fan graces the field of the New Meadowlands Stadium on Thursday night, let's hope one of the announcers has the presence of mind to say, "It ain't cool being no jive turkey so close to Thanksgiving." It's rare to find an opportune moment to drop that quote from "Trading Places," so you really shouldn't waste it.
Terrell Owens is bad juju? After the Bengals blew a 28-7 lead and lost to the Bills at home on Sunday, T.O. said to Cincinnati.com, "Maybe if everybody wants to blame me, it's my fault. Maybe I am bad luck. At this point, it is unthinkable -- unbelievable -- that we can lose a lead like that." We definitely lay the blame on Owens. Until he came along, the Bengals were a model of consistency and postseason success.
This a matchup of former USC quarterbacks Mark Sanchez and Carson Palmer, who both: Went to college with better-looking undergraduates than you probably did.
Probable, Questionable, Doubtful and Out
Just as the NFL puts out an injury report on the likelihood that certain players will suit up each week (Probable, Questionable, Doubtful or Out), we put out a viewing report on the likelihood that games will be worth watching. Because let's face it, you can't watch them all.
"Probable" Games of the Week:(75 percent chance these games will be worth watching) Tennessee at Houston; Jacksonville at New York Giants; Green Bay at Atlanta; Kansas City at Seattle; Philadelphia at Chicago; San Diego at Indianapolis.
SPOTLIGHT PROBABLE: Philadelphia at Chicago.
The Bears lead the NFL in: Fewest points allowed per game (14.6, tied with Green Bay).
The Eagles lead the NFC in: Points scored per game (28.4, second in the NFL to the Patriots).
This is a rematch: Of the Fog Bowl playoff game in 1988.
Who won that game? Nobody knows, it was very foggy.
Vick owns the Mannings. With last week's victory over the Giants, Michael Vick is 2-0 versus the Manning brothers this year. He can get the hat trick against the Manning brothers by beating Danieal and the Bears this week.
Madden players love the Eagles: According to EA Sports, the Eagles are the most popular team to use on "Madden NFL 11." Apparently everyone likes to prove they're better at calling a two-minute offense than Andy Reid.
---
"Questionable" Games of the Week: (50 percent chance these games will be worth watching) Minnesota at Washington; Miami at Oakland; Tampa Bay at Baltimore.
SPOTLIGHT QUESTIONABLE: Tampa Bay at Baltimore.
This is a matchup: Of two seven-win teams.
Then why's it a "questionable" matchup? Because Tampa's seven wins are over Cleveland, Carolina, Cincinnati, St. Louis, Arizona, Carolina again and San Francisco.
How many of those teams have above-.500 records? None.
Tampa's three losses to Pittsburgh, New Orleans and Atlanta are by a combined: 56 points.
So they could get blown out by an equally good Ravens team: Yup.
Joe Flacco versus Josh Freeman: Flacco, a third-year veteran, has a slightly better passer rating than the second-year Freeman (92.1 to 92.0). Freeman doesn't have the best wide receiver corps in the NFL (unlike Flacco) and yet he's still thrown for more 30- and 40-yard gains than the Ravens' quarterback.
If the playoffs started today, the Ravens would be: The second seed in the AFC, while the Buccaneers would be the seventh seed in the NFC (i.e., watching the playoffs at home like the rest of us).
---
"Doubtful" Games of the Week: (25 percent chance these games will be worth watching) Pittsburgh at Buffalo; St. Louis at Denver; San Francisco at Arizona.
SPOTLIGHT DOUBTFUL: San Francisco at Arizona.
And then our perspective changed. One of the interesting things about the NFL schedule is how in-season developments can affect our attitudes toward prime-time games. At the beginning of the season, this 49ers-Cardinals Monday night matchup looked intriguing, as it stood to reason that this contest might prove who was the class of the NFC West -- the two-time defending champion Cardinals or the upstart 49ers. We now know that this game might prove once and for all that the NFC West has no class.
Why there's hope for both of these teams: At 3-7, they're only two games behind the first-place Seahawks.
If the 49ers win this game, it will be: Their first road win of the season.
If the Cardinals win this game, it will be: Their first win in six weeks.
[+] Enlarge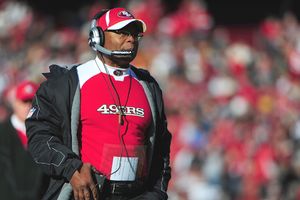 Kyle Terada/US PresswireMike Singletary sure was a great player, wasn't he? We'll leave it at that.
Who's favored to win? Really? You're gonna bet on this game? OK fine, look here to get your odds and place your bets.
This is a matchup of two quarterbacks: Who have no business on anyone's fantasy rosters.
You must admit that Frank Gore is a bad man. Absolutely.
And so is Patrick Willis. Indeed.
And so is Vernon Davis. Sure.
And so is Michael Crabtree. Yup.
And so is Mike Singletary. Yes, he was a heckuva player.
These two teams close out the season against each other on Jan. 2 in San Francisco: And whoever wins that game might get to seven victories and win the division.
---
"Out" Games of the Week: (100 percent chance this game will be watched by someone, but hopefully not by you) Carolina at Cleveland.
SPOTLIGHT OUT: Carolina at Cleveland.
The Browns are the best: Fourth-down team in the NFL, converting 90 percent (9 out of 10) of their attempts.
No one wants to play Cleveland right now. Three weeks ago, the Browns pummeled the Patriots, and followed that up with close losses to the Jets and Jaguars. If you're a team with playoff aspirations, you definitely don't want to play the Browns right now. Luckily for the Panthers, that's not a concern.
Carolina has pole position. With Buffalo's victory over the Bengals last week, the Panthers find themselves all alone with one win, and so in great position to land the No. 1 pick in the April draft. With road games remaining against Pittsburgh, Seattle, Atlanta and Cleveland, as well as another home game against the Falcons, the Panthers should be able to hold their position. Should Panthers fans actively root against their team? No, they can do it passively. No need to be rude.
Cam Martin is a contributor to Page 2. He previously worked for the Greenwich (Conn.) Time and The (Stamford, Conn.) Advocate, and has written online for CBS Sports and Comcast SportsNet New England. You can contact him at cdavidmartin@yahoo.com or follow him on Twitter: @CameronDMartin.