Commentary
Can the Saints prove they belong?
Originally Published:
January 7, 2011
By
Cam Martin
| Special to Page 2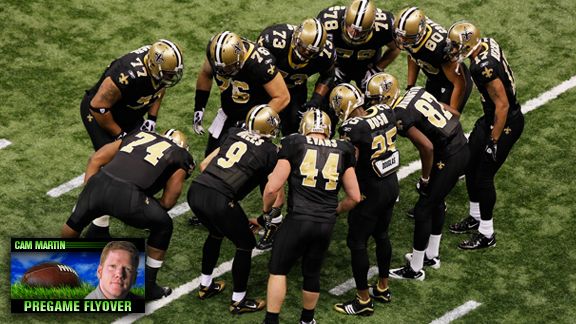 AP PhotoThe New Orleans Saints slipped into the playoffs, but are gunning for the upset.
This is your Pregame Flyover of wild-card weekend, when the teams that could not win their divisions and had to accept the league's wild-card charity (We're looking at you, New Orleans) get to prove whether they belong in the playoffs alongside division champions like the Seahawks and Chiefs. Should the Saints apologize for the second-rate way they made the postseason? Maybe not. They're simply working within the system that's in place. They couldn't beat out the Falcons for the NFC South crown, but they proved they're better than the Giants and Buccaneers, so I guess they can hang their hats on that. If they can travel to Seattle and beat the NFC West champions this weekend, they'll prove they belonged in the same conversation as the division winners. 'Til then, we have our doubts.
Now, before we get to this week's schedule of games -- all of which are obviously worth watching -- we'd like to address ...
Lott is going to co-chair a football safety panel
Hall of Famers Ronnie Lott and John Madden have been named co-chairs of a new Player Safety Advisory Panel, which will make recommendations to commissioner Roger Goodell about how to make the game safer. "How do we collect data, information and get smarter?" Lott said. "If we can do all of that, we will be a smarter league. We need to try to understand all the things we know about the game and all the things we don't know about the game. Looking back on my career, I would say, 'Boy, if I had known this, I would have been better prepared for that situation.'"
This, after all, is coming from the man who willingly chopped off part of his own pinkie in order to keep playing during a game. With Lott's help, future generations of football players will perhaps come to recognize the utilitarian nature of their fingers and not have them amputated during a game. If only he had known earlier that he might need his pinkie later on. Remember, kids, it's what ya know.
New Orleans Saints at Seattle Seahawks
Seattle is on a Qwest, a Qwest for fun. They're gonna have so much freaking fun, they're gonna ...The Seahawks are undefeated (4-0) in home playoff games at Qwest Field. The stadium opened in 2002 and was originally named Seahawks Stadium, but the name was changed in 2004 when the telecommunications giant outbid the local bird population for naming rights.
Know thy history: The Seahawks are the first division winners in NFL history with a losing record (7-9). They are not, however, the first Seattle pro sports franchise with a losing record. That honor still belongs to the 1967 Seattle SuperSonics, who finished 29-53.
Seattle's chances of winning against New Orleans: Could be severely diminished if the officiating crew from Super Bowl XL is working this game.
Why an impartial observer might root for Seattle: Let's face it, this city is starved for a championship. Sure, the Seattle Storm of the WNBA have won two titles in the last decade, but everyone knows that success in the four major sports is what defines a city in the minds of sports fans. Unfortunately the failings of the Mariners (no World Series appearances in team history), the Seahawks (0-1 in Super Bowls), the Sonics (who inconveniently play home games in Oklahoma City) and the absence of an NHL franchise leave Seattle on par with Cleveland when it comes to losing. Do you root for Cleveland teams when the opportunity arises? Do you empathize with their long-suffering fans when they lament the absence of recent championships? You don't? Then don't root for Seattle, because it's basically the Cleveland of the Pacific Northwest.
When's it OK to be sick of the Saints? Only a heartless mongrel (or a Colts fan) was rooting against New Orleans in last year's Super Bowl. The Saints, of course, had become the sympathetic choice among impartial observers because of the heartbreak unleashed by Hurricane Katrina. But will persistent success or multiple Super Bowl wins eventually turn public sentiment against them? This question might be a lot easier to answer if their leader, Drew Brees, weren't so damn polite and well-mannered.
Seahawks win to remember: Chicago, 23-20, on the road.
Seahawks losses to forget: All nine of them, as they were all by 15 points or more.
Saints wins to remember: Pittsburgh, 20-10; Atlanta, 17-14.
Saints losses to forget: Cleveland, 30-17; Arizona, 30-20.
Seattle's strength on offense: The Seahawks finished 31 out of 32 in the NFL in rushing, so I guess their strength lies in the passing game.
Whitehurst versus Hasselbeck. Coach Pete Carroll had to make the unenviable decision this week between starting Matt Hasselbeck (a veteran with playoff experience who's been battling a hip injury) or Charlie Whitehurst (a quarterback with two career starts who's never won the overtime coin flip in a playoff game and said "We want the ball, and we're gonna score" and followed it later by throwing a pick-six to lose the game).
New York Jets at Indianapolis Colts
The Colts are here because: They were better than the Titans, Jaguars and Texans.
The Jets are here because: All their 2010 distractions -- Braylon Edwards getting arrested for DUI, Darrelle Revis holding out, Jets players allegedly harassing a female reporter, an assistant coach tripping a Dolphins special teams player, Rex Ryan tripping over his wife's feet -- took place off the field. The Colts probably would have accepted the airing of Jim Caldwell's most personal quirks in exchange for, say, the healthy return of two or three of the 17 players they sent to injured reserve.
This is a rematch: Of last year's AFC Championship Game, which the Colts won 30-17. After that game, Peyton Manning said, "I thought we just kept our mouths shut and went to work this week," which is exactly what Ryan will say if the Jets win this week.
Jets wins to remember: New England, 28-14; Pittsburgh, 22-17; Detroit, Cleveland, Denver and Houston by a combined 16 points.
Jets losses to forget: New England, 45-3; Green Bay, 9-0; Miami, 10-6.
Colts wins to remember: Kansas City, 19-9; New York Giants, 38-14.
Colts losses to forget: San Diego, 36-14; Houston, 34-14; Dallas, 38-35.
Will Manning ever learn how to freaking run? The Colts are the first team since 1998 to qualify for the playoffs without a 500-yard runner.
Will Manning end this season with a sub.-500 career playoff record? The Colts are 9-9 under him in the postseason.
Prop bet you can probably find: Will LaDainian Tomlinson, who hasn't rushed for more than 60 yards in his last 10 games, have more rushing yards in this game than Manning will have passing attempts?
Prop bet you probably can't find: Will Tomlinson end the game pouting on the bench with his helmet on?
Colts and Cowboys like getting invited to the dance, but ... Indianapolis has now tied Dallas' NFL record of nine consecutive playoff appearances, set in 1975-83. During that stretch the Cowboys won one Super Bowl, which is the same amount of titles the Colts have accumulated during their run. Neither team reminds anyone of the Atlanta Braves.
Rex Ryan owns Curtis Painter. When asked about Manning's success against his teams in the past, Ryan said, "It's personal against him, Reggie Wayne, all those guys, yeah. [Dwight] Freeney and [Robert] Mathis and those other dudes? Absolutely." Left unsaid is that Ryan owes a lot to these same players. After all, it was Manning and many other Colts starters who took a seat at halftime in the Week 16 matchup against the Jets last season, a New York victory over Curtis Painter and Co. that helped the Jets to back, back, back into the playoffs. The record book says Ryan is 5-1 against Peyton Manning; but what it doesn't say is that he's really undefeated in his career against Curtis Painter.
Baltimore Ravens at Kansas City Chiefs
The Chiefs might be in the wrong tournament. Kansas City played six games this season against teams that finished the year with records of .500 or better, and went 2-4 in those games, including a loss to the Colts and two losses to the Raiders. Luckily for Kansas City, it won't face Oakland in the playoffs. But Indianapolis is out there as a potential opponent -- provided, of course, that Kansas City can get past Baltimore, which -- wouldn't ya know it -- also had a regular-season record above .500. The planets are definitely aligning against this Kansas City team. If the Chiefs could have gotten themselves into a tournament against teams with records under .500, we'd like their chances a little better.
But Kansas City is a very tough place to play: As evidenced by the team's Week 17 outing versus the Raiders, who came into Arrowhead Stadium and scored 31 points in a game that meant nothing to Oakland.
Why an impartial observer might root for Kansas City: The Chiefs were a fixture in the playoffs in the 1990s, making the postseason seven out of eight seasons between 1990 and 1997 and coming away with no Super Bowl appearances for their efforts. Kansas City is 8-13 all time in the playoffs, and its lone Super Bowl championship came all the way back in Super Bowl IV. People who can remember the AFL (read: the people who consider the Chiefs-Raiders a great rivalry) will tell you that the Chiefs were once among the class of professional football. Then again, so were the Lions. Still the Chiefs have a rabid, loyal fan base and they deserve to see their team win another championship in their lifetimes. Will that happen this year? Maybe, maybe not. For sure it will happen before the Royals win another World Series.
Why an impartial observer might root for the Ravens: He/she likes the cut of this guy's jib.
Ravens wins to remember: Jets, 10-9; Pittsburgh, 17-14; Saints, 30-24.
Ravens loss to forget: Bengals, 15-10.
Kansas City win to remember: Good question. Buffalo, 13-10?
Kansas City losses to forget: Denver, 49-29; San Diego, 31-0; Oakland, 31-10.
Kansas City's offensive strength: The Chiefs led the NFL in rushing.
Baltimore's offensive strength: It's very good at pissing off Baltimore's defense.
Believe it or not: Todd Heap is healthy enough to play in this game.
Matchup to watch: Chiefs running back Jamaal Charles versus Ravens middle linebacker Ray Lewis.
Another matchup to watch: Chiefs defensive tackle Shaun Smith versus the urge to grab the jewels of Ravens players.
Easy person for Todd Haley to blame if the Chiefs lose: Charlie Weis, who accepted the offensive coordinator position at the University of Florida.
Prop bet you can probably find: How many interceptions will Ed Reed have in this game?
Prop bet you probably can't find: Who will Lewis blame -- the referees or the Ravens' offense -- if Baltimore loses?
Green Bay Packers at Philadelphia Eagles
Nice job, Mr. Matthews. When the season began, Kevin Kolb was the starting quarterback in Philadelphia and many people figured Michael Vick's days as a productive starting quarterback were over. But in a Week 1 matchup, Green Bay's Clay Matthews sacked Kolb from behind and gave him a concussion, setting the stage for Vick to reassert his athletic dominance and for many fans to again love him more than their household pets. It's the age-old story of dogfighting and redemption and it's been playing out in the NFL since Week 1 -- thanks to Clay Matthews of the Packers.
This game is easy to predict. OK, let's break it down. This season the Packers have beaten the Jets and Philadelphia on the road; lost to Washington and Detroit on the road; beaten Chicago and the New York Giants at home; and lost to Miami at home. The Eagles, for their part, have beaten the Giants on the road; lost to Tennessee on the road; beaten Atlanta and Indianapolis at home. If I were a betting man, I'd definitely wager heavily on this game.
Welcome back: You Packers fans who abandoned the team to follow Brett Favre when he left Green Bay.
What those fans need to know: Aaron Rodgers has the best career passer rating in NFL history (98.4). Still, he has a lot to prove: He's 0-1 in the playoffs and he lags far behind Favre in career retirements.
Why an impartial observer might root for the Eagles: Philadelphia is one of 14 teams that have never won a Super Bowl, and the only team in the NFC East. Eagles fans are notoriously classy and easy to like, so pulling for the Eagles in this game will not be a problem for non-Packers fans.
What Packers players need to remember: Do not leap into the stands after touchdowns. The game's in Philadelphia, and you might have your spine removed.
What Packers fans need to remember: Do not go into the stands. The game's in Philadelphia, and you might have your spine removed.
What Eagles fans need to remember: Stay off the field; the cops will tase you.
Eagles wins to remember: Atlanta, 31-17; Indianapolis, 26-24; Matt Dodge, 38-31.
Eagles losses to forget: Tennessee, 37-19; Minnesota, 24-14.
Packers win to remember: New York Giants, 45-17.
Packers losses to forget: Miami, 23-20; Detroit, 7-3; Washington, 16-13.
Prop bet you can probably find: Will Vick rush for more than 100 yards?
Prop bet you probably can't find: Will DeSean Jackson flash his alligator arms at the most inopportune time?
Cam Martin is a contributor to Page 2. He previously worked for the Greenwich (Conn.) Time and The (Stamford, Conn.) Advocate, and has written online for CBS Sports and Comcast SportsNet New England. You can contact him at cdavidmartin@yahoo.com or follow him on Twitter: @CameronDMartin.