Commentary
Kentucky's Jeff Sheppard looks back
Updated:
March 24, 2011, 3:49 PM ET
By
Cam Martin
| Special to Page 2
Jeff Sheppard, the leading scorer on Kentucky basketball's last national championship team, in 1998, will never forget visiting the White House to receive the traditional congratulations from the sitting president, thanks largely to a run-in he had with the Secret Service.
"President Clinton was coming by, congratulating everyone. Secret Service came up to me and told me to take my hands out of my pockets," Sheppard said.
When the Secret Service tells you they need to see your hands, you'll snap to pretty quick. Sheppard, who won the Most Outstanding Player award after scoring 43 points in the 1998 Final Four, can joke about the incident now.
"If I was gonna take out President Clinton, it wasn't because he was the president, it's because he was an Arkansas fan," he said.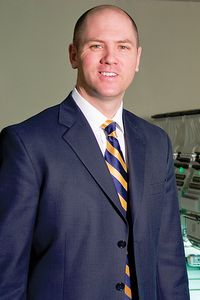 Courtesy of Jeff SheppardFormer Kentucky star Jeff Sheppard runs an apparel company near Lexington.
The 1998 season was the highest the Kentucky basketball program has been in a while; it was also the highest Sheppard, now 36 and living in London, Ky., with his wife and two kids, would ever stand in his basketball career. A 6-foot-4 shooting guard who averaged 13.7 points per game as a senior for the Wildcats, Sheppard went on to play just one season in the NBA for the Atlanta Hawks.
"I tell this to kids around the state, that I scored 40 points in the NBA," he said. "They all think it's a big deal until I tell them it was total. No, I had a great experience in the NBA, played a season with Atlanta, got an opportunity with Toronto -- 16th guy on a 15-man roster, one of those deals -- then played three years of professional basketball in Italy."
He was playing in Rome when the 2001 terrorist attacks occurred. His wife and daughter, who was an infant at the time, were scheduled to fly over and join him midseason. Instead Sheppard packed his bags and moved back to the States, effectively calling it a career.
"I had some opportunities to come back over to Italy and play, but just felt like it was the right thing to do, stay with the family," Sheppard said. "I kind of wish I'd given it one more shot, but didn't."
Nowadays he and his wife, Stacey, run an apparel company, 15Inc., in their hometown of London, which is about 70 miles south of Lexington. (Sheppard's uniform number was 15.) Stacey played basketball for the women's team at Kentucky, and she and her husband have passed their bluegrass blood on to their 6-year-old son and 10-year-old daughter.
"Son wakes up and wants to wear his Brandon Knight jersey. Daughter's favorite player is Darius Miller. Darius Miller is her screensaver on her iPod. That's just one family in the state of Kentucky. That's how it is," he said. "It's what people talk about this morning when they get to work. It's what you talk about when you go into a restaurant for lunch. It is an important part of our culture."
Sheppard, who scored a career-high 27 points in the 1998 semifinal game against Stanford and 16 in the final against Utah, admits that that team, under coach Tubby Smith, wasn't the most talented in the program's storied history. Several players went on to NBA careers, including Scott Padgett, Michael Bradley and Nazr Mohammed, the last of whom is still playing. But compared to the 1996 title team, which featured Antoine Walker, Tony Delk, Ron Mercer, Walter McCarty and Derek Anderson, the 1998 team had much less star wattage.
"It really shows that the whole of a team can outweigh the parts," Sheppard said.
Cam Martin is a contributor to Page 2. He previously worked for the Greenwich (Conn.) Time and The (Stamford, Conn.) Advocate, and has written online for CBS Sports and Comcast SportsNet New England. You can contact him at cdavidmartin@yahoo.com or follow him on Twitter: @CameronDMartin.