Commentary
Tim Wakefield book details career
Originally Published:
April 7, 2011
By
Cam Martin
| Special to Page 2
After Tim Wakefield surrendered the American League Championship Series-winning homerun to Aaron Boone in 2003, the devastated knuckleballer slumped inside the visiting clubhouse at Yankee Stadium, wept openly and said to a close friend, "I just became Bill Buckner."
Twelve months later when the Red Sox overcame a three games to none deficit and vanquished the hated Yankees in the 2004 ALCS, Wakefield was celebrating with teammates in the visiting clubhouse when Joe Torre called from the opposing locker room and asked to speak to him.
"It was probably one of the coolest things that ever happened to me. For him to call me during our celebration and wish me luck, to wish us luck and say he'd be rooting for us, it was very special," says Wakefield, whose new memoir, "Knuckler: My Life with Baseball's Most Confounding Pitch," chronicles his rollercoaster career.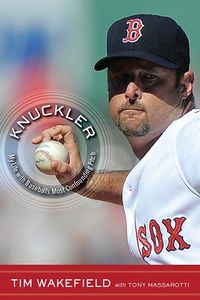 Houghton Mifflin Harcourt
The Melbourne, Fla., native was drafted in the 8th round of the 1988 draft by the Pittsburgh Pirates -- as an infielder. His first season of minor league ball was less than encouraging: In 54 games he went 30 for 159 -- a .189 average -- with just nine extra-base hits.
"Pitchers overpowered him," writes Tony Massarotti, a Boston Globe sportswriter who co-authored "Knuckler."
Wakefield's chances of making it to the big leagues as a hitter were evaporating quickly. But during extended spring training, a Pirates coach had witnessed him playing catch with a teammate, confounding the other player with his bedazzling knuckleball. He'd learned the pitch as a boy from his father, Steve, who'd throw it to his son when games of catch were dragging on.
"It was something to basically tire me out," says Wakefield, laughing.
He didn't recognize the long-term value of the pitch.
"The knuckleball was more something I developed in high school, college, just to goof off."
But when his career as a hitter flamed out, it was the only valuable baseball commodity he had left.
"I was disappointed (the Pirates) were giving up on me that quick (as a hitter)," Wakefield said in the book. "But then, they basically told me, 'You're going to pitch or you're going to go home.' So I said, 'OK, I'll pitch.'"
That was 1989. By 1992 he was bewildering major league hitters with his one-pitch circus. He went 8-1 with a 2.15 ERA after a mid-season call-up, followed by two wins against the Braves in the NLCS. Pirates manager Jim Leyland later said Wakefield's sudden fame made him the "[expletive] Elvis Presley of the National League."
But his meteoric rise was followed by an equally blistering crash to earth. The knuckleball, which is actually thrown with the fingertips, started to betray him.
"Aerodynamically, when you throw it without any spin, it seems to catch the air and there's a vacuum, or a pocket of air behind the ball, that causes it to move around," Wakefield explains in the book.
But its unpredictability -- and his declining confidence -- combined to create caustic results. In 1993 he went 6-11 with an astronomical 5.61 ERA. The Pirates sent him all the way back to Double A. In 1995, they released him outright.
The Red Sox, recognizing the low risk and potentially high reward of signing a pitcher who could log innings and serve in a variety of roles, picked him up. Sixteen years later, he's still with Boston, through a mind-numbing series of ups and downs: He finished third in the Cy Young voting in 1995; he was left off the ALCS roster in 1999; he won two games in the 2003 ALCS before losing the Aaron Boone game; he was an All-Star for the first time in 2009. And now he's a long reliever who's 14 wins shy of passing Cy Young and Roger Clemens to become the all-time Red Sox leader in wins.
"It'd be an ultimate accomplishment for me. But I'm not going to put that in front of the team," he says.
The record would be another high for a player who's learned how to handle the lows.
"I just try to stay on an even keel," Wakefield says. "There's always tomorrow."
Cam Martin is a contributor to Page 2. He previously worked for the Greenwich (Conn.) Time and The (Stamford, Conn.) Advocate, and has written online for CBS Sports and Comcast SportsNet New England. You can contact him at cdavidmartin@yahoo.com or follow him on Twitter: @CameronDMartin.