Commentary
Your program guide to pigskin nation
Originally Published:
November 24, 2009
By
Cam Martin
| Special to Page 2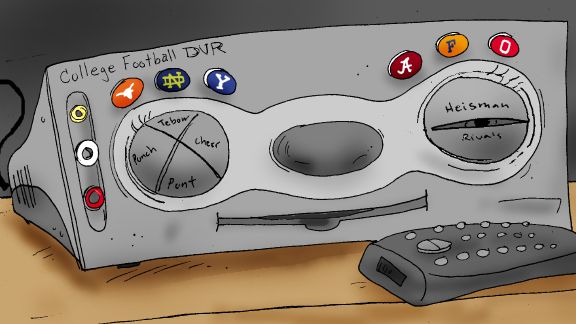 Kurt Snibbe/ESPN.com
Time to cue up The College Football DVR, where -- depending on whim -- we'll look back, forward or just let things play, always in quick succession.
PLAY: Welcome to Rivalry Week! Texas A&M hosts Colt McCoy and the No. 3 Texas Longhorns on Thanksgiving. Despite his impressive résumé, McCoy is 1-2 against TAMU and was carted off the field with an injury in the 2006 game, leading Aggies fans to dub him "Cart McCry."
PLAY: According to reports, an irate Notre Dame fan sucker-punched Jimmy Clausen at a South Bend restaurant following the team's loss to Connecticut on Saturday. No one was arrested, but authorities are currently looking for this man in connection with the alleged altercation.
REW: Holding a 10-7 lead late in the fourth quarter of The Game against Harvard, Yale faced a fourth-and-22 on its own 25-yard line with less than three minutes to play. The Bulldogs went for it -- with a wholly unexpected fake punt. Somehow, they came up 7 yards short and turned the ball over on downs. Three plays later, Harvard scored the go-ahead touchdown, then held on to win 14-10. (Total fluke.) There's no truth to the rumor Bill Belichick has already offered Yale coach Tom Williams a job on his staff.
STOP: Alabama's Mark Ingram is the favorite to win the Heisman Trophy, and would become the first player from Alabama to win the award. (Forrest Gump finished second in the voting in 1963.)
PLAY: Florida punter Chas Henry is one of three finalists for the Ray Guy Award. If he doesn't win, he can blame Tim Tebow and Jeffrey Demps for his lack of exposure.
FF: Even though Tebow's last home game is set for Saturday versus Florida State, Seminoles coach Bobby Bowden says Tebow should be allowed to play for as long as he wants.
PLAY: Notre Dame heads west to face Stanford on Saturday, a game hyped as "The 8 o'clock game on ABC."
PAUSE: Ohio State won its sixth consecutive game against archrival Michigan, the longest such streak in the series. The Buckeyes jettisoned their usual uniforms in this game, opting to wear uniforms honoring National Colorblind Awareness Month.
PLAY: Vanderbilt is a 15-point underdog this week, even though the Commodores' season ended Saturday.
REW: When LSU had the ball at the Ole Miss 6 with the clock approaching zero on Saturday, the Tigers could have kicked the go-ahead field goal (a mildly attractive option) or Les Miles could motion for his quarterback, Jordan Jefferson, to spike the ball and run out the clock. He chose the latter, even though he said after the game that he did not. Tsk, tsk. Video doesn't lie, Mr. Miles. We saw you.
PAUSE: With New Mexico's win over Colorado State, Western Kentucky (0-10) and Eastern Michigan (0-11) are the only winless teams remaining in the Football Bowl Subdivision this year. Western Kentucky plays Florida Atlantic (3-7) this week, while Eastern Michigan faces Akron (2-9). Check your local, local, local listings.
FF: According to Sports-Odds.com, Cincinnati's Brian Kelly and Florida's Urban Meyer are co-favorites to become the next coach at Notre Dame, both at 3-2 odds. Charlie Weis, the current coach, has wagered equally on both candidates, limiting his financial exposure.
FF: Auburn hosts Alabama in the Iron Bowl on Friday. The Crimson Tide have already clinched a spot in the SEC championship game versus Florida, so this intrastate grudge match is simply an opportunity for Alabama players to reacquaint themselves with all their old high school teammates who wish they played for a national title contender.
FF: The last game of the weekend has Navy traveling to Hawaii, a game set for 10:30 p.m. ET on Sunday. Navy will head back directly after the game, and depending on traffic at the Panama Canal, should arrive in Annapolis in about two weeks.
Legend:
REW: A look back at a recent sporting development
PAUSE: Where things are on hold
PLAY: Where things are ongoing
STOP: Where things have come to an end
FF: A look ahead at a possible sporting development
Cam Martin is a contributor to Page 2. He previously worked for the Greenwich (Conn.) Time and The (Stamford, Conn.) Advocate, and has written online for CBS Sports and Comcast SportsNet New England. You can contact him at cdavidmartin@yahoo.com.