Commentary
Your program guide to pigskin nation
Originally Published:
December 7, 2009
By
Cam Martin
| Special to Page 2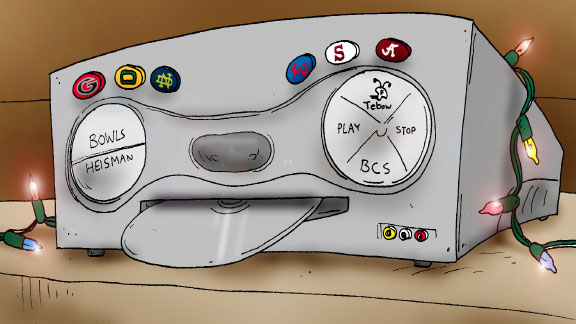 Kurt Snibbe/ESPN.comTBD by editorial
Time to cue up the College Football DVR, where -- depending on whim -- we'll look backward or forward or just let things play, always in quick succession.
PLAY: Former Georgia defensive coordinator Willie Martinez and two other Georgia assistant coaches fired by head coach Mark Richt have declined Richt's invitation to coach in the Bulldogs' bowl game. Richt said the former assistants will be replaced by robots, per PETA's suggestion.
FF: Oregon will unveil these new uniforms for their Rose Bowl matchup against Ohio State, a move that has Buckeyes fans crying foul.
PAUSE: Notre Dame athletic director Jack Swarbrick announced Friday that the school has decided against going to a bowl with a 6-6 record, citing "unique circumstances" surrounding the program, i.e., they finally have a one-bowl winning streak and they don't want to jeopardize it.
PAUSE: In the Outback Bowl, Northwestern will face Auburn for the first time in history. Northwestern is seeking its first postseason win since the 1949 Rose Bowl. Auburn is seeking not to embarrass itself by losing to Northwestern.
STOP: Heisman Trophy ballots are due Monday, meaning voters won't have the opportunity to weigh the actions of players in Saturday's Army-Navy game.
REW: Vanderbilt (2-10) might have been bowl-eligible if the season were four weeks longer.
PLAY: With Saturday's loss to Alabama, Florida will now play No. 3 Cincinnati in the Sugar Bowl on New Year's Day in New Orleans -- where Tim Tebow will be asked to curb his notorious party habits.
PAUSE: Mark Mangino, the former head coach at Kansas, said he's going to take his time figuring out the next step in his career. He said he's not going to rush into anything, but will wait until the season is over and consider all the openings for alleged verbally abusive coaches.
PLAY: Rosters for the high school Under Armour All-American Game have been announced, and the University of Florida (with seven commitments) will have the most future players on the field. Even though the majority of participants are committed to well-known football schools like Florida, Alabama and Texas, Harvard and Vanderbilt will each have one future player in the game. Boise State, Cincinnati, TCU and Hofstra will have none.
STOP: With no game this past weekend, Toby Gerhart of Stanford had plenty of time to root against Mark Ingram, Tim Tebow and Colt McCoy.
PLAY: On Friday, Dan LeFevour of Central Michigan set the major college record for touchdowns passing, rushing and receiving with 148, surpassing the mark set by Hawaii's Colt Brennan in 2007 and matched by Texas Tech's Graham Harrell in 2008. Florida's Tim Tebow, with 141 career touchdowns, is just seven behind LeFevour and should pass him easily during the Sugar Bowl.
REW: Entering the SEC championship game, Alabama was ranked No. 2 in the country in scoring defense (10.8 points per game), No. 2 in run defense (77 yards per game) and No. 3 in total defense (233.92 yards per game). Florida was even better, ranked No. 1 in scoring defense (9.8), No. 1 in pass defense (143.17), No. 1 in total defense (233.08) and No. 1 in players who fall asleep at green lights.
PLAY: With TCU facing Boise State in the Fiesta Bowl, one of those two teams will end the year undefeated and spend the rest of their lives annoying everyone by calling themselves co-national champions.
FF: Barry Switzer, who some say is the worst coach ever to win a Super Bowl, will lead a flag-football team made up of former college stars and military personnel in a game against a similar team led by former Auburn coach Terry Bowden. This "Salute to the Troops" is being staged by the USO in Iraq and will be held in late December. It's only an exhibition, decreasing the chances that Switzer will get fragged by his own team.
FF: For the creation of another flawless postseason format, BCS officials will be feted with a ticker-tape parade through the Canyon of Heroes in New York City. Details pending.
Legend
REW: A look back at a recent sporting development
PAUSE: Where things are on hold
PLAY: Where things are ongoing
STOP: Where things have come to an end
FF: A look ahead at a possible sporting development
Cam Martin is a contributor to Page 2. He previously worked for the Greenwich (Conn.) Time and The (Stamford, Conn.) Advocate, and has written online for CBS Sports and Comcast SportsNet New England. You can contact him at cdavidmartin@yahoo.com.