Commentary
Brandon Roy is technological caveman
Originally Published:
April 22, 2010
By
Wendell Maxey
| Special to Page 2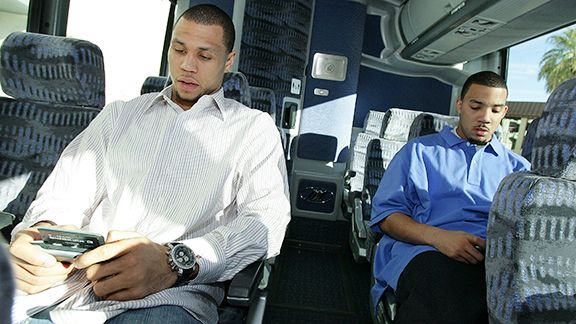 Garrett Ellwood/NBAE/Getty ImagesBlazers guard Brandon Roy knows how to use his phone. That's the extent of his tech knowledge.
PORTLAND, Ore. -- True confession: NBA star Brandon Roy refers to himself as a "caveman." In terms of technology, anyway.
Roy does have a cell phone, but besides that, he's tech unsavvy. And he plays for a team owned by Microsoft co-founder Paul Allen.
"I'm a caveman," Roy confessed shyly with a smile. "I'm not a gadget guy."
Roy, the Portland Trail Blazers' leading scorer, has to turn to his local tech geek for assistance with any gadget he does buy. In this case, tech support is teammate Martell Webster.
"I don't spend my money on diamonds or cars. I've got gadgets," said Webster, grabbing his black handheld Arcos 5 Media Tablet and Sony headphones. "He [Roy] has a laptop, but he never uses it."
Webster has had a front-row seat to Roy's tech troubles for some time now. The two grew up together in Seattle and now play together for the Blazers, who are playing Phoenix in the first round of the NBA playoffs. Roy, who is sidelined with a meniscus tear, hopes to return for the second round if the Blazers advance.
Though Roy has both a Facebook page and Twitter account attached to his name, he doesn't personally manage either one. In fact, the Twitter account has not been updated since November 2009. But that's nothing new. As a kid, Roy wasn't much for video games, and he was probably the last guy in the locker room, maybe even the league, to buy a laptop.
When he did buy one, it wasn't top of the line. Best not let Allen catch wind of this: Roy rocks a "regular Toshiba."
But it's all good. Roy's a self-proclaimed "simple" guy. When it comes right down to it, he's just not interested in knowing how all the gadgets work. In fact, he's not savvy enough to master his own Toshiba.
Thankfully, Webster got the assist.
"I buy stuff and have him help me," Roy said. "He showed me how to work my computer. I don't know any of that. I just tell him, 'Show me how to get to this.' I wanted to download music and movies but I didn't know how. A couple years ago we were going to a hotel on the road and I couldn't get my Internet to work, so I called him and he figured it out."
But Webster lets this little tidbit slip: "He has an iPad, too. I don't think he knows how to use it, but he has one."
Apple reportedly sold 300,000 iPads when they were released on April 3, and Roy added to that bottom line, but he wasn't about to wait in line for the gizmo or even sleep outside a Best Buy in suburban Portland. That's what friends are for.
"My buddy went to the store and got it. He said he had to wait outside for a little bit but not all night," Roy began. "He said people were camping out. The morning it came out I called him and I said, 'I forgot the iPad is coming out today. Can you go grab it?'
Now Roy can say he's on the cutting edge. But don't expect him to use his newest toy; he really did just buy it so that if someone asked, he could say he owned one.
Roy doesn't know how to use the iPad and said his fiancée, Tiana Bardwell, and his personal assistant, Lardel Smith, play with it more than he does.
"I just got it because it was the new thing," Roy said. "That way if my teammates asked if I have one, I can say I do."
He better hope they don't ask him how to use it.
Wendell Maxey is a freelance writer for the Sports Media Exchange, a national freelance network.