Commentary
Ex-Blazer Shaler Halimon knows route
Originally Published:
May 18, 2010
By
Wendell Maxey
| Special to Page 2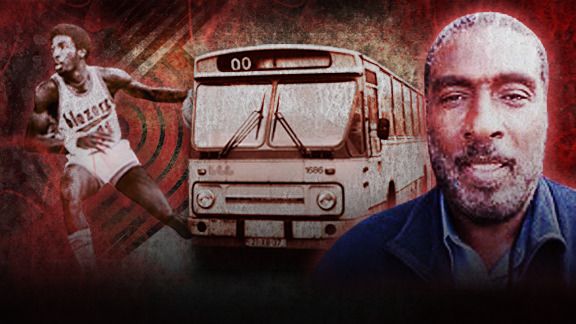 ESPN.com Illustration
TIGARD, Ore. -- After all these years, Shaler Halimon can still deliver.
But instead of driving the lane as a 6-foot-5, 200-pound swingman in the NBA and ABA during the late 1960s and early '70s, the former journeyman known as "Houdini" now takes a different route.
Today, Halimon, 65, works as a bus driver for TriMet -- Oregon's mass transportation system, where he was recently named Bus Driver of the Year.
"Any one of those guys is deserving of being driver of the year," said Halimon, who has worked for TriMet for 32 years. "You almost have to be picture perfect. You can't have any accidents, you can't have any complaints and you can't have any time loss."
Receiving an honor from his peers based on an impeccable driving record, outstanding customer service and an excellent attendance record is only half of Halimon's story.
He tends to keep stories about playing against Walt "Clyde" Frazier, Oscar Robertson and Jerry West close to the vest. The press release from TriMet announcing the award did not mention Halimon's pro basketball career.
"Most of the people I meet today, when they find out I played professional basketball ask me why I'm driving a bus," Halimon laughed. "You have to understand what decent money was at that time. The minimum when I came into the league was $17,500, and we had 13 teams. You're not talking about a lot of money. It wasn't going to last you a lifetime."
Long before he drove a bus route in Tigard, a suburb eight miles outside of Portland, Halimon played at Utah State and then for five pro teams in five years.
Selected No. 14 overall by the Philadelphia 76ers in the 1968 NBA draft, Halimon appeared in 50 games and averaged 3.7 points per game as a rookie before being traded to the Chicago Bulls, where he played 40 games over two seasons.
But his legend remains fixed in Bulls franchise history.
According to the team's official website, Halimon ranks ninth on its "10 Greatest Bulls Shots" list. On Jan. 17, 1970, Halimon scored three baskets in the final eight seconds of regulation to force overtime against the Milwaukee Bucks and their young rookie center, Lew Alcindor (Kareem Abdul-Jabbar). Chicago won that game, 132-130.
But early in the 1970-71 season, Halimon was on the move again.
The Portland Trail Blazers acquired him during their 29-53 inaugural season in the NBA. Halimon appeared in 79 games and averaged 8.9 points per game -- his best season as a pro -- but landed on the Atlanta Hawks' roster the following season, appearing in one game.
"I don't think I was given a fair shot about earning a spot on one team," Halimon said.
"There comes a point in your life where you have to say, 'This dream is not worth chasing.'"
At 27, after two seasons with the Dallas Chaparrals of the ABA, Halimon walked away from the game in 1973.
He landed a job as a social worker in San Antonio, where he assisted with food stamp outreach and ran a halfway house.
"I was watching over drug addicts and making sure they were in at a certain time," Halimon said. "It was a good job. I liked it, but most of my stuff was in storage in Portland. I came back here to get it, and when I did, I found a job at TriMet."
In 2002, Halimon earned the distinction of Master Operator after getting TriMet's Superior Performance Award 10 times. He can now add Bus Driver of the Year to his list of accomplishments.
"For me to be up there for that award, it shows how much people think about you when they vote you Driver of the Year," said Halimon. "I try to give the best service I can at what I do."
Wendell Maxey is a freelance writer for Sports Media Exchange, a national freelance writing network.