By Myron Medcalf
Special to Page 2
So what? They're first-round picks, they'll make millions of dollars in contracts and endorsement deals and yep, they'll get the girl. But the 2004 NBA draft was about more than basketball dreams come true.
Top picks like Dwight Howard, Emeka Okafor and Ben Gordon must first go through the grueling process of selecting a posse. They can't roll with losers. They're in the NBA now. When people see them off the court, they're not going to judge them based on last night's game. They simply want to know "Who's in your crew?" and "How can I get in?" Here are the rankings of the posses at the 2004 NBA draft: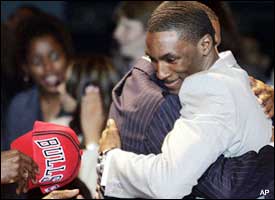 The 11th Av' Crew is ready for the trip to Chicago.
1. Ben Gordon -- Now, this was a posse. The "11th Av' Crew" out of Mt. Vernon, N.Y., was the type of group that every NBA rookie should have watching his back. First, there were about 20 people by the end of the night. Their size alone could have won them the crown, but they were also bold. From the beginning of the night, they were making loud predictions about what Gordon was going to do once he got into the league. After Gordon was picked third by Chicago, one crew member yelled, "Forget Michael Jordan!" Others continued the trash talkin'. That's a real posse, folks. The "11th Av' Crew" will have Gordon's back whether he's playing in Chicago or riding the bench. He'll still be the best player in the world to them. And that's what a posse is all about.
2. Luol Deng -- At first glance, Deng's posse seemed typical. Some family members and friends. Deng had some of his high school teammates there, which is always great. Member loyalty is very important for a posse. But by the end of the night, his crew shot up to No. 2 on the list. Why? Manute Bol, once the tallest man in the NBA, showed up. There were some NBA guys in the crowd and a few legendary coaches, but Bol is classic. Deng's mentor and friend turns heads when he walks into a room. The Deng posse is in good shape as long as it keeps Manute Bol around.
3. Dwight Howard -- The No. 1 pick didn't have the largest crew in the Garden, but his crew had an important element: flashiness. Some had on a little bling-bling and some eye-catching suits -- "Dolemite" would have been proud. One of his cousins may have been a little too flashy, but he was on his cell phone for most of the night. The "cell-phone guy" is key. Even if he wasn't really talking to anyone, he made it seem like he was conducting some very important business concerning Dwight. Only downside was that his posse was made up mostly of family members.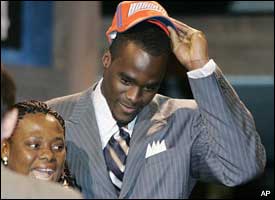 Okafor's posse could use some work. Hey, is Taye Diggs available?
4. Josh Childress -- Childress' crew was made up of a high school principal, former basketball coach, friends and family -- it all seemed at first like the "Brady Bunch" of posses. But when his name was called as the No. 7 pick, the "Brady Bunch" turned into the "Wild Bunch." Childress' posse may have been the loudest. Childress must be a special kid if his high school principal made the trek to New York to see him. Childress' crew was genuine. However, there was no Manute Bol.
5. Emeka Okafor -- Okafor's posse was typical. He had some family members, originally from Nigeria but now living in Houston, in attendance. They were definitely proud of Okafor. But unfortunately, they didn't seem to have as much personality as some of the other crews. The significance of a "cell-phone guy" has already been discussed. His posse could definitely loosen up a little bit. However, Okafor had a supporter/cousin in the audience who said that the Olympian changed his life. That's inspiring. But not enough to make Okafor's posse anything special.
Others receiving votes: Shaun Livingston and his posse, complete with his tailor from Chicago; and Devin Harris' boys, who may still be celebrating right now.
Myron Medcalf can be reached at myron.p.medcalf.-ND@espn3.com .
Myron
Medcalf
POSSE PURSUIT