Is Bard College basketball ready for prime time?
Bard College basketball has been a laughingstock for decades. During the 1990s, the team won two or more games in just four out of 10 seasons. And on the heels of 4-22 and 4-21 records the past two years, it may seem strange that Bard is set to take on Franklin & Marshall College -- led by coach Glenn Robinson, the all-time Division III leader in wins with 667 -- in a game that'll be broadcast live on the Internet Friday night at 8.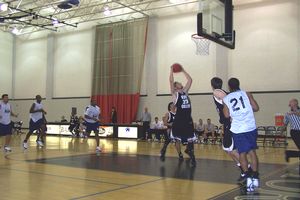 Bard College
Trevor McGinn and his fellow Bard Raptors are ready to tip off their season.
But at Bard, they've finally built a basketball program. And while a Bard victory would be rather shocking, the real accomplishment is that the Raptors even have a chance to win.
When coach Chris Wood took over the Bard program five years ago, there were no advertisements on the scorer's table -- mainly because there was no scorer's table. The school had a basic scoreboard -- but which player had committed a foul, or how many timeouts each team had remaining was anybody's guess.
"We didn't even have matching uniforms," Wood said, following Bard's exhibition victory over St. Joseph's of Brooklyn on Nov. 10 -- a team Bard had never defeated prior to 2005, but has now beaten four consecutive times. "There were three kinds of uniforms, and they were similar, but they were made by three different companies."
Back then, Bard played in the Hudson Valley Men's Athletic Conference, a conference not even recognized by the NCAA. And the Raptors had never won a single conference game.
A still-bigger challenge for Wood was the school itself. While many mourn the imbalance between academics and athletics at some of America's larger institutions, at Bard the situation was reversed. School president Leon Botstein, the conductor of the American Symphony Orchestra, even likes bringing up the school's poor sports reputation.
"All I wanted was for athletes to be treated the same way as someone coming in to play for the orchestra," Wood said.
Complicating Wood's task further was the makeup of the school. Bard attracts students intending to explore individual expression -- making Bard one of the most liberal of liberal arts schools.
"To be honest, I had heard the stories," said senior guard Demitrius Washington, a transfer from Chaminade University and one of Bard's two captains. "There were some crazy things you wouldn't expect to happen."
From marijuana-aided bus rides to LSD-laced power forwards, ask a former Raptor about his time at Bard, and the answers fall much more into the "Studio 54" category than "Hoosiers."
The year before Wood arrived, Bard finished 1-19 -- losing twice to Hampshire College, going 1-3 against Cooper Union and Webb Institute (both of which had coed teams), and falling to archrival Vassar College 89-30.
In his first season at the helm, Wood was blessed with several talented freshmen, but the culture of the team was far from what he hoped to build.
"I'd have a maximum of three guys at practice," Wood said. "We had to beg people just to show up and stand there as dummies so we could practice a pick-and-roll."
Nevertheless, Bard finished 9-13 that season -- the school's best mark in 15 years. The next season, the Raptors finished dangerously close to .500 at 11-13, and made the HVMAC playoffs. And a season after that, Bard capped a 9-17 season by hosting -- and winning -- the HVMAC tournament.
But even these steps forward were marked with frustration. A banner recruiting class, which included a pair of frontcourt players measuring 6-foot-6 and 6-8, fell short of expectations when both players repeatedly missed practice and failed to last a full season on the squad. Academic suspensions for other players made depth a big problem. If Adam Turner, Bard's first-ever All-American, got into foul trouble or was felled by injury, the Raptors were basically out of luck.
"We had a few players who, when you replaced them, it was with guys who just couldn't play at this level," Wood said.
But the current captains -- Washington and 6-4 senior forward Trevor McGinn -- were determined to be a part of a different Bard basketball experience.
"I think we've seen a transition of how athletics is perceived relative to the rest of the school," McGinn said. "We've been able to recruit talented players who are also good people."
Bard has changed its position in the world of Division III athletics. After two years in the Northeastern Athletic Conference, Bard joined the Skyline Conference this season. Just three years ago, the Raptors played in an unrecognized conference. Now they will be playing in a conference that sent multiple teams to the Division III NCAA Tournament last season.
In its last season in the NEAC, however, Bard finally received national acclaim -- for all the wrong reasons. On a trip to California, the Raptors lost to Cal Tech 81-52. It was Cal Tech's first victory in 237 tries, and suddenly Bard basketball was plastered on ESPNews and "Good Morning America." The game even warranted a two-day story in the Los Angeles Times.
Never mind that Bard's top three scorers were academically ineligible or injured. Never mind that the team flew across the country, then played back-to-back games without even a day to rest or practice. Bard became a punch line.
"The point of the trip wasn't wins or losses," Wood said. "The truth is, most schools, if they're not going to wipe the floor with them, won't even schedule Cal Tech. But this was about giving my team the chance to travel, the chance to bond together."
He gestured toward a picture of the team, all smiles in California during that trip, which hangs in his office. "That was taken after we lost to Cal Tech. That's what made the trip worth it. And yet I had to hear about it for months," he said, acknowledging that recruits still ask about it.
"Not only was it an incredibly difficult experience, but we knew as soon as it was finished what it would mean in terms of exposure and ridicule," McGinn said. "But there's no question that it brought the team closer together."
Even the school's president joked about the loss during last year's athletic banquet. But according to McGinn, the athletic department responded by giving the basketball team a standing ovation.
"It isn't like it was," McGinn said. "You have more and more people playing sports here, supporting each other."
This season, Wood has a squad 14 strong, up at 6 a.m. to practice every day. And while a 2-0 scrimmage record may seem insignificant, just remember: in school history, that's never been done.
"We are all individuals for the rest of the day," McGinn said. "From 6 a.m. to 8:30 a.m., and during games, we play as a team."
The group is overwhelmingly young, with 11 freshmen and sophomores among the 14. McGinn and Washington see a chance for a new kind of Bard basketball to take hold.
"Bard's still not there, but these guys can become our legacy," McGinn said.
In its final exhibition game, Bard posted a 113-110 victory in overtime, when Washington sank a shot as time expired. The team celebrated on the court, and a full house screamed and high-fived in celebration. It was the kind of scene thoroughly unfamiliar at Bard, where the groupies are reserved not for athletes, but for Nobel Prize-winner Orhan Pamuk.
"If there's this much excitement in the building for a scrimmage, imagine what it will be like for a game," Wood said.
Washington is thrilled that his family in Hawaii and Texas will get to see him play. Though his former school, Chaminade, scored arguably the biggest upset in college basketball history more than two decades ago by taking down Ralph Sampson and Virginia, he'd rather be making history at Bard.
For McGinn, the opportunity comes with the chance for redemption.
"We're going up against a fixture of college basketball," McGinn said. "But it's no accident that they scheduled us as the first game in their tournament for a reason. We want to make them regret it."
And even if they don't, Wood knows that just being there is a huge step forward.
"We're coming at their request, they're guaranteeing us some cash, hotel, food," Wood said. "Five years ago, anything approaching this kind of guarantee was out of the question.
"We might not win. Maybe we're not putting the NCAA trophy on display just yet. But we'll play hard, we'll be playing on TV -- we'll play so that we get some respect."
Howard Megdal writes for the New York Observer and other outlets. A Bard graduate, he is the creator and sole writer of Raptormania!, a humorous Web site devoted to Bard College basketball, and the former voice of the Raptors. His book on Jewish baseball players will be published by HarperCollins in 2009. He can be reached at hmegdal@yahoo.com.