Commentary
I should be general manager of the Mets
Originally Published:
August 2, 2010
By
Howard Megdal
| Special to Page 2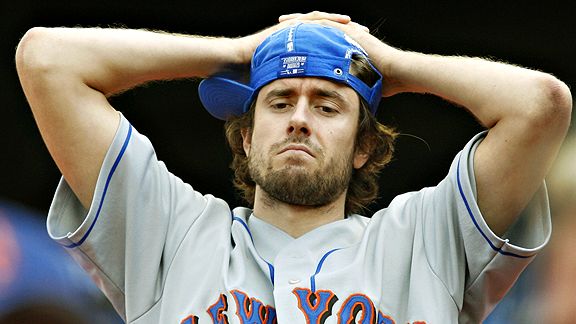 AP Photo/Kathy WillensNew York Mets fans have endured a string of disappointments since the team reached the 2006 NLCS.
With the passing of the non-waiver trading deadline at 4 p.m. this past Saturday, the problems of the New York Mets, a team that has failed to leverage star players performing superbly into playoff appearances and championships, were allowed to crystallize further.
No magic trade manifested itself; the dreams of adding Dan Haren, Roy Oswalt or any reasonable alternative to Luis Castillo at second base tragically went unrealized. That is to be expected: There is no deus ex machina moment in the running of a major league baseball team.
The Mets have often erred by looking for a magic trade at various points in their recent history instead of applying logic, transparency and passion. As a result, most of the same problems that kept the Mets one game shy of the playoffs in 2007 and 2008 continue to plague the roster.
Hope, quickly dashed by despair, should not be the plight of Mets fans, young and old, around the world. Therefore, I am running for general manager of the New York Mets, because I believe no child in blue and orange footy pajamas should go to bed hungry for quips to throw at Yankees fans the next day at school. No child of the Mets should grow up wondering what October baseball feels like.
I will do this, without hyperbole, to end the suffering of millions of people. Consider that 3,168,571 fans came out in 2009 to witness a team that suffered through an injury-riddled season compared, with justification, to the Black Plague. Indeed, one in four Europeans, or 25 percent of the population, died in the Black Plague; 20 of 25 Mets players, or 80 percent of the team, spent time on the disabled list in 2009.
The good news for Mets fans is that the current team is not bereft of possibility. Any roster with Jose Reyes, David Wright, Angel Pagan, Francisco Rodriguez and Johan Santana under contract for 2011 is a team with hope.
But hope is not enough.
Think about it. I am supposed to love my mother and care about her successes and failures. But if I spent three hours a day, 162 times a year with her, along with countless hours and days reading about her, agonizing over her on the phone with perfect strangers on the radio, and wearing shirts with her face on it, I'd be institutionalized.
Too often these past few years, the path beyond those core players has been to attack specific problems with imperfect solutions, address short-term issues with long-term contracts for ill-fitting players, create problems with acquisitions instead of solving them, and leave some holes shockingly unaddressed, year after year.
Let me be clear: It is impossible to tell you exactly the trades I would make. To know what players will be available the day I take the office is impossible; to know what it will take to acquire those players is similarly unknowable. But if I'm elected general manager, here is the path I will take.
Second base is a problem to be solved, though by itself, it is not a cure-all. Simply hoping that Luis Castillo could ward off the three-legged demons of aging, injuries and defensive abilities declining beyond repair wasn't a reasonable answer to a vital position in the starting lineup. Since I would be general manager, not owner, I would have no way of simply agreeing to pay Castillo what remains on his ill-advised four-year, $24 million contract that runs through 2011 and sending him on his way. But I certainly could have avoided signing Alex Cora to a $2 million contract with an easily vesting 2011 option. The Mets need to stop playing Cora now to avoid a cash outlay for a player who doesn't provide major league performance, offensively or defensively.
For that same $2 million in 2010, the Mets could have signed Felipe Lopez. Even with the Cora signing, they could have used the $2 million in salary they spent in the deal for Gary Matthews Jr. differently. Instead of hoping for bounce-back seasons from a pair of over-the-hill vets, the Mets could have added a useful player to address a starting need.
Whether that need is addressed this winter by a one-year deal for Lopez (who is a placeholder -- the point is having a useful player starting at the position), or in a trade, the position that has been a sieve for the Mets since Jose Valentin was lost to injury in 2007 must be solved.
There are two other areas with big-ticket items worth exploring. One is first base, with a pair of elite options heading into the final seasons of their contracts: Prince Fielder and Adrian Gonzalez. Gonzalez will be entering his age-29 season in 2011, Fielder his age-27 season -- perfect additions for a lineup built around David Wright and Jose Reyes, each entering his age-28 season next year.
If Ike Davis needs to be the centerpiece of a deal to bring one of these players back, it is an unpleasant but reasonable price to pay. Davis has the chance to be great -- but acquiring either of these players will provide the Mets with another star in the same stage of his career as the two icons this team needs to leverage. (Failing to spend over slot on draft picks means the Mets don't have the luxury of dealing from prospect depth.) The other player worth pursuing is Carl Crawford. Crawford, a free agent, will be entering his age-29 season next year, making him a perfect fit for the Wright/Reyes Mets. With Angel Pagan capable of playing any of the three outfield positions extremely well, this leaves the team with a pair of alternatives: trading Jason Bay or trading Carlos Beltran.
Bay would be the more ideal to trade, and is a cautionary tale for the Mets. He appears to have been acquired last winter because the team decided it needed the best possible bat, right then, to play left field. A short-term problem led to a long-term contract. The worry appeared to be that fans would revolt without a big-ticket signing. But that's precisely the point -- fans are upset, and justifiably so, because these short-term solutions lead to intractable problems down the road.
Bay was too old and one-dimensional to warrant the expensive four-year deal he received. Even the short-term gain is dubious: Did people really flock to Citi Field to see Jason Bay?
Unfortunately, Bay's contract may make him impossible to move (a pretty good sign you've erred, when it is the first year of a four-year contract). So the other move, made with a heavy heart, would be to trade Carlos Beltran.
It is a rare privilege to watch Beltran play. But he is already 33, playing with an arthritic condition in his knee, and he clearly isn't part of the long-term plans for the Mets. Should he perform well in August and September, it is entirely possible that another team seeking a one-year solution in center field will want him. If it clears salary space for a long-term fit like Crawford, a painful dealing of the best center fielder in Mets history needs to happen.
The pitching staff is an easier fix. The front four in the rotation, Santana, Jon Niese, Mike Pelfrey and R.A. Dickey, should all return in 2011. With a poor free-agent crop this winter, the Mets should add low-cost depth to compete for the fifth spot and make up much of the Triple-A rotation. The bullpen should be stocked with buy-low candidates with high strikeout rates. It is how San Diego built its bullpen, for instance, acquiring Heath Bell for Ben Johnson and Jon Adkins ... from the Mets.
Over the medium term, the pitching can be restocked by drafting high-upside arms over slot later in the draft. For details, check out Dellin Betances' and Andrew Brackman's numbers in the Yankees' system.
The rest of my plans, detailed at MegdalForGM.com, will lead to longer-term results. Investing more money in the draft (instead of $5 million wasted on Jeff Francoeur) will lead to a deeper farm system and greater trading possibilities. And numerous other changes to the fan experience will bond us all more closely to the team we love without reservation, but seems at times not to love us back.
For example, there will be a return to such traditions as "Banner Day," "Old-Timers' Day" and "Helmet Day." Theme dates will provide entertainment value and a gift people actually want to take home. The Mets will no longer limit giveaways to "the first 25,000 fans," or worse, "the first 5,000 fans 12 and under," leaving some children who might be attending their first Mets game with the twin disappointment of getting stuck in traffic, then getting to watch other children play with the toy they were too late to receive.
New promotions will be introduced. Much as Broadway shows often have "student rush" seats, the Mets should put aside a few sections right behind home plate -- the ones near the field that cost way too much -- and let anyone with a valid student ID purchase a seat in them for $10 apiece on the day of the game. For a temporary tiny revenue loss, the Mets get the advantage of reaching out to their youngest fans, making potential customers for decades. They also make it clear that, unlike their rivals across town, the Mets aren't looking to milk fans for every last dollar. Best of all, what is now a tomb-like feel to the area closest to the playing field will become a raucous home-field advantage for the team and a three-hour advertisement during every ballgame for how much fun it is to come to Citi Field.
I'm in it for the construction worker who nearly falls off his support beam after hearing the Mets hit into a game-ending, unassisted triple play. I'm in it for the single mother of four who finally puts her children to bed, only to watch the Mets' bullpen blow another lead. I'm in it for the senior living on a fixed income who takes his morning pills at night in a confused rage after seeing Jerry Manuel bunt with his cleanup hitter. And I'm in it, maybe most of all, for the crying child -- crying because she had to watch John Maine pitch.
I urge you all to join my crusade for change with the Mets. Remember, the Wilpons have never hesitated to spend money on this baseball team. We need to make sure that the frustration that every one of us feels in seeing it spent fruitlessly stops. Each day brings us closer to this horrific reality: that the peak performances of the two best players this organization has produced in decades will go to waste.
When I join you in the stands to watch David Wright's 5 and Jose Reyes' 7 join the other retired numbers on the Citi Field left-field wall, I want the scoreboard to play highlights from their many postseason runs. Elect me, and we as Mets fans don't have to play the 50-year game we've all engaged in: What Might Have Been?
Howard Megdal edits PerpetualPost.com, writes for SNY.tv, Capital New York, MLBTradeRumors.com, NYBaseballDigest.com and is running for GM of the New York Mets.