Commentary
Might T.O. inspire other athlete shows?
Updated:
July 23, 2009, 10:56 AM ET
By
Toby Mergler
| Special to Page 2
"The T.O. Show" on VH1 debuts this week, and we're less than excited about the endeavor. Some reality television is compelling, but the genre has become watered down. Seemingly every cable channel has trotted out its own spin on the concept, flooding the airwaves with dozens of shows primarily populated by has-been and never-were "celebrities" whose only talent appears to be self-promotion.
Owens fits the profile perfectly, so it's not a surprise this show got made, but it's impossible to believe we'll get any real insight into Owens' true self, as there is no way he isn't fully aware that there are five cameras and 30 crew members around him as he goes about his business. If you have any doubt, remember Owens is the executive producer of the show and has the final say regarding content.
It's a shame, because many fans enjoy seeing glimpses of athletes' lives. So while we're prepared to loathe this show, the launch of Owens' vehicle got us thinking about other potential programs featuring sports figures: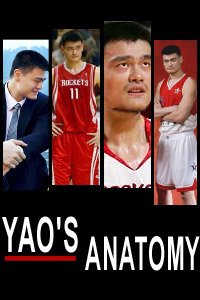 Kurt Snibbe/ESPN.com Illustration
"Yao's Anatomy" -- A brand-new medical drama in which a team of doctors have to try to fix a different injury suffered each week by Yao Ming. The program's creators might tell TV Guide "The show practically writes itself" and "We already have enough material to carry us into syndication." Rockets general manager Daryl Morey stars as McSad, and the Rockets' 2010 season makes a guest appearance as McRuined.
"23" -- A spinoff of the hit series "24," featuring Michael Jordan in the role of Jack Bauer. In Season 1, Jordan has to track down and stop Charles Barkley, who's gone rogue. The following season, MJ is betrayed by Scottie Pippen, his former partner who has been corrupted by a criminal mastermind that we later find out is Dennis Rodman. In Season 3, the writers get lazy and have His Airness foil a terrorist attack on a Las Vegas casino in the first two episodes and then run 22 consecutive hours of Jordan playing blackjack and smoking cigars. Still, it turns out to be the most popular season.
"Owner Knows Best" -- Tells the story of Sidney Crosby, the 21-year-old hockey superstar who has already won an MVP and a championship, but still lives with the team's owner. Watch as the old man berates Sid the Kid for missing curfew, trying to sneak girls into his room and drinking wine coolers out of the Stanley Cup. Advance reviews haven't been kind, with one critic saying "Get the @*%$ out of here, this would never happen in real life."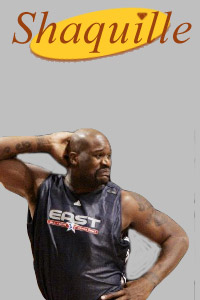 Kurt Snibbe/ESPN.com Illustration
"Shaquille" -- The contemporary spiritual heir to "Seinfeld," the show follows Shaquille O'Neal in his day-to-day life and chronicles where he draws inspiration for his Twitter posts. The show features Anderson Varejao as the wacky-haired neighbor, Danny Ferry as the neurotic sidekick who can't seem to do anything right, Wayne Knight reprising his role as Newman (he was shockingly available) and Kobe Bryant as the former flame with whom Shaquille attempts to maintain an awkward but comical friendship. Since the show revolves around Twitter, it naturally will be about nothing.
"CSI: Cincinnati" -- Mistakenly believing he has federal authority which allows him to exist outside the law, Chad Ochocinco portrays a renegade cop who plays by his own rules. In the pilot episode, Chad and rival Shawne Merriman pass on the street, but both are too busy tweeting about fighting each other to notice. He later gets called in to work a crime scene that includes a chalk outline around his receiving skills. In the season finale, Ochocinco fakes his own death to get out of Cincinnati and hides in the end zone at Paul Brown Stadium, claiming "No one would ever look for me here anymore."
"LeBron the Great, Plus 8" -- Follows an NBA superstar as he tries to single-handedly carry a nine-man rotation to a title while simultaneously managing his marriage to an entire city. See him slump his shoulders after a teammate's clanked 3-pointer, refuse to shake hands after a tough loss and insist that Zydrunas Ilgauskas' face be superimposed onto his body whenever he's on the wrong end of a dunk highlight. Meanwhile, watch as Cleveland begs him to stay and desperately attempts to ward off Jay-Z, Spike Lee and all the other suitors who won't leave their man alone. Part comedy, part tragedy, all reality and almost certainly heading for a messy divorce.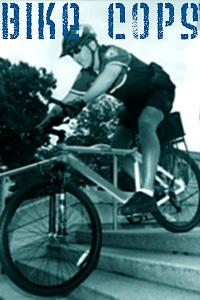 Kurt Snibbe/ESPN.com illustration
"Bike COPS" -- From the creators of "COPS" comes this new series featuring Lance Armstrong using his legendary cycling skills to help fight crime. Watch as he chases down shocked drivers who thought they could ignore the lowly bike cop, only to be transported to jail on his handlebars. The co-star is Matthew McConaughey, who thinks he looks completely sweet on a bike, but isn't really much help. Much like the original, but this time it's not just the perps who are shirtless.
"Celebrity Kicking" -- A special event allowing David Beckham and Landon Donovan to work out their differences in the ring. Similar to boxing, but no hands allowed. Many viewers expect a boring match in which each guy immediately falls to the canvas and frantically flails around after the slightest bit of contact. Even if domestic ratings tank, it's likely to provide substantial viewership worldwide.
"LAST" -- A small group of tall, talented kids fresh out of college end up in a devastating train wreck in Los Angeles and are forced to play for the Clippers to survive. They do their best, but one by one bad things start happening to each player and they mysteriously disappear, never to be seen again. A few of them start time-traveling (it's really confusing, but hardcore fans will insist it totally makes sense) and discover that no matter what year they find themselves in, the Clippers are still in last place. The serial features occasional appearances by Donald Sterling as The Monster and The Lakers as The Others.
"To Catch a Hater" -- A prime-time series documenting what happens when message-board heroes are lured under false pretenses to an apartment and are confronted by the athletes they disparage. See false bravado melt away before your very eyes as cyber toughs cower before the massive targets of their ire, stammering wildly while trying to explain away their anonymous abuse. It turns out that when athletes say "I bet you wouldn't say that to my face," they are almost always right.
Toby Mergler is a freelance writer based in Washington, D.C., who has previously written for MLB.com, Fanball and The Virginia Law Weekly. He can be reached at tobymergler@gmail.com.