Commentary
Page 2's NFL Pregame Ritual, Week 5
Originally Published:
October 10, 2009
By
Toby Mergler
| Special to Page 2
Welcome back to the Pregame Ritual. Today's slate of games isn't quite as enticing as previous weeks, but what else are you going to do? Clean the gutters? Work on your novel? Acknowledge your family exists? Please. That's why God invented Sunday (or at least that should have been the reason). We both know you are going to watch the games whether they suck or not.
Here is a look at today's action.
Three key games to watch
Cincinnati at Baltimore (1 p.m. ET)
If Brandon Stokley were a little less scrappy, the Bengals would be undefeated. Yet they continue to get no respect and enter this game as a nine-point underdog. Sure, they looked bad last Sunday against the Browns, but they still beat good Pittsburgh and Green Bay teams in the preceding weeks. Perhaps they do actually stink, but they've earned the right not to be told they stink before the game begins. The new rules in oddsmaking appear to be that you get three points for playing at home, two more for facing the Bengals and one point if the opposing coach looks as if he'd be entirely comfortable taking your order at a drive-thru.
Houston at Arizona (4:15 p.m.)
Yes, New England at Denver is the better game, but let's get real here. When the day doesn't present a lot of great matchups, you care more about your fantasy team anyway, and this game has the chance to produce more points than George Costanza playing "Frogger" after consuming the perfect combination of Mountain Dew and mozzarella. With the Andre Johnson-Larry Fitzgerald showdown getting all the hype, look for a finally healthy Anquan Boldin to reintroduce himself to the league by upstaging both of them.
Indianapolis at Tennessee (8:20 p.m.)
Last week, the Titans played the most embarrassing regular-season game by a team coming off a playoff season since Jonathan Moxon and the rest of the stars of West Canaan High stayed out at a strip club until dawn the night before getting blown out by Elwood in the hardest-hitting game in history. If they don't show a lot more heart Sunday night, the playoff baseball games are going to get a huge ratings boost before halftime.
STREAK FOR THE CASH PICK
If you haven't played ESPN.com's Streak for the Cash yet, you should give it a shot. It's free to play, and you could win $1 million. But beware: It's addictive.
Since it's a known fact that a football column must include some sort of pick or the universe folds in on itself, here is this week's selection:
Indianapolis over Tennessee: We actually hit refresh to make sure there wasn't something wrong with the Internet when we saw this game listed. Peyton Manning is at the top of his game and the Titans are 2nd to last in the league in pass defense. It shouldn't even be close. Vince Young pass attempts verse Colts winning margin would be a fairer bet.
-- Toby Mergler
Play we'd like to see today
Speaking of "Varsity Blues," we'd like to actually see a team run the oop-dee-oop. According to Mox, the formation works because by lining up four WRs on one side, you force single coverage on the other. Now that would be fun to watch. Since Fred Taylor is now out for the Pats, perhaps they should give it a try in an effort to kick-start Tom Brady and Randy Moss. Alternatively, the Steelers actually lined up in something similar for two plays last week; why not go with it for a full series and see what happens? Today's scrimmage against the Lions presents a perfect opportunity.
Fine, I'll ask
Five questions about today's Cleveland-Buffalo game:
Is there any truth to the rumor that the Cleveland QB situation inspired Andy Samberg to write "Throw it on the Ground"?
Where is Terrell Owens more likely to live next year -- Buffalo or Atlantis?
Will Mohamed Massaquoi drop an easy touchdown pass in tribute to the recently departed Braylon Edwards?
When Fred Jackson is in the game, does Marshawn switch from Beast Mode to Bench Mode?
Is Cleveland the Buffalo of Ohio or is Buffalo the Cleveland of Canada?
Storyline we care about
NFL ratings highest since 1989: We can't figure out for the life of us what made 1989 so special, but it's wonderful that so many people are watching the NFL this year. The first four weeks have featured fantastic battles with thrilling conclusions (the Stokley miracle, Favre to Lewis, Brandon Marshall's catch and run). Perhaps the excellent quality of the games is being rewarded with increased audiences. Or maybe television viewers are just more into beer commercials than ever before. Either way, it's great news for the league.
Storyline we don't care about
Sherman Lewis joins Redskins as consultant: Only because it's not going to make a whit of difference to the offense. It's hard to believe that the Redskins' habit of bringing in old guys past their prime now extends all the way to their offensive consultants. Did Don Coryell not return their calls? This guy's last job was with the Lions, for cripes sake. That should automatically disqualify you from future NFL employment. If a cook was fired at Applebee's, you wouldn't hire him as the executive chef at The Palm.
You know you've hired the right guy to turn things around when the first thing he has to do is go to the senior center to cancel his bingo calling. It's a shame the rest of his to-do list for that day couldn't be checked off. Here is a sneak peak:
• Instruct local youths on necessary proximity to lawn
• Check to make sure nothing has been taken from the candy dish in 25 years
• Remove pesky, unnecessary rearview mirror
• Pick up teeth from cleaners
• Write strongly worded letter to the judge who was mean to Matlock
Patrick Swayze's pep talk
Swayze's action movies were undeniably awesome, and his recent passing was incredibly sad. In a small attempt to pay tribute, we'll relay some of his words of wisdom in this space each week in an effort to fire up a particular player or team.
"Don't cry! Hold it back! Just let it turn into something else. Let it turn … into something else."
-- Jed Eckert, "Red Dawn"
Someone needs to stand up in the Baltimore Ravens and scream this speech in an appropriately over the top manor. If only they had the right guy to do it. Even if some of the calls were questionable in the game last week against the Patriots, there is no use complaining about it to the extent they did. Better off letting it turn into tackling fuel and use the motivation to plow through the rest of their opponents so they can perhaps get their revenge on New England down the line.
Most important fantasy players
David Garrard: With three must-start fantasy QBs on bye this week, the too-lightly-regarded Garrard should be active in virtually every league. Here's a little secret: Garrard's upcoming schedule means he's going to become a must-start option as well.
Mike Sims-Walker: Each year, a player with a hyphenated last name appears from seemingly nowhere to become a fantasy force. Last year gave his BenJarvus Green-Ellis and this year we get Sims-Walker. The eyes of a hopeful fantasy nation are now on you, LaRod Stephens-Howling.
Jerome Harrison: It's like last call at Club Fantasy. Both you and the Browns have to get by with somebody, and he's available.
Rashard Mendenhall: Mendenhall's 2009 plan for success:
1. Give zero effort in practice and show no interest in improving
2. Become the only player in the NFL to actually get put in timeout by his coach
3. ???
4. Profit!
We're not exactly sure what happened in Step 3, but the reigning AFC Offensive Player of the Week is in for another huge day in Detroit.
Enjoy the games, everyone.
Toby Mergler is a freelance writer based in Washington, D.C., who has previously written for MLB.com, Fanball and the Virginia Law Weekly. He can be reached at tobymergler@gmail.com.
NFL WEEK 5 PREVIEW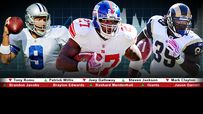 PICKS
COLUMNS/BLOG POSTS
MNF: Jets at Dolphins
FINAL WORD
POWER RANKINGS
HOT READ: Johnson, Fitzgerald duel
STOCK WATCH: Fallers, risers
ROOKIE SURPRISES
SCOUTS INC.