Commentary
Page 2's NFL Pregame Ritual, Week 6
Originally Published:
October 17, 2009
By
Toby Mergler
| Special to Page 2
Welcome back to the Pregame Ritual. It's Week 6, and the excitement of a new season has started to wear off while the playoff push hasn't quite begun in earnest. We're entering into the part of the schedule where it's possible to start taking football for granted. Don't do it. Take a minute to tell football it looks beautiful and that you truly appreciate every moment you have together. If you don't, you might lose it before you know what happened.
Here is a look at this Sunday's action.
Three key games to watch
New York Giants at New Orleans (1 p.m. ET)
One of potentially dozens of "games of the year" will take place in New Orleans on Sunday, and all signs point to it being a great one, as long as Eli Manning isn't too banged-up. The more we read about plantar fasciitis, the more painful it sounds. Since this injury affects so many people, it needs a catchier name. How about "fat man's foot," since it most often appears in the morbidly obese. Or maybe "Lohan's heel" because it's painful and annoying and never seems to go away. It would be nice if the injury report were more than just a tool for gamblers and could provide some entertainment. Seeing the phrase "Manning -- Questionable (fat man's foot)" would bring a smile to our faces.
Baltimore at Minnesota (1 p.m. ET)
A matchup from the 4 p.m. slate of games usually appears here, but this week's late games leave a lot to be desired. Instead, TiVo the Ravens-Vikings game, and stick your fingers in your ears and spin around in circles every time Fox cuts to a "Game Break." You'll get to enjoy this crucial contest unspoiled, and you can perfectly simulate how JaMarcus Russell sees the field. What a fun afternoon!
Chicago at Atlanta (8:20 p.m. ET)
Throwback uniforms are all the rage in the NFL this year. It would be awesome if the trend extended beyond jerseys and into other parts of the game. For example, this matchup provides the perfect opportunity to conduct "throwback end-zone dance" night. Every time a Bear scores, he's required to do the Super Bowl Shuffle. Every time a Falcon reaches pay dirt, he's got to break out the Dirty Bird. Ratings will go through the roof as America collectively tries to will Matt Ryan into the end zone.
STREAK FOR THE CASH PICK
If you haven't played ESPN.com's Streak for the Cash yet, you should give it a shot. It's free to play, and you could win $1 million. But beware: It's addictive.
Since it's a known fact that a football column must include some sort of pick or the universe folds in on itself, here is this week's selection:
Philadelphia winning margin over Oakland total points: It's a tough set of choices this week. Luckily there is one that allows us to bet against JaMarcus Russell. We're confident Philly is going to win by more than zero, and if this was margin of victory versus Russell's QB rating, we might still take the Eagles.
-- Toby Mergler
Play we'd like to see today
We crave fake punts and wish they happened far more often. Is any play more exciting? Because regular punts are so boring, fakes create a bigger surge of adrenaline than BASE jumping. It's like being a kid and opening up a present from your grandmother that is shaped like a book but turns out to be a video game instead. Jackpot! It would be truly awesome if a team ran multiple fake punts on the same series. If the punter ran the ball on the first one, the defense would come flying at him the second time, and he'd just have to flip the ball over their heads to a receiver slightly downfield for an easy six. The Browns really should consider making this a part of their regular offensive package. They could call it the "Fraidy Cat."
Fine, I'll ask
Five questions about Sunday's Kansas City-Washington game:
• How many cups of formaldehyde does Larry Johnson have to drink before each game to keep himself looking so stiff?
• Is there a single cool seat in Redskins Park right now?
• Who has a greater TD-to-offensive-snaps-played ratio this season: Mike Vrabel or Chiefs opponents?
• How close is Dan Snyder to going totally Washington and taking out attack ads against Jim Zorn?
• Actually, given the harsh words flying every which way among Skins ownership, coaching staff, current players and former players, any chance we might see an "Anchorman"-style street fight break out?
Storyline we care about
Vote moves SoCal stadium forward: This is a bad situation for all the cities out there with teams that are seeing their revenue decrease and attendance dwindle. With a stadium deal in place, it's been rumored that the owners of the Jaguars, Chargers and maybe even the Vikings would be interested in relocating to Los Angeles. Like thousands of young men and women across the country each year, they dream of gaining fame and fortune in sunny LA. But given that franchises keep failing in that city just like so many of these naive dreamers, here's hoping the newly relocated team doesn't end up waiting tables or performing in the adult-movie industry instead.
Storyline we don't care about
Terrell Owens on the trading block: Putting Owens on the trading block is like putting a "For Sale" sign on the old rusted-out car sitting in your side yard. You hope for the best, but deep down you don't really expect anyone to call. But kudos to the Bills if they can convert the terrible Owens signing into a few draft picks. Turning a dollar into three quarters beats the heck out of lighting the bill on fire.
Patrick Swayze's pep talk
Swayze's action movies were undeniably awesome, and his recent passing was incredibly sad. In a small attempt to pay tribute, we'll relay some of his words of wisdom in this space each week in an effort to fire up a particular player or team.
"This was never about the money; this was about us against the system. That system that kills the human spirit. We stand for something. We are here to show those guys that are inching their way on the freeways in their metal coffins that the human spirit is still alive."
-- Bodhi, "Point Break"
These words should ring out in both the Cincinnati and Denver locker rooms this week. Both teams were considered DOA before the season even started by most prognosticators, but now they both stand comfortably atop their respective divisions, having combined to topple preseason darlings New England, Pittsburgh and Green Bay in stunning upsets. Take a bow, guys -- you've served as an inspiration to fans of downtrodden teams everywhere.
Most important fantasy players
Tom Brady: No more excuses. Peyton Manning shredded the Titans for 309 yards and three scores on the road last week. If Brady doesn't have a big game against the same pitiful Tennessee secondary, he's going to lose the fantasy community's trust completely. If that happens -- given that he has only millions of dollars, three Super Bowl rings and a supermodel wife to fall back on -- we're not sure how he can continue to find the will to live.
Matt Hasselbeck: Hasselbeck wasn't on the injury report this week, which started a small panic in the Pacific Northwest, as people assumed that meant he was dead. But it turns out he's very much alive, finally healthy, and ready to carve up the Cardinals' porous pass defense. If you need a last-second quarterback to start, this is definitely your man.
Knowshon Moreno: Take one bad run defense, mix in 20 carries and add a dash of national spotlight, and it sounds like the recipe for a breakout performance to me.
Maurice Jones-Drew: After complaining about the Jags' commitment to the running game, Jones-Drew could have the kind of day that wins a fantasy matchup single-handedly. MJD gets to face a St. Louis defense so bad that if they played in an old-timers game against former Rams, we'd put 49-year-old Eric Dickerson in our lineup in a heartbeat.
Enjoy the games, everyone.
Toby Mergler is a freelance writer based in Washington, D.C., who has previously written for MLB.com, Fanball and the Virginia Law Weekly. He can be reached at tobymergler@gmail.com.
NFL WEEK 6 PREVIEW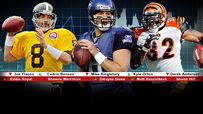 PICKS
POWER RANKINGS
FINAL WORD
FANTASY
HOT READ: CENTER STAGE
STOCK WATCH: Fallers, risers
COLUMNS/BLOG POSTS
SCOUTS INC.