Commentary
NFL Pregame Ritual (Week 7)
Originally Published:
October 24, 2009
By
Toby Mergler
| Special to Page 2
Welcome back to the Pregame Ritual. Last week, the impact of Sam Bradford's injury was felt immediately as the Chiefs, Raiders and Bills all immediately stopped tanking. This is no good. Without laughingstocks, there can be no cheap shots and therefore no column. Without this gig, we'd have to fall back on our day job of being unemployed. So come on Browns, keep up the good work. Daddy needs you right now.
Here is a look at Sunday's action.
Three key games to watch
[+] Enlarge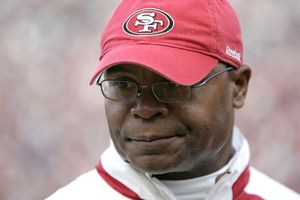 AP Photo/Paul Sakuma We think it's fairly safe to say there isn't a coach more intense than "Samurai" Mike Singletary.
San Francisco at Houston (1 p.m. ET)
Every time we see the "Super Bowl Shuffle" (which is often), we understand the Mike Singletary pants-dropping incident a little bit better. "Samurai" Mike had to institute prison rules, doing something crazy the first day so no one would mess with him. Otherwise, he'd probably have to listen to Vernon Davis imitate his rap ad nauseam. Instead, Singletary has turned the 49ers into one of the more compelling teams of the season. They aren't going to win the title this year, but they are getting more out of less than any other team in the league. This week, they face a Texans team that seems to be getting less out of more, as the popular preseason sleeper features playoff-level talent but has struggled to break .500 this season -- or any season, for that matter. The game should be great because Houston can't defend the run and the 49ers are below average against the pass. Hello, fantasy points. But if the game stinks, distract yourself with this.
Chicago at Cincinnati (4:15 p.m.)
Is the "Benson Bowl" the least likely bowl of all time? It has to be close. After two arrests last year, Benson seemed more likely to serve 1,000 hours of community service than gain 1,000 yards. But now he's one of the top backs in football and at the forefront of one of the best games of the week. What a great story. Maybe this will start a trend and we can look forward to watching the "Leaf Bowl" next season.
Arizona at New York Giants (8:20 p.m.)
The Giants' blowout loss to the Saints sent more people scrambling for their remotes than George Lopez. In order to still be considered an elite team, the G-Men need to redeem themselves against Arizona and its excellent passing attack. If you are a New York fan, you have to be hoping for bad weather after Giants cornerbacks produced the most regrettable performance captured on video since
Miley Cyrus' rap video
. If the ball stays dry and the winds stay calm, the New York secondary could be in for another long night against Kurt Warner and friends.
Play we'd like to see today
STREAK FOR THE CASH PICK
If you haven't played ESPN.com's Streak for the Cash yet, you should give it a shot. It's free to play, and you could win $1 million. But beware: It's addictive.
Since it's a known fact that a football column must include some sort of pick or the universe folds in on itself, here is this week's selection:
Total interceptions in Jets/Raiders -- 2 or more: We were burned last week by JaMarcus Russell, but no one has ever gone broke gambling against a quarterback completing 46 percent of his passes. Even when Russell plays well, he gets picked twice. Throw in the Sanchize's recent struggles (eight interceptions in his past three games), and this one is in the bag.
-- Toby Mergler
Quarterbacks behaving unusually (blocking, running, not crying to the refs after a light brushing) is always entertaining, and it's been far too long since we saw the ol' "pitch right and throw back deep to the QB" move. Last time we remember seeing it was in "Necessary Roughness," when Scott Bakula's character, Paul Blake, used it to take down the No. 1 Texas Colts. Brett Favre is a lot like Blake (past-his-prime QB gets talked into coming down off his tractor for one more shot at glory) and would be perfect for this play. No way a defense would suspect he could get that far downfield without his walker.
Fine, I'll ask
Five questions about today's Atlanta-Dallas game:
• Does Wade Phillips get distracted by all the Realtors camped out on his lawn?
• Does he get confused by their formation and turn to his wife to signal timeout?
• If the game is tied at the end of regulation, do you think Tony Romo and Matt Ryan would rather play overtime or settle it with a "Zoolander" style walk-off?
• Might we see a telethon to raise money for the Cowboys?
• Do all NFL teams have pep rallies like the Falcons'? Do the Lions hold theirs at a funeral parlor?
Storyline we care about
Saints use Bush to simulate Wildcat in practice: Man, this would have been fun to watch. The Saints offense is way too good to mess with, but maybe running the Wildcat is actually what Bush was meant to do. With his salary-cap figure set to soar to more than $13 million in 2010, it's not a lock he will be back in New Orleans next year. If he does leave, he should go to a team that uses this formation. Give him 10 Wildcat snaps and use him out of the backfield every third down. He'd wreak havoc on defenses. We've made several jokes at Bush's expense this season, but we're not kidding here. He'd be awesome. This is his destiny.
Storyline we don't care about
[+] Enlarge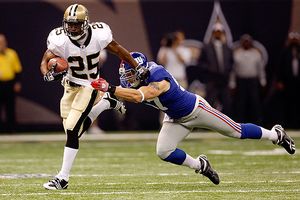 Chris Graythen/Getty Images Reggie Bush could be electrifying in the Wildcat offense, but we're guessing the Saints aren't planning on changing anything offensively.
Jason Campbell and Todd Collins adapt to new plan: Can't the madness just end? After suffering through the Nats' FAILicious season, D.C. fans are subjected to this. Why, oh why do these teams have to be so spectacularly embarrassing? Can't they just be like Kansas City teams and lose gracefully? The play-calling story is ridiculous. It's like a bad "Three Stooges" short. Daniel Snyder is playing Moe, the short-tempered clueless leader who reacts without thinking. Sherman Lewis is Larry, the good-natured guy trying to make the best of the situation even if he's overwhelmed. Jason Campbell is left playing the role of Curly, constantly improvising and trying to make up for the mistakes of others, but always failing along the way. Jim Zorn is Shemp, on the outside looking in and only allowed to perform when needed. Everyone else thinks it is funny, but Redskins fans can't laugh because they are too busy being poked in the eyes.
Patrick Swayze's pep talk
Swayze's action movies were undeniably awesome, and his recent passing was incredibly sad. In a small attempt to pay tribute, we'll relay some of his words of wisdom in this space each week in an effort to fire up a particular player or team.
"Well, pumpkins, it comes down to that age-old decision: style … or … substance?"
-- Vida Boheme, "To Wong Foo, Thanks for Everything! Julie Newmar"
Hey, San Diego Chargers, which is it going to be? For all the talk of the team's talent, the Chargers can never seem to win a game they have to have. If they continue to be all hype and no heart, we would rather road-trip across the country with a bunch of drag queens than watch them fold in the playoffs again. It's time to step up or step off.
Most important fantasy players
Shaun Hill: Because six teams are on their byes, Hill will be starting in many leagues this week. He doesn't get enough respect in the fantasy community. We're talking about a guy who once tied for second-most touchdown passes in the league. It was NFL Europe, but the point still stands.
Steve Breaston: He's this week's biggest gamble. If Anquan Boldin can't go and the weather holds, he could be among the best plays of the week. And if Lindsay Lohan stopped waging war on her own body, she could be hot again. Neither is exactly a sure thing.
Lance Moore: Why is Moore, the second option in the league's best passing game, owned in fewer leagues than Fred Taylor? Call me crazy, but I'd rather have the guy who's healthy.
Laurence Maroney: Oh boy, here we go again. Owning Maroney is a lot like coming across deviled eggs at a picnic. Once a year, they look irresistible. Before you know it, you're spending hour No. 3 in the bathroom and wondering where it all went wrong. Don't eat the eggs, dude. They might be delicious at first, but you'll regret it later.
Enjoy Week 7, everyone.
Toby Mergler is a freelance writer based in Washington, D.C., who has previously written for MLB.com, Fanball and the Virginia Law Weekly. He can be reached at tobymergler@gmail.com.
NFL WEEK 7 PREVIEW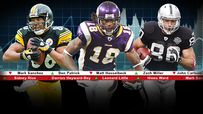 PICKS
POWER RANKINGS
MNF: Eagles at Redskins
FINAL WORD
HOT READ: JaMarcus Russell
UNDERACHIEVERS
STOCK WATCH: Fallers, risers
COLUMNS/BLOG POSTS
SCOUTS INC.