Commentary
NFL Pregame Ritual (Week 8)
Originally Published:
October 31, 2009
By
Toby Mergler
| Special to Page 2
Welcome back to the Pregame Ritual. Last week, we pleaded for the laughingstocks to return to form for the sake of this column. But after the Browns, Chiefs, Rams, Bucs and Raiders combined to lose by a score of 173-23, we would like to revise our statement. Please play bad enough to be made fun of, but not so bad that the early games are less competitive than a rap battle between Eminem and J.J. Redick. Or at least coordinate so that you take turns getting blown out and don't all do it in the same week. Is that really too much to ask?
Here is a look at the action in Week 8.
Three key games to watch
New York Giants at Philadelphia (1 p.m. ET)
You gotta love Google. If you search "New York Philadelphia Rivalry," one of the top results is a N.Y. Times article. Not unusual, until you see it's from 1852. It's amazing how easy it is to use new technology to reignite old prejudices. It's appropriate since, between the Eagles hosting the Giants and the Phillies hosting the Yankees, Sunday represents the biggest battle set in Philadelphia between representatives of the two great cities since the Constitutional Convention. If they sweep both of them, some fans in Philly might think these games represent an even greater moment in history.
Denver at Baltimore (1 p.m.)
Because of the World Series there is no Sunday night game, so football fans need to really give it their all during the full 1 p.m. slate of games. If you can't make it to the sports bar because you are too hung over from a Halloween party or too sick to your stomach from eating all your kids' mini 3 Musketeers, then you'll definitely need to bring down the TV from the bedroom so you can fire up two games at once. You'll certainly want to see the most unlikely battle of top quarterbacks this season. Flacco and Orton sounds more like a '70s folk duo than a marquee matchup, but both have far exceeded expectations this year and they should put on quite a show in this critical contest.
Minnesota at Green Bay (4:15 p.m.)
We just can't figure out the big storyline here. Is it Jared Allen going against an offensive line that's allowed a league-high 4.25 sacks per game? Is it the resurgence of Donald Driver and the corresponding disappearance of Greg Jennings? Is it Adrian Peterson's assault against our nation's health care system as he continues to injure anyone foolish enough to attempt to tackle him? Hopefully someone will talk about what it might be before kickoff on Sunday.
Play we'd like to see Sunday
Has anyone ever run a flea-flicker in a goal-line situation? With teams biting on running plays down there, it seems like a quick handoff and pitch back could allow a tight end to slip out undetected into the end zone where he'd be so lonely, he might set up a Match.com profile while waiting for the ball to arrive.
We're torn on whether this play would best be utilized by the Raiders. On one hand, if they could actually pull this play off without fumbling, the whole defense might be so shocked that all 10 men would be left uncovered. But on the other hand, the guy in the 12th row that is JaMarcus Russell's favorite target is always open. There's no need to resort to gadgetry.
Fine, I'll ask
Five questions about Sunday's Tennessee-Jacksonville game:
• Is there any chance Titans owner Bud Adams also owns Vince Young in a fantasy league and just reeeallly needed a fill-in quarterback for Tom Brady?
• If you are a Titans fan, do you really want the guy who picked out this shirt also picking out your QB?
• Will this game be so bad that you'll become convinced that everyone on the field are just regular people who dressed up as football players for Halloween?
• Amid rumors that they might be moving to either L.A. or London, when do we stop calling them the Jacksonville Jaguars and start calling them the Team To Be Named Later?
• After Jeff Fisher wore a Peyton Manning jersey, isn't it only fair that Peyton grow a Jeff Fisher moustache?
STREAK FOR THE CASH PICK
If you haven't played ESPN.com's Streak for the Cash yet, you should give it a shot. It's free to play, and you could win $1 million. But beware: It's addictive.
Since it's a known fact that a football column must include some sort of pick or the universe folds in on itself, here is this week's selection:
Houston over Buffalo: The Texans average nearly 28 per game on the road. The Bills have scored 10 points combined in their last two home games and have given up more than two yards for every yard they've gained over the last two weeks. You don't need Ryan Fitzpatrick's Harvard pedigree to know how this contest is going to turn out.
-- Toby Mergler
Storyline we care about
Signs banned from FedEx Field
Look, we really don't like writing about the Redskins every week, but they just can't seem to stop generating ridiculous stories. There are plenty of die-hard sports fans in the D.C. area -- some have even written columns defending the Nats, in the midst of their embarrassing season. However, we are having a hard time doing the same thing for the Redskins. It's a real shame, but the Skins' stuff is just more painful, as the team has been a big part of our life since birth. Watching the Nats fail is like having a kid who constantly brings home C's on his report card bring home a C-minus. Maybe you had higher hopes for them, but you still love them for who they are. Watching the Redskins spiral downward is more akin to your significant other telling you they are getting a gender-change operation. You've loved them and cherished them, but they are suddenly transitioning into a fundamentally different form. And you are left ... confused.
Storyline we don't care about
Chiefs' Haley only NFL coach who never played
The Chiefs were right to suspend Larry Johnson. He's been stealing money from them all season, they might as well steal some back. But the fact that Todd Haley is being hit with this criticism is ridiculous. The poor guy grew up studying all aspects of the game and learning every little detail inside and out. Who cares if he never played? Haley should be lauded for getting a head start on obtaining the experience and insight needed to become a head coach, instead of judged for not earning a useless football pin for his high school letter jacket. It's like criticizing a doctor because he didn't spend his formative years playing "Operation." When it's time for you to get cut open, wouldn't you rather be in the hands of the surgeon who spent that time reading medical books?
Patrick Swayze's pep talk
Swayze's action movies were undeniably awesome, and his recent passing was incredibly sad. In a small attempt to pay tribute, we'll relay some of his words of wisdom in this space each week in an effort to fire up a particular player or team.
"I ought to plug you two right now, but I make it a rule never to kill a man on Sunday."
-- Pecos Bill, "Tall Tale"
While this quote isn't as inspirational as others, someone should still read it to the Tennessee Titans. It might make them feel better to know they aren't the only ones who back down from a fight on Sundays.
Most important fantasy players
Marc Bulger: With six teams on bye, many desperate owners have no choice but to turn to the Rams' QB for help. Bulger has played poorly all season, but this week he gets a Lions defense that is allowing over 250 yards per game. Last time he played Detroit, he threw for 328 yards and three scores. Of course, that was in 2006, back before he began looking so stiff that he might as well be frozen in carbonite.
Ricky Williams: In 2006, if you told your friends that Ricky Williams would be a better fantasy back than LaDainian Tomlinson within three years, how many would have responded by asking, "Are you and Ricky smoking the same thing?" and laughing at their own joke? The answer is somewhere north of 100 percent. Yet here we are and Ricky is burying LDT week after week.
Sidney Rice: Brett Favre carved up the Packers for 271 yards and three scores in their first meeting, and since then, Rice has emerged as his go-to guy. He's poised for a big day, but no way he makes another play as good as he made last week. The refs seem to hesitate as they struggled to come up with the proper hand gesture for "impossible."
LeSean McCoy: McCoy was given the nickname "Shady" because, as an infant, he would laugh one minute and cry the next. Let's hope he plays well enough today that putting him in your lineup makes more sense than that explanation.
Enjoy Week 8 everyone.
Toby Mergler is a freelance writer based in Washington, D.C., who has previously written for MLB.com, Fanball and the Virginia Law Weekly. He can be reached at tobymergler@gmail.com.
NFL WEEK 8 PREVIEW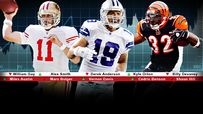 PICKS
POWER RANKINGS
MNF: Falcons at Saints
FINAL WORD
STOCK WATCH: Fallers, risers
COLUMNS/BLOG POSTS
HOT READ: Green Bay GM Ted Thompson
JOE FLACCO
HOW LONG WILL IT LAST?
FANTASY
SCOUTS INC.
PAGE 2