Commentary
NFL Pregame Ritual (Week 15)
Originally Published:
December 18, 2009
By
Toby Mergler
| Special to Page 2
Welcome back to the Pregame Ritual. With Christmas Day less than a week away, you may be asking yourself what to get for the NFL player who has everything. We'll be buying two copies of "Fight Night Round 4" and an Xbox Live subscription for Chad Ochocinco and Shawne Merriman, a pair of 18-1 T-shirts for Peyton Manning and Drew Brees to help them stay focused, and 53 "Hello Kitty" calendars for Rams players so they can count down the days until next season.
Here's a look at this weekend's action:
Three key games to watch
Miami at Tennessee (Sunday, 1 p.m. ET)
[+] Enlarge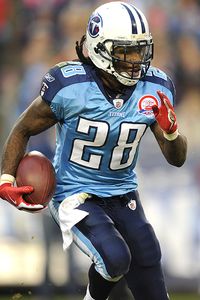 Don McPeak/US PresswireChris Johnson, on pace to rush for 2,001 yards, might have backup LenDale White considering a pitcher of margaritas.
We know this isn't exactly breaking news, but the season Chris Johnson is having is remarkable. and it's becoming increasingly likely that kids today will someday think about him the way we do about Barry Sanders. People our age talk about Sanders in hushed tones and describe him less like a football player than as a mythical force. After yet another monster performance last week, Johnson is approaching that realm. Check out these two runs. How does he get near so many people, yet barely even get touched? It's beginning to look like Johnson belongs in "Heroes." Just like the Japanese dude in that show, he seems to have the ability to keep moving while everyone else is standing still.
Green Bay at Pittsburgh (Sunday, 4:15 p.m.)
Everyone has written Pittsburgh off, but until the Steelers are mathematically eliminated, we refuse to count them out. Check the schedule. They still have games against the Ravens and Dolphins, two of the teams ahead of them in the wild-card race, and if they can beat the Packers, they'll pull even with the Jaguars. Sure, it's highly unlikely, but we think they're like Uma Thurman in "Kill Bill." They've been left for dead and buried alive, but as long as they have breath remaining, we'll never be sure they won't find a way to punch themselves out of their grave and make the playoffs.
Minnesota at Carolina (Sunday, 8:20 p.m.)
Carolina is one of the most injury-riddled teams in the league, having placed 10 players on injured reserve. Each football season is so preciously short and the offseason is so exasperatingly long that having a promising year undercut by so many injuries is frustrating for players and fans alike. But it's not all bad. At least Carolina fans will get to watch Adrian Peterson run wild, and that's always entertaining, right? At this point, the Panthers are clearly playing for next year. The only real question remaining is whether Jake Delhomme and his 59.4 passer rating come back in time to improve the Panthers' draft position.
Play we'd like to see today
With just a few weeks left in the season, Philadelphia is really opening up its playbook and showing some innovation. One play in particular got our attention last week. Michael Vick took a shotgun snap and handed off to LeSean McCoy, who then pitched it back to Donovan McNabb, who was coming back on an end-around. McNabb seemed to be looking for Vick deep but checked down to Brent Celek instead. It didn't result in a big play, but it was interesting. We'd like to see them take it one step further. After getting the pitch, McNabb could lateral to McCoy, who could then throw downfield to DeSean Jackson, thus setting an NFL record by having three people with a capital letter in the middle of their name touch the ball on a single play. Plus, it would closely resemble the Harlem Globetrotters' magic circle.
Storyline we care about
[+] Enlarge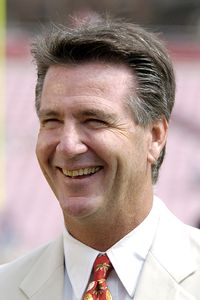 Al Messerschmidt/Getty ImagesBruce Allen will try to revive the franchise his father, George, coached to a Super Bowl VII berth.
Redskins hire Bruce Allen after Vinny Cerrato resigns: This is great news for Redskins fans, as a change was necessary to restore hope during such a disastrous year. We feel a little bad for Cerrato, though. We hope Dan Snyder thanked him for his service. His delivery of fresh fruits and berries to Snyder's office every morning was exquisite. Is it possible Snyder fired Cerrato now so he didn't have to give him a Christmas tip? Snyder's doorman and gardener better watch out. They could be next.
Storyline we don't care about
Pepsi pulls out of Super Bowl advertising: Back when the Super Bowl was a blowout every year, we could tolerate people who said they only watched the game for the commercials. Now we look at them the same way we do anyone wearing Smittens. We're in the middle of the best run of Super Bowls in history, with the past two being absolute classics and six of the past 10 being decided by one score. Sure, Pepsi has produced some great commercials for Super Bowls past, but let's keep the speculation on potential Super Bowl teams, not potential advertisers. If you need an ad fix, watch this one, this one and this one.
Patrick Swayze's pep talk
Swayze's action movies were undeniably awesome, and his recent passing was incredibly sad. In a small attempt to pay tribute, we'll relay some of his words of wisdom in this space each week in an effort to fire up a particular player or team.
"Look, spaghetti arms. This is my dance space. This is your dance space. I don't go into yours. You don't go into mine. You gotta hold the frame."
-- Johnny Castle, "Dirty Dancing"
We imagine this is approximately what Tom Brady said to Randy Moss on the sideline last week, and probably led to a recreation of the movie's memorable big finale, with Moss running down the locker room and jumping up as Brady held him overhead.
Most important fantasy players
Kurt Warner: It would be nice if Warner could tip off owners as to how he feels before a game, because he's been inconsistent in recent weeks. Maybe he could shave a thumbs-up or thumbs-down into his stubble. When he has a great matchup like he does against the Lions, he could even go with double thumbs pointing at his mouth as he smiles. You'd want to start that guy for sure.
Knowshon Moreno: The talented rookie is finally alone in the Broncos' backfield, just in time for a home game against the Raiders. As a result, owners opposing Moreno this week will likely end up looking like this.
Randy Moss: We agree with Eric Karabell: If you're even thinking of sitting Moss, you should develop alligator arms while reaching for the keyboard. Stop your pattern short before you get to the mouse.
Arian Foster: We're 99.9 percent sure that you, the reader, and Foster were in the same position five weeks ago: not on the Texans' active roster. Now, thanks to a Houston backfield that changes running backs as often as the "Jersey Shore" cast changes personalities, the former practice-squadder is a legit play during the most important fantasy week to date. Amazing.
Toby Mergler is a freelance writer based in Washington, D.C., who has previously written for MLB.com, Fanball and the Virginia Law Weekly. He can be reached at tobymergler@gmail.com.