Commentary
Top tourist attractions for NBA players
Originally Published:
January 27, 2010
By
Toby Mergler
| Special to Page 2
NBA players travel a lot, and not just on the court. They are on the road a large percentage of the season, and their combination of wealth, fame and youth guarantees constant exposure to an endless array of dangerous temptations. Now that NBA teams have started banning playing cards for money, players will have even more free time on their hands to potentially find outside trouble.
Page 2 doesn't take any joy in these off-court scandals (I almost got through writing that with a straight face), so we thought we'd try to help out by putting together a little travel guide for NBA players highlighting an attraction in each city that features good, clean, touristy fun.
Baseball Gear Coke Bottle (Atlanta) -- This 38-foot-tall ode to consumerism is made up entirely of discarded baseball equipment. It's too bad there isn't an NBA team in Seattle anymore. Players will miss out on the chance to visit the replica of the Space Needle made solely out of used steroid syringes.
Museum of Bad Art (Boston) -- Let's face it, looking at masterpieces can get boring, but making fun of things that suck never gets old. (You're welcome, commenters, I know I just left myself wide-open to your attacks.) This collection of terrible artwork is mesmerizing. NBA players will especially enjoy the wing dedicated to athletes who try to rap.
Land of Oz Theme Park (Charlotte) --The car trip to Beech Mountain, N.C., is nothing compared to the tornado ride usually required to reach Oz. Besides, if you're Vince Carter, the time spent in the car is totally worth it. How else are you ever going to get a heart?
Two-Story Outhouse (Chicago) -- Located in Gays, Ill., a few hours outside the city, it's a must-visit for anyone really into novelty toilets. You should probably use the restroom ahead of time, though. Lines for the top stall can get pretty long, as the bottom one is reserved solely for members of the New Jersey Nets.
History of Contraception in America (Cleveland) -- Players should think of their visit to this exhibit at Case Western Reserve University as an investment. Armed with their newly acquired knowledge, players should be able to properly quiz the women they meet at clubs before heading home, thus cutting down on potential child support payments down the road.
Conspiracy Museum (Dallas) -- Never has so much paranoia been gathered in one place (though LeBron James' last home game this season might shatter that mark.) The museum actually houses several pieces of NBA memorabilia, including the Knicks' envelope from the 1985 draft lottery (they picked Patrick Ewing with the first pick), Michael Jordan's minor league baseball contract, and the compromising photos Rashard Lewis' agent had of Orlando Magic executives that forced them to massively overpay for his services.
[+] Enlarge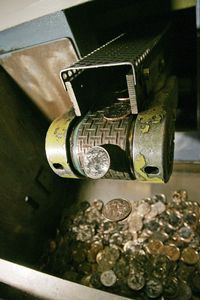 AP Photo/Jack DempseyGuess NBA players really don't have much use for coins.
United States Mint (Denver) -- This is one of only two places in the country where you can watch coins being made. For many players, this might actually be the first time they've seen change since entering the league and signing their multimillion-dollar deals. It's probably for the best, though, as making it rain with quarters could inflict some serious damage.
American Museum of Magic (Detroit) -- After visiting this museum and learning magicians' secrets, players may finally know how David Stern made the Sonics disappear.
World Famous Bushman (Golden State) -- This hustler entertains tourists in San Francisco by jumping out from behind a plant to scare people. His secret weapon is a life-size poster of this photo.
Space Center (Houston) -- This looks like a really fun place. Visitors get to watch astronauts train, use a simulator to land a space shuttle and learn all about Sam Cassell's home planet.
NCAA Hall of Champions (Indiana) -- This museum provides an excellent opportunity to marvel at the accomplishments of those players who weren't good enough to go straight to the NBA.
La Brea Tar Pits (Los Angeles) -- Players should check out the groups of woolly mammoths frozen in place at this famous tourist attraction. If it looks familiar to them, they are probably thinking about the Wizards' team defense.
The Pink Palace Museum (Memphis) -- Please note that this is the only establishment in the world called the Pink Palace that players may visit without ending up in the kind of trouble we are trying to avoid.
Jungle Island (Miami) -- Miami is a great place to hang out with other celebrities, and at Jungle Island you can visit the famous flamingos that appeared in the opening credits of "Miami Vice." Try not to get too starstruck. You can also watch a bird ride a bicycle, thus simulating the effects of hallucinogens without having to worry about getting caught or your teammates raiding your stash.
The Bronze Fonz (Milwaukee) -- It seems a little silly to include this statue in this guide. Given the rampant popularity of "Happy Days" among today's NBA players, we assume they all have already visited this sculpture multiple times.
Jolly Green Giant Statue (Minnesota) -- You'll have to drive a couple hours to see this tribute to the iconic pitchman, but it's worth it. Inside is the actual max contract that Isiah Thomas once offered the monument to play for the Knicks.
Thomas Edison National Historical Park (New Jersey) -- Not only will this trip allow NBA players to pay tribute to the man who paved the way for many of the most important things in their lives (namely, Xbox and Xbox accessories), but they'll also get to see the world's second-biggest lightbulb. The biggest, of course, is the one that appeared above Mitch Kupchak's head when he came across Chris Wallace's business card in his sock drawer right before the Pau Gasol trade.
Psychic Readings (New Orleans) -- There are plenty of places to get your fortune read in the French Quarter. Readings typically cost only a few dollars, but can be more if someone has put a curse on you and you want it removed. (Spoiler alert: This economic model guarantees that you've been hexed.) Still, if you are a member of the Clippers, you better bring a couple thousand bucks with you, just in case.
[+] Enlarge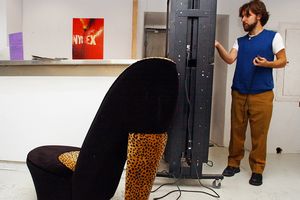 AP Photo/Suzanne PlunkettYes, that is a giant high-heel shoe, at the Museum of Sex. Wonder if Shaq's foot would fit?
Museum of Sex (New York) -- Finally, a museum that NBA players will actually truly enjoy. Unfortunately, there aren't many interactive exhibits, but you can see Wilt Chamberlain's headboard while gathering knowledge that will cause typical locker room talk to take on a scholarly tone.
Frontier City (Oklahoma City) -- This Old West-themed amusement park features a ride where you get to engage in a simulated shootout. (Insert Gilbert Arenas/Javaris Crittenton joke here.)
Titanic: The Experience (Orlando) -- This interactive exhibit allows players to experience all the fun of being on a doomed, sinking ship without having to be traded to the Pistons.
Eastern State Penitentiary (Philadelphia) -- Al Capone's vacation home is now a popular tourist attraction, with many visitors swearing they've seen ghosts wandering the halls. The 76ers considered moving their home games here, hoping that Allen Iverson might show up.
Desert Botanical Gardens (Phoenix) -- I don't know about you, but when I think about the desert, flowers immediately come to mind. Visitors have to follow only one rule: Nobody touches the Shaqtus.
Velveteria (Portland) -- How can anyone resist taking in the visual splendors of this extensive collection of velvet paintings? Players should make sure to study the one depicting a jackalope riding a unicorn galloping on a rainbow in outer space. Rumor has it that this painting served as Don Nelson's inspiration for assembling Golden State's current lineup.
Country Club Lanes (Sacramento) -- I'm not sure which is sadder -- that this bowling lane/laser tag center is ranked by several travel sites as one of Sacramento's top attractions, or the fact that it's way higher on the lists than the Kings.
Cathedral of Junk (San Antonio) -- Located in nearby Austin, Texas, the Cathedral of Junk is a towering structure built out of 60 tons of discarded debris by one man in his backyard. People have been questioning his motivation for years, but I think he just wanted to prove he was qualified to run the Timberwolves.
CN Tower (Toronto) -- While it may no longer be the world's tallest building, the view from the top is still spectacular. On a clear day, you can almost see all the way to the city where Chris Bosh will be playing next season.
Bingham Canyon Mine (Utah) -- Known as the "biggest pit in the world," if this giant hole had stadium seating it would hold 9 million people. Not to be outdone, Jerry Jones gave shovels to all Cowboys employees for Christmas, with a note attached that read "Start digging."
National Museum of Crime and Punishment (Washington) -- This is the last museum you want to find an entire exhibit based on your life. Be careful when you visit, as it's in a rough neighborhood. It's located across the street from the Wizards' locker room.
Toby Mergler is a freelance writer based in Washington, D.C., who has previously written for MLB.com, Fanball and the Virginia Law Weekly. He can be reached at tobymergler@gmail.com.