By Jeff Merron
Page 2
It's an underdog movie about the ultimate underdog team, so we were excited when "Major League," which came out in 1989, finally made its small disc debut on March 1 (unfortunately, without any DVD extras). And we got even more psyched when we got the chance to vote for it as one of the best 25 sports movies of the past 25 years .
Obviously, "Major League" is a total screwball comedy. But just how total? You be the judge.
CLEVELAND ON FIRE

In Reel Life: As the film opens, we hear an musical ode to Cleveland: "Cleveland, city of light, you're calling me ..."
In Real Life: That's Randy Newman singing "Burn On," from his 1972 album, "Sail Away."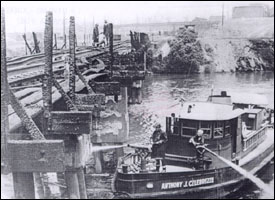 Cleveland became a national joke when the Cuyahoga River caught fire in 1969.
Some sample lyrics:
"There's an oil barge winding
"Down the Cuyahoga River
"Rolling into Cleveland to the lake


"& Cleveland, even now I can remember
"'Cause the Cuyahoga River
"Goes smokin' through my dreams


"Burn on, big river, burn on"
The Cuyahoga became infamous when it caught fire on June 22, 1969, at a spot just southeast of downtown Cleveland. An oil slick on the river burned for about 25 minutes, reaching a height of five stories before fireboats came to the rescue. It was one of at least three fires on the Cuyahoga; it also caught fire in 1936 and 1952.
The 100-mile river was so heavily polluted by oil and other industrial waste that it helped inspire the Clean Water Act of 1972. Major efforts have been made to curb pollution and clean up the river since, and in 1989 the New York Times reported that it "is no longer flammable." Fish have recently started to come back. But you wouldn't want to eat them -- or swim in the river.
THE HOPELESS INDIANS
In Reel Life: Newspaper headlines recap the Indians' long run of futility -- they last won a World Series in 1948 and a pennant in 1954.
In Real Life: David Ward, who wrote and directed the film, was an Indians fan. "One of the biggest disappointments of my young life was when the Cleveland Indians lost the World Series to the Giants," he told the L.A. Times. "I followed (the Indians) over the years, hoping they would return to glory. Thirty-four years later, they still haven't won anything. I wanted to do a film about an underdog team and I can't think of a more underdog team than Cleveland."
The Indians would finally make the playoffs for real in 1995 -- six years after the movie's release. (They lost the World Series to Atlanta in six games.)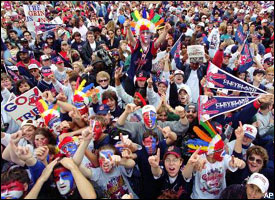 Indians fans could finally celebrate for real in 1995.
In Reel Life: Rachel Phelps, the "ex-showgirl wife" of the team's owner, who has died, now runs the team. She wants to move the Indians to Miami, but has a stadium lease that she can only break under only one condition -- if season attendance is below 800,000.
In Real Life: The Indians had some lean years in Cleveland in the 1980s, with an average attendance of only 719,000 between 1983 and 1985, when they battled to be one of the worst teams in the majors. In 1986, the Indians had their best season since 1968, finishing with an 84-78 record, which boosted attendance to 1.4 million. Even though the team dropped to 61-101 in 1987 and stayed well below .500 for years to come, attendance never dropped below a million again.
THE BALLPARKS
In Reel Life: The Indians' spring training park is Hi Corbett Field; catcher Jake Taylor (Tom Berenger) arrives in a cab that has an ad for the Tucson Toros on the side.
In Real Life: The Indians' moved their spring training base to Winter Haven, Fla., in 1993, but in 1988, when the movie takes place, their spring training home was Tucson's Hi Corbett Field, used by the Pacific Coast League Toros (now the Sidewinders) during the regular season.
In Reel Life: The Indians play at Cleveland Municipal Stadium -- early in the film, there's an aerial shot of the stadium with a huge "Cleveland Browns" sign on the side.
In Real Life: That shot is Cleveland Stadium, but all of the baseball action takes place at Milwaukee County Stadium.. One hint: the sign at the top of the scoreboard advertising WTMJ TV 4. That's the NBC affiliate in Milwaukee.
THE PLAYERS
In Reel Life: Jake Taylor is an aging former All-Star catcher who has bad knees and is playing in Mexico when he gets an invitation to play for the Indians.
In Real Life: Berenger, who worked with former big leaguer Steve Yeager to perfect his catching skills, really did have some serious injuries to work through -- he'd broken his left hip and knee in a car accident just a few years earlier. Berenger, who had played action roles in movies like "Platoon," said the physical part of his role was "not as easy as it used to be."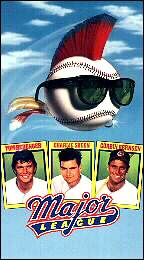 It sure seemed ridiculous back in '89 that the Indians could win a pennant.
In Reel Life: Taylor makes it look pretty easy -- he shows little wear as the season goes on and appears in fine shape even in the playoff game.
In Real Life: Berenger had a tough time. The movie was filmed during a very hot Milwaukee summer, and, David Lida reported in Elle Magazine that Berenger suffered from heat exhaustion. "Berenger became queasy one night and headed for the trailers," Lida wrote. "There he met a young man who requested his autograph. 'I threw up twice and I had the dry heaves twice,' he recalls. 'But he still kept asking for my autograph. He wouldn't quit. It was the most disgusting and insensitive thing I ever saw. Finally, I just told him to get the [expletive] out of there. You're not paid to sign autographs -- you're paid to act.'"
In Reel Life: Taylor says he makes the league minimum.
In Real Life: In 1988, the MLB minimum was $62,500; it rose to $68,000 in 1989. This year, it's $300,000.
In Reel Life: Eddie Harris (Chelcie Ross) is an aging spitballer who uses Crisco, Vagisil, and, in a pinch, a jalapeno byproduct to doctor the ball. "If the umps are watching me close I just rub a little jalapeno inside my nose get it running and if I need to load the ball up a little just (makes sniffing noise) wipe my nose," he explains to Rick "Wild Thing" Vaughn (Charlie Sheen). Sheen asks in wonderment, "You put snot on the ball?"
In Real Life: Harris better be doing something to the ball, as he's one of the worst movie pitchers ever, and also would have been one of the oldest regular starters of all time -- Ross was 46 before the movie came out.
Gaylord Perry, the great spitballer, didn't even pitch that long -- he was 44 when he hung up his medicine cabinet after 22 seasons in the majors. Perry, like Harris, usually relied on Vaseline, but he experimented. "Man, I tried everything," Perry said. "When my wife was having babies the doctor would send over all kinds of stuff and I'd try that, too. Once I even used fishing line oil."
In Reel Life: Rick "Wild Thing" Vaughn was in prison when he got the call to pitch for the Indians. When asked, he says he last played in the "California Penal League."
In Real Life: There's no "California Penal League," of course, but San Quentin has two teams, and regularly play games against "free" teams --always with the home-team advantage.
In Reel Life: Vaughn has a wicked and wild fastball.
In Real Life: This was a clear-cut case of typecasting. Sheen, the best movie baseball pitcher ever, was a very good high school player and could have gone on to college ball. He could throw hard and, apparently, he had no trouble throwing wild. According to "James Ulmer's Hollywood Hot List," Sheen once tossed 80 expensive ashtrays from his hotel suite at a swanky French Riviera hotel at a boulder on the beach, missing every time. Total cost: $2,000.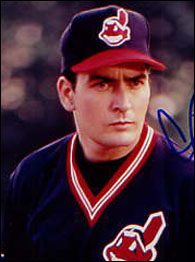 A rare collector's item: an autographed photo of Rick Vaughn.
In Reel Life: Vaughn, in his major-league debut, walks the first three batters he faces on 12 pitches. On the next pitch he gives up a grand slam to Yankee slugger Clu Haywood (former Brewers pitcher Pete Vuckovich), and is finally thrown out of the game when he hits the next batter with the following pitch.
In Real Life: An unlikely scenario, you say? Not really. Check out the major-league debut of Miguel Asencio of the Royals on April 6, 2002. Ascencio threw 16 straight balls, walking the first four batters he faced, before being pulled.
Ascencio, 21, had never pitched above Class A ball before that day. "I don't think I've ever seen that happen," White Sox starting pitcher Mark Buehrle said. "We were actually feeling sorry for the guy even though he was walking our guys and we were scoring runs. You never want to see a guy do that bad." In Reel Life: Vaughn throws four wild pitches in an inning; Harry Doyle (Bob Uecker) says that he's set an AL record.
In Real Life: Vaughn would have tied the AL record, and he would have been in good company. Walter Johnson threw four wild pitches for the Senators in the fourth inning of a game against the White Sox in Chicago on Sept. 21, 1914. Phil Niekro holds the NL mark of four, set in the second game of a doubleheader, Atlanta vs. Houston, on Aug. 4, 1979. Niekro threw six wild pitches in the game, which he lost, 6-2.
In Reel Life: Roger Dorn (Corbin Bernsen) looks like he knows what he's doing up there.
In Real Life: Dorn, the former "L.A. Law" star, played outfield for Beverly Hills High School. "I wasn't great, but I was pretty good," he told Newsday. "I was actually a better hitter in 'Major League' than I ever was. To be a batter you need to approach the world like being on top of it. The ball can't defeat you. That's come to me as I've gotten older. I wish as a kid I'd had more of that."
In Reel Life: In the one-game playoff, the big risk is pitching Vaughn against Haywood, who won the Triple Crown during the regular season.
In Real Life: Vuckovich was a very good pitcher, winning the 1982 Cy Young Award and compiling a 93-69 record in 11 sseasons with the White Sox, Blue Jays, Cardinals, and Brewers. But in his three NL seasons, he didn't prove to be much of a slugger -- he batted .159 and didn't hit a single homer in 208 at-bats.
The fictional Haywood would have been the first Triple Crown winner since Carl Yastrzemski in 1967, leading the AL with a .326 batting average, 44 homers, and 121 RBI.
In Reel Life: Walk-on Willie Mays Hayes (Wesley Snipes) shows his fast moves on the first day of spring training by jumping out of bed (conveniently placed outside) and, while still wearing his pj's, crushing two other ballplayers in a windsprint.
In Real Life: Snipes could definitely make some moves. He has a fifth-degree black belt in the Brazilian martial art of capoeira. And just a year before the filming of "Major League," he'd gotten his first big break, when he played gang leader Mini Max opposite Michael Jackson in the epic "Bad" video.
In Reel Life: At the start of the season, Hayes shows off by making a basket catch -- the signature smooth move of his namesake, Willie Mays.
In Real Life: Mays' basket catches were legendary, but he didn't patent the maneuver. Hall of Fame shortstop Rabbit Maranville first made the catch famous, according to "The New Dickson Baseball Dictionary." And Bill "Specs" Rigney, a Giants infielder between 1946-1953 (and the Giants manager from 1955-1960), was well known for this style of catching fly balls. In an August 1948 game Ralph Kiner, Wally Westlake, and Ed Stevens all popped out on infield flies in the sixth. According to the New York Times account of the game, "Rigney won the fancy of the crowd with three successive bushel-basket catches."
In Reel Life: Duke Temple (Steve Yeager) comes in to relieve for the Yankees.
In Real Life: Yeager, the film's "technical advisor," didn't pitch a single inning during his 15-year major league career; in fact, he never took the field as anything but a catcher.
ODDS AND ENDS
In Reel Life: Doyle drinks hard, but has a great dry wit as the Indians' play-by-play man.
In Real Life: Uecker is one of the all-time great announcers -- in large part because of his humor. He's always been a natural -- appearing on "The Tonight Show" in 1962, when he was a rookie catcher for the Milwaukee Braves, hosting "Saturday Night Live" in 1984, and starring in "Mr. Belvedere," a sitcom that ran from 1985-1990. A Brewers' broadcaster since 1971, Uecker was inducted into the broadcaster's wing of the Baseball Hall of Fame in 2003.
In Reel Life: When Vaughn comes in to pitch, "Wild Thing" is blasted throughout the stadium and sung by all.
In Real Life: The song was written by Chip Taylor, Jon Voight's brother (and Angelina Jolie's uncle). Born John Wesley Voight in 1940 (apparently he was called "Wes" to avoid confusion with his older brother), Taylor was a pro golfer before becoming a successful songwriter in the early 1960s. "Wild Thing," was recorded first by The Troggs and hit No. 1 on the U.S. charts in 1966.
In Reel Life: Lynn gives Jake her phone number. It's 555-1934.
In Real Life: "555" numbers have been used since 1973, when AT&T gave up the practice of providing real (but unused) numbers for TV and movies, partially, according to Cecil Adams, who writes "The Straight Dope," because of Snoopy. Adams said in one "Peanuts" strip, Charles Schulz gave Chuck's dog a phone number. If Schulz had tested the number before he printed it, he would have reached a family in Moline, Illinois. Lots of readers phoned -- and not all of the calls were dog-friendly.
Jeff Merron is a staff writer for Page 2.