Single page view
By Jeff Merron
Page 2
Pitching instructor Tom House calls it "The Creature." Others call it "the Yips." Some call it "Steve Blass disease."
What happened to Rick Ankiel happens to players in all sports. It happened to Nick Anderson, a good free-throw shooter who suddenly couldn't find the rim in the first game of the 1995 NBA Finals. It happened to Ian Baker-Finch, a 16-time winner as a pro, whose extraordinary 1991 British Open win marked the beginning of a free-fall end to his career.
But "The Creature" most famously affects baseball players, who suddenly can't throw a ball straight. Here are 10 major leaguers who suffered from the unexplainable.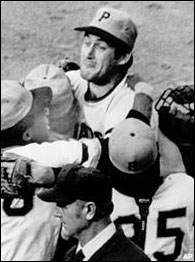 Blass, center, pitched the Pirates to a 2-1 win over the Orioles in Game 7 of the 1971 World Series.
Steve Blass
Blass won 100 games for the Pirates and won Game 7 of the 1971 World Series, before suddenly losing control in 1973. In 1972, he had gone 19-8 with a 2.49 ERA, and walked 84 batters in 250 innings. In 1973, he walked 84 again -- but did that in 87 innings, and finished that season 3-9 with a 9.85 ERA. Though he could throw with accuracy in practice, he was unable to find the plate during games. In 1974, only 32, Blass called it quits.
Chuck Knoblauch
Knoblauch, a four-time All-Star who won a Gold Glove with the Twins in 1997, suddenly lost his ability to make the throw from second to first around the middle of 1998, after joining the Yankees. He'd glove the ball, then hesitate, then throw wildly. He committed only 13 errors in 1998, but in 1999 his problem got worse and he led the league with 26, going from the best second baseman to the worst in less than two years. Despite repeated, heavily publicized attempts to recover, Knoblauch never regained his form at second, and was moved to left field in 2001.
Mackey Sasser
Sasser, a catcher, started having trouble throwing the ball back to the pitcher in 1988, his rookie season with the Mets. His problem was specific -- he could nail runners at second, but he'd double and triple-pump his throws back to the pitcher, and opponents took advantage of this weakness by making delayed steals on these routine throwbacks. Sasser was a decent hitter (he hit .307 in 1990), but never recovered, and played his last major-league game in 1995.
Mark Wohlers Wohlers, a fireballing reliever for the Braves, saved 97 games from 1995 to 1997. But in 1998, he suddenly lost it, walking 33 batters and throwing seven wild pitches in just 20 innings. He recovered to have a couple decent seasons in 2001 and 2002, but was never the same pitcher again.
Steve Sax
The Dodgers' second baseman suddenly lost the ability to make the easy toss to first base, and committed 30 errors in 1983. (That total doesn't include his embarrasing throw in the All-Star game that year, when he bounced a 40-foot toss to Al Oliver at first.) But he came back, gradually reducing his errors and led AL second sackers in fielding percentage and double plays with the Yankees in 1989.
Mike Ivie
Ivie was picked first overall in the 1970 draft by the Padres, but the hot catching prospect started going downhill almost immediately. In his first Padres workout he tossed one low back to the pitcher during batting practice. This reportedly earned him some ribbing from teammate Chris Cannizzaro, and somehow the ribbing stuck. Ivie became unable to throw the ball back to the pitcher. He was switched to first, and had a spotty 11-year career at that position.