By Jeff Merron
Page 2
James J. Braddock, the Cinderella Man who scored one of the greatest heavyweight upsets in boxing history when he beat Max Baer in 1935 for the title, is now in the midst of his second great comeback. With a couple of big books, including Jeremy Schaap's excellent "Cinderella Man," and the new movie by the same title (Schaap was not involved in the film), his story is everywhere.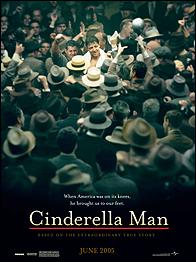 AP Photo/Linda Spillers
Schaap's book is compelling stuff and worth the read. Going to check out the movie, and don't want to turn a few hundred pages? Read on for a look at how the screen version of Braddock compares to the real man.
In Reel Life: Opening credits: Ron Howard, director. Russell Crowe as James Braddock.
In Real Life: Imagine this: Billy Bob Thornton directing Ben Affleck as Braddock. That appeared to be the most likely scenario back in August of 2000, when Greg Dean Schmitz, who writes "Greg's Previews" for Yahoo!, began tracking the production.
In Reel Life: It's the late 1920s, and Braddock (Crowe) is a promising young boxer celebrating a victory with his manager, Joe Gould (Paul Giamatti).
In Real Life: Yep. Braddock was on his way up as a light heavyweight – until, at age 24, he suffered a humiliating defeat to champion Tommy Loughran. He didn't recover for years, and went from being young and flush in the Roaring '20s to a poor, journeyman boxer by the early 1930s.
<!––––––––––-INLINE TABLE (BEGIN)––––––––––->
<!––––––––––-INLINE TABLE (END)––––––––––->
In Reel Life:
Braddock continues boxing, in bottom-of-the-barrel gyms. In what seems to be his last fight, for which he's paid $50, he manages only a no-decision against Abe Feldman. He breaks his right hand, and has to wear a cast. That seems like the end of the line for him.
In Real Life:
It looked like it. Braddock wouldn't fight again for nine months.
In Reel Life Braddock goes right back to looking for work, using shoe polish to blacken the cast, in order to hide it. Only a few of the hundreds of men who line up get work, and Braddock is one of them. This is due to his mild subterfuge and the help of his new friend, Mike Wilson (Paddy Considine). Mike's a former Wall Street broker, who lost it all in the great crash of 1929.
In Real Life Braddock didn't go back to work until the cast was off, writes Schaap. And Wilson? Never existed.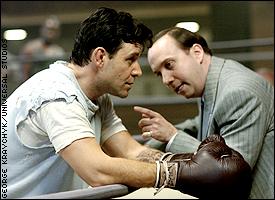 AP Photo/Linda Spillers
Paul Giamatti plays the manager of Russell Crowe's James Braddock.
In Reel LifeThe Braddocks miss payment on their milk, and it stops being delivered. Then they fail to pay their electric bill, and their electricity is shut off. It's winter, it's cold, and they're in dire straits.
In Real Life: All true.
In Reel Life: When winter comes, it's very cold, and with no electricity, we see Jim talking to his wife, Mae (Renée Zellweger), in the kitchen in their dismal apartment. In the same room, the children sleep. We can see the vapor come from Jim and Mae's mouths when they speak, and from the children's mouths as they sleep.
In Real Life: Modern tech. That vapor was artificially created, filmed "live," and inserted later using computers.
In Reel Life: There's snow on the streets.
In Real Life: That's Toronto in August. Specifically, Victoria Street got the summer-snow treatment.
In Reel Life: Desperate to pay the bills, Jim goes to Madison Square Garden, hat in hand, literally. He's begging from the minions of the flamboyant and powerful promoter Jimmy Johnston (Bruce McGill). Johnston, with a sneer, reluctantly slips a few quarters into the hat.
In Real Life: Jim did go begging – straight to Gould, who got the $35 he needed – straight from Johnston.
In Reel Life: Braddock goes on "relief." He says he got $19 a month, but it isn't enough.
In Real Life: Mostly true. For 10 months, according to Schaap, the Braddocks got $24 a month.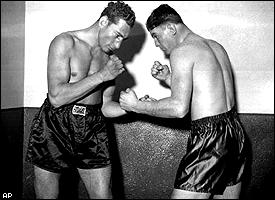 AP Photo/Linda Spillers
James Braddock, right, and Art Lasky square off before their 1935 bout.
In Reel Life: Braddock's first big fight back, against John "Corn" Griffin, takes place at the Garden. The next two are also at MSG, with the final bout in the movie, the heavyweight title fight against Max Baer, taking place at the Madison Square Garden Bowl in Long Island City.
In Real Life: The first fight was actually at the MSG Bowl in Long Island City, not in Madison Square Garden. The next two bouts were at Madison Square Garden, as depicted in the film. And the Braddock-Baer bout did take place in Long Island City.
All of the bouts, in fact, were filmed in Toronto at the old Maple Leaf Gardens, dolled up with a Madison Square Garden marquee. When it stood in for the Bowl instead of the indoor MSG, the roof was digitally removed.
In Reel Life: Braddock goes almost directly from being a longshoreman to fighting contender Corn Griffin (Art Binkowski). He doesn't get any chance to train for the fight.
In Real Life: True.
In Reel Life: Al Fazin (Rance Howard) is the ring announcer for the fight, and also for the heavyweight title fight.
In Real Life: That's Ron Howard's father. "The Braddock-Baer fight was the first fight my father ever remembers hearing," says Howard in the film's production notes. "When I was growing up, my dad would always tell me the story of Jim Braddock."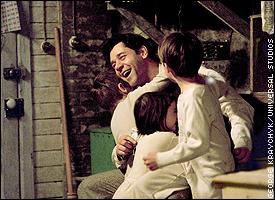 AP Photo/Linda Spillers
Times were tough for the Braddock family during the Depression.
In Reel Life: Braddock's a very good, if not great, boxer.
In Real Life: Crowe trained for the role with Angelo Dundee, Muhammad Ali's former trainer, who actually saw Braddock fight a few times. According to the studio, Crowe's hardcore training routine allowed him to weigh in for this film at 178. As Captain Jack Aubrey in "Master and Commander," Crowe had weighed 228 pounds. No word on how Zellwegger transformed herself from Bridget Jones into the much more svelte Mae Braddock.
In Reel Life: In his fight against Art Lasky (Mark Simmons), Braddock suffers a terrific blow to the head. Gould is horrified.
In Real Life: That's real, but not intentional. All the filmed slugging is supposed to be fake, with realism added in later with clever editing and special effects. In this case, Simmons missed his fake punch and got Crowe hard. Giamatti was truly shaken.
In Reel Life: After beating Lasky, Braddock returns to the crowded relief office and, carrying a thick wad of bills, pays the relief office back.
In Real Life: Braddock won $4,100 for beating Lasky, and, according to Schaap, after he got his paycheck, he privately handed $300 back to his caseworker. That man told him to keep the cash until after the title bout. Braddock handed him an IOU.
In Reel Life: Braddock trains for the title bout in New York, near home.
In Real Life: Braddock trained for weeks in the Catskills.
In Reel Life: Max Baer (Craig Bierko) is a mean-spirited buffoon who's killed two men in the ring and makes it clear that he thinks he'll kill Braddock, too.
In Real Life: That's a true disservice to the memory of Baer, argues Michael Sragow in the Baltimore Sun. The filmmakers "turn a beloved clown prince of the ring ... into a vile, malicious brute," writes Sragow, "so Braddock can be even more of an underdog. ... By branding Baer an empty braggart and stripping him of his achievements, they deal him the lowest of low blows."
However, according to Schaap, Baer was insulting to Braddock and told him, to his face, "If I fight you, I will hurt you."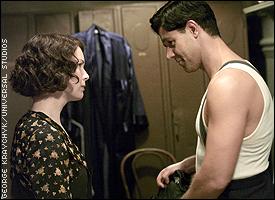 AP Photo/Linda Spillers
Just life real life, the reel life has a happy ending for Braddock and his wife.
The reality of the situation seems to boil down to this: Baer didn't care much about boxing. He wasn't a killer, wasn't proud of killing, in fact was pained by the fact that one man had died in the ring against him, and that he had probably caused the death of another boxer. Overall, the Baer portrayal is much exaggerated, an almost cartoonish bad guy to contrast good-guy Braddock.
In Reel Life: For the Baer bout, the Madison Square Garden Bowl is filled to capacity with 35,000.
In Real Life: Most of them are inflatable dummies, but about 400 are real live extras, according to one of them who wrote in to Murph's Place, a Web site that's a terrific resource on Braddock and the production. According to "Anon Scooper," the extras had the choice of cheering Braddock on, calling him a bum, or shouting out "unscripted crowd noises."
If you ever consider becoming an extra yourself, keep in mind that it's not easy or glamorous. According to another posting at Murph's Place, it was so hot in Maple Leaf Gardens that one of the extras passed out on a day the Corn Griffin fight was being filmed. "We were watching the wonderful Paul Giamatti rehearse his lines and a guy on the floor slumped over in his chair," wrote Prince Chawmin'. "No one really noticed at first because the guy was hidden among the inflatable dummies." The extra was eventually attended to and left, but the rest remained in the stifling hot arena.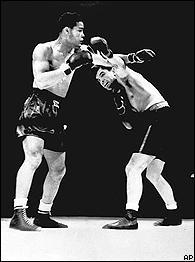 AP Photo/Linda Spillers
Braddock would later lose his heavyweight crown to Joe Louis, in 1937.
In Reel Life: Crowe is 5-foot-11, 178 pounds in this film.
In Real Life: Braddock's weight varied from bout to bout, especially during the Depression. When he fought against Lasky, he weight only 182 pounds. When he fought against Baer, he weighed in at 191 3/4.
In Reel Life: It almost seems like, somehow or other, we're seeing the punch from the boxer's eyes – from the view of the guy getting hit, that is.
In Real Life: Cinematographer Salvatore Totino took a camera, buffered it with two tires and foam, and hung it from the arena's ceiling. Then he let the boxers beat the heck out of it. "Sort of like a punching-bag camera," he told Millimeter magazine. "I also put on padding a couple of times and ran a handheld camera in the ring while [the actors] punched me, to heighten the realism."
In Reel Life: Braddock and Baer go 15 rounds, but we only see parts of about half of them.
In Real Life: Director Ron Howard watched the real title bout many times, then choreographed a seven-round mini version that includes the fight's highlights – although not in order.
In Reel Life: Braddock beats Baer.
In Real Life: Braddock beats Baer.
Major sources for this article included "Cinderella Man" by Jeremy Schaap and "Cinderella Man: The Shooting Script."