In Reel Life:
There's snow on the streets.
In Real Life:
That's Toronto in August. Specifically, Victoria Street got the summer-snow treatment.
In Reel Life: Desperate to pay the bills, Jim goes to Madison Square Garden, hat in hand, literally. He's begging from the minions of the flamboyant and powerful promoter Jimmy Johnston (Bruce McGill). Johnston, with a sneer, reluctantly slips a few quarters into the hat.
In Real Life: Jim did go begging – straight to Gould, who got the $35 he needed – straight from Johnston.
In Reel Life: Braddock goes on "relief." He says he got $19 a month, but it isn't enough.
In Real Life: Mostly true. For 10 months, according to Schaap, the Braddocks got $24 a month.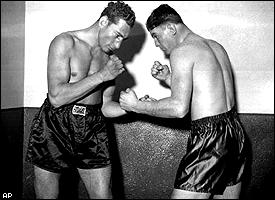 AP Photo/Linda Spillers
James Braddock, right, and Art Lasky square off before their 1935 bout.
In Reel Life: Braddock's first big fight back, against John "Corn" Griffin, takes place at the Garden. The next two are also at MSG, with the final bout in the movie, the heavyweight title fight against Max Baer, taking place at the Madison Square Garden Bowl in Long Island City.
In Real Life: The first fight was actually at the MSG Bowl in Long Island City, not in Madison Square Garden. The next two bouts were at Madison Square Garden, as depicted in the film. And the Braddock-Baer bout did take place in Long Island City.
All of the bouts, in fact, were filmed in Toronto at the old Maple Leaf Gardens, dolled up with a Madison Square Garden marquee. When it stood in for the Bowl instead of the indoor MSG, the roof was digitally removed.
In Reel Life: Braddock goes almost directly from being a longshoreman to fighting contender Corn Griffin (Art Binkowski). He doesn't get any chance to train for the fight.
In Real Life: True.
In Reel Life: Al Fazin (Rance Howard) is the ring announcer for the fight, and also for the heavyweight title fight.
In Real Life: That's Ron Howard's father. "The Braddock-Baer fight was the first fight my father ever remembers hearing," says Howard in the film's production notes. "When I was growing up, my dad would always tell me the story of Jim Braddock."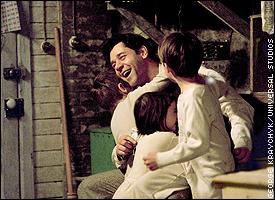 AP Photo/Linda Spillers
Times were tough for the Braddock family during the Depression.
In Reel Life: Braddock's a very good, if not great, boxer.
In Real Life: Crowe trained for the role with Angelo Dundee, Muhammad Ali's former trainer, who actually saw Braddock fight a few times. According to the studio, Crowe's hardcore training routine allowed him to weigh in for this film at 178. As Captain Jack Aubrey in "Master and Commander," Crowe had weighed 228 pounds. No word on how Zellwegger transformed herself from Bridget Jones into the much more svelte Mae Braddock.
In Reel Life: In his fight against Art Lasky (Mark Simmons), Braddock suffers a terrific blow to the head. Gould is horrified.
In Real Life: That's real, but not intentional. All the filmed slugging is supposed to be fake, with realism added in later with clever editing and special effects. In this case, Simmons missed his fake punch and got Crowe hard. Giamatti was truly shaken.
In Reel Life: After beating Lasky, Braddock returns to the crowded relief office and, carrying a thick wad of bills, pays the relief office back.
In Real Life: Braddock won $4,100 for beating Lasky, and, according to Schaap, after he got his paycheck, he privately handed $300 back to his caseworker. That man told him to keep the cash until after the title bout. Braddock handed him an IOU.